reDiscover Gang Starr's 'Moment Of Truth'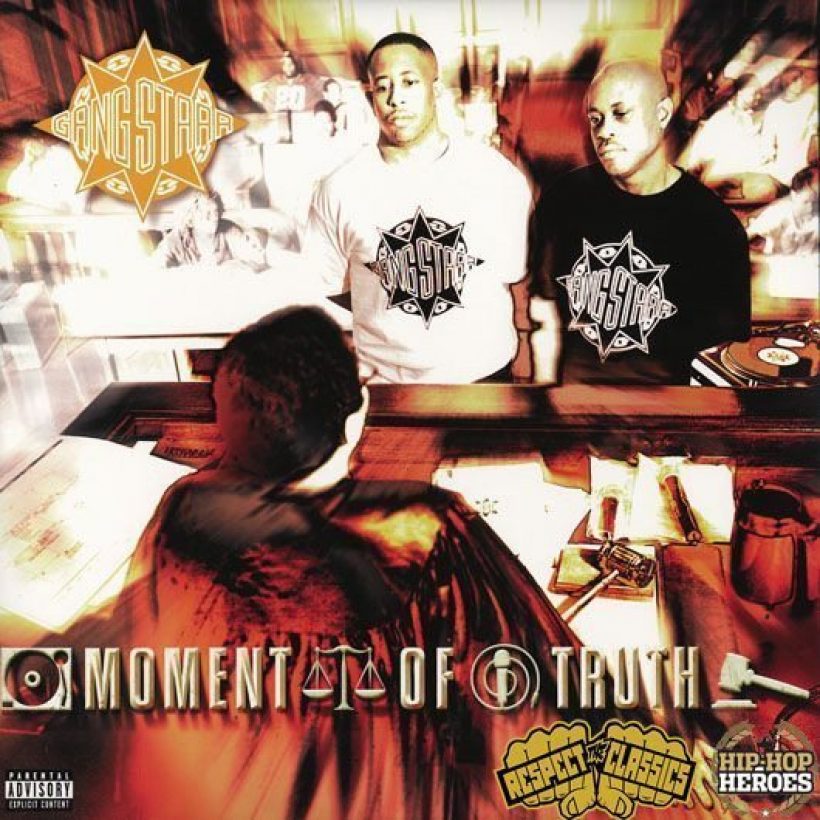 This may not be the most fashionable of statements, but there's an argument that Gang Starr were the greatest hip-hop act of all time. Check the evidence: three early singles aside (when they were effectively a different group), Gang Starr's recorded output was remarkably cohesive. You always knew exactly who you were listening to, even though they evolved throughout their 14-year recording career. Guru had the most distinctive and unfussy voice in hip-hop since Rakim. Premier's production and DJing drew on the most amazing sources (his work was the foundation stone of hip-hop's habit of drawing samples from jazz), yet it was always utterly precise, clear, sparing; never excessive, yet deeply musical. Whether talking about the need for kids to be educated; love, personal mistakes, black culture, religion, self-discipline, street runnings; or just what it meant (or should mean) to be an MC, they stuck to their task, knowing exactly what they were about. 1998's Moment Of Truth, their fifth full-length dissertation, was just another Gang Starr album.
Just another Gang Starr album that hip-hop had waited four years for while Guru was doing his Illkid Records and Jazzmatazz business, and other MCs benefited from Premier's remarkable knowledge. Hence the album flew out of the shops, making No.6 on Billboard and going to No.1 in the hip-hop charts. Eager buyers were not disappointed. 'Above The Clouds', with Inspectah Deck given the last verse, is a stone-cold slayer, a complex array of samples melded perfectly by Premier into one coherent piece while the lyrics muse on the universe itself and our tiny place in it. (Worth the gate money in itself, bear in mind that it's just one aspect of the record and not all it's got to offer. It's standards are generally stratospheric.) 'Make 'Em Pay' is a verbally violent vilification of nihilistic rhymesmiths, making the point that they're only giving ammunition to the enemies beyond hip-hop's borders. Guest vocalist Krumbsnatcha's verse picks up the theme, emphatic and strong.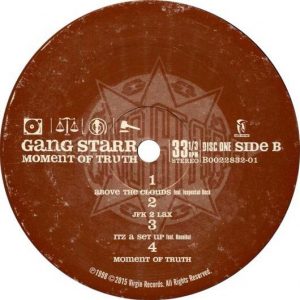 So: just another Gang Starr album, shaking its head at the errors of their youth on 'She Knowz What She Wantz'; asking what society demands from the black man – and why – on the legal entanglement that is 'JFK 2 LAX'; seeking the reality amid the hype on 'What I'm Here 4'; the dark warning of 'Betrayal', with Scarface also telling the tale; shifting into the territory of Ice Cube's 'Dead Homiez' and Pete Rock & CL Smooth's 'They Reminisce Over You' on the touching 'In Memory Of'. Now the late Guru is a memory too, but his voice still resonates, the perfect tone for his time. There are a score of tracks here; none falter.
There would be just one more Gang Starr album after this: The Ownerz, and not until 2003. But there is no "just another Gang Starr album". They are all part of the same thing: love one, love all. Though especially love Moment Of Truth. Everything they achieved is present and, as they always strove to make it, utterly correct.
Click here to follow uDiscover's Hip-Hop Heroes playlist, and purchase Moment Of Truth here:

Format:
UK English