reDiscover Daevid Allen's 'Now Is The Happiest Time Of Your Life'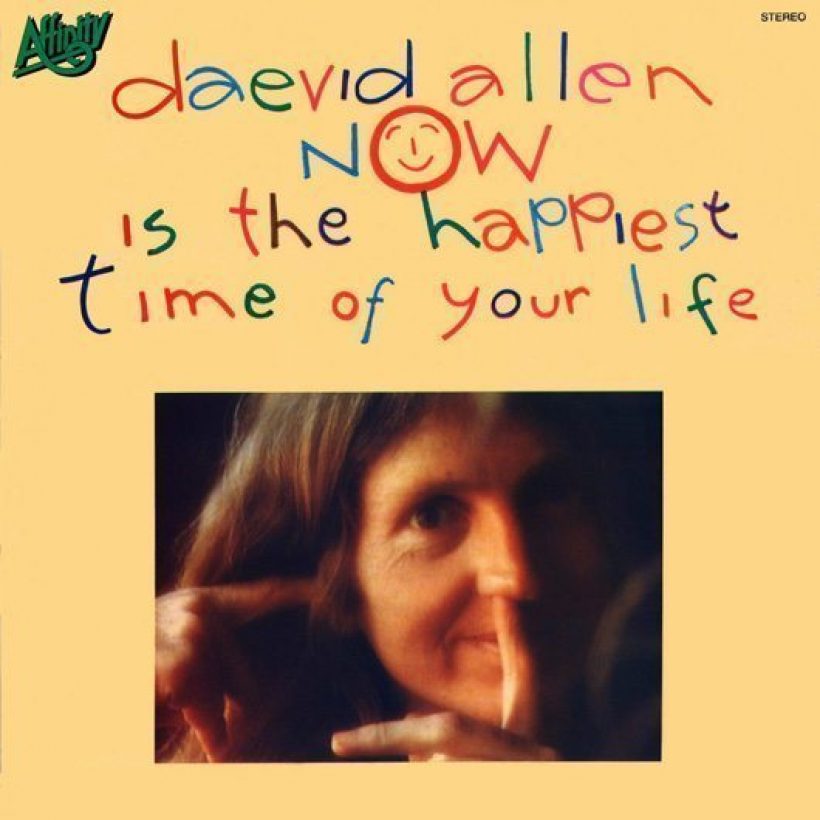 Displaying a fine disregard for conformity and commerce, Daevid Allen released Now Is The Happiest Time Of Your Life in 1977. Here was everything that was earmarked for execution at a time when punk nihilism ran the show: an apparently trite title, which might as well have been knitted onto an aspirational doily, laid out in multi-coloured faux-naïf handwriting above a picture of a hippie with long hair and everything. And he was smiling, the degenerate.
Fortunately, enlightened punks who hadn't reflexively torched their pre-1976 record collections knew all about Allen's redoubtable credentials as a bona-fide anarchist. But if anything really validated Now Is The Happiest Time Of Your Life, it was the fact that Allen was, with the odd proviso, being perfectly sincere. He really meant it.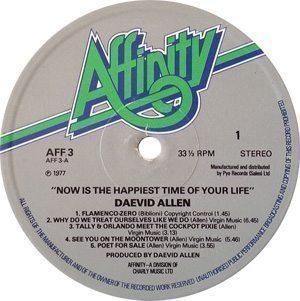 Pragmatists may point out that it's considerably easier to live in the moment if your circumstances are idyllic, as they largely were for Allen at the time of recording. Then residing in Deya, Mallorca, Allen committed the songs to tape in his "Bananamoon Observatory" on a simple, if serviceable, four-track machine, utilising a stylistically diverse but spiritually congruent group of musicians, including guitarists Joan Biblioni and Pepe Milan from the Spanish progressive-folk ensemble Euterpe (Allen's collaborators on 1976's similarly beatific Good Morning album). Also on hand was tabla player Sam Gopal, a fellow traveller from London psych clubs such as Middle Earth, UFO and Happening 44.
Ostensibly, the album represents an avuncular if gently determined reiteration of Allen's painstakingly haphazard Planet Gong/Flying Teapot mythology – specifically its emblematic central figure, the semi-autobiographical enlightenment-seeker, Zero The Hero. Having departed Gong in 1975 – claiming that a "forcefield" prevented him from taking the stage at Cheltenham Town Hall – Allen took all the folklore with him, and can be heard herein on 'Tally And Orlando Meet The Cockpot Pixie' elliptically explaining the home-made legend to his young son, Orlando. ("What's a trilogy?" asks Orlando.)
Melodious, wispy and wistful, the album clouds over momentarily with the flamenco-meets-bhangra existential doubt of 'Why Do We Treat Ourselves Like We Do?' and the dreamy acoustica of 'Poet For Sale', which addresses the time-honoured dichotomy of art versus economics. "Am I really wanted?" ponders Allen. "Is my head to be rented until demented?"
If the spidery, mutated rockabilly of 'See You On The Moontower', accompanied by Xavier Riba's homely violin, is a playful digression, then the 11-minute 'I Am', overlaid with birdsong and Marianne Oberascher's tranquil harp, finds Allen where he felt most at home: in slow, benign orbit, cradling his glissando guitar. The concluding 'Deya Goddess', with Allen's placidly phased vocal and Gopal's tabla double-tracked in wide stereo, best expresses the album's underlying tenet: "Sing for the love of the beauty."
Format:
UK English