Strange Fruit: Strawberry Studios And The Birth Of 10cc
In the late 60s and early 70s, the future members of 10cc helped put Strawberry Studios on the map, with a fascinating history of rare early recordings.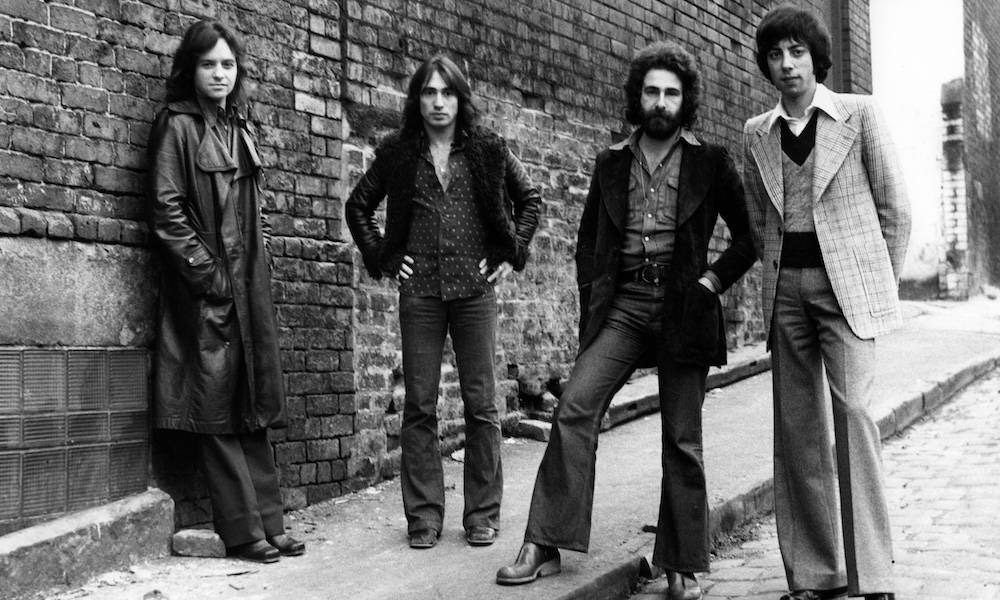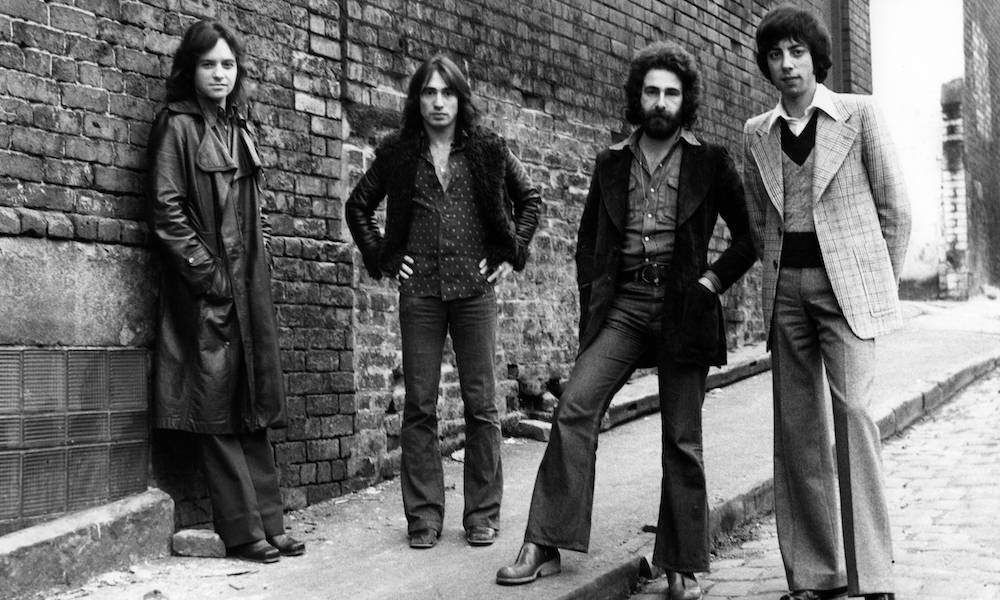 The town of Stockport is perhaps an unlikely setting for the foundations of a pop powerhouse but, at the dawn of the 70s, Strawberry Studios could lay something of a claim to being a fast-expanding British mini-Motown. It was starting to produce hits for acts the likes of Freddie Garrity, of Freddie And The Dreamers, who enjoyed a Strawberry Studios million-seller in France long after his commercial Best By date had expired back in his homeland. Strawberry Studios, which was, of course, named after The Beatles' masterpiece, "Strawberry Fields Forever," was where four former Manchester musicians, who had worked together on and off since their schooldays, were maturing into a fixed unit after a run of individual successes in the 60s. As 10cc, they were to strike commercial gold in the 70s and beyond – and the 4CD box set, Before During After: The Story Of 10cc, reveals their first steps towards greatness with a number of local groups.
Graham Gouldman, Eric Stewart, Neil "Lol" Creme and Kevin Godley actually first all played together when Godley and Creme, latterly working as designers on Pan Books, signed a deal with a short-lived label to record a single called "I'm Beside Myself." Billed as Frabjoy And Runcible Spoon (Gouldman and Stewart played on the session, while Godley and Creme had written the track) the single failed to launch the pair as a homegrown Simon & Garfunkel, but did help to finally set the scene for future collaboration.
As musicians, they'd all emerged from different directions of the exploding beat scene of 1963. While Gouldman's former band, The Whirlwinds, had turned to Creme for help with a B-side to one of their handful of US and UK singles released in the middle of the decade, the partnership wasn't to last. The Whirlwinds became the house band for the local Jewish Lads Brigade, but dissolved at the start of 1965, with some members, including Gouldman, going on to form The Mockingbirds, who featured Godley on drums and became a warm-up act for the BBC's Top Of The Pops, then transmitted each week from Manchester. When Gouldman suggested one of his songs, "For Your Love," might be worth recording by his band, the record label rejected the idea. London rock group The Yardbirds picked up the composition instead and took it all the way to No.3 in the UK.
Decca swiftly signed Gouldman to a solo deal and he composed a track for a Connie Francis movie, while penning big hits for The Hollies ("Bus Stop") and Herman's Hermits ("No Milk Today"), among others. There were multiple singles issued for The Mockingbirds on a range of labels, some of which he also penned, but none caught light in the same way.
Stewart had been a member of Wayne Fontana And The Mindbenders, who had hit the top of the US charts and made UK No.2 with "The Game Of Love." When Fontana quit in 1965, Stewart stepped up to take on lead vocals but, after massive success with "A Groovy Kind Of Love," there was a marked downturn in the group's commercial fortunes. Gouldman had already joined the band, on bass, in March 1968 (and also penned one of their final singles) as a couple of US publishing deals lost ground and a solo project, The Graham Gouldman Thing, failed to take off.
After The Mockingbirds, Godley joined Creme to release a song with CBS under the name "The Yellow Bellow Room Boom." Gouldman had liked some of their demos and was instrumental in getting the pair involved in the deal with Marmalade Records for the Frabjoy And Runcible Spoon project.
With The Mindbenders now mothballed, Godley and Creme were invited to work with Stewart and Gouldman at Strawberry Studios, where Stewart was now a partner. Gouldman created demos there and quickly became financially involved in the business. He was commissioned by the American masters of bubblegum pop, Jerry Kasenetz and Jeff Katz, of Super K Productions, to produce some songs in that style, and Gouldman negotiated that Stewart, Godley and Creme should become the in-house band for the work. The three-month project at Strawberry Studios resulted in a number of tracks that appeared under various names.
Freddie Garrity's soon-to-be hit "Susan's Tuba" was one idea passed to an established artist, but Godley contributed lead vocals to other releases, including "When He Comes," billed to Kasnat And Katz Fighter Squadron, and Silver Fleet's "Come On Plane," featuring a writing credit for Gouldman and his bosses. Gouldman would also compose and sing on the bubblegum smash "Sausalito (Is The Place To Go)" for Ohio Express, while other songs were created for Manchester Football Club.
With money coming in more regularly, there was now the opportunity to kit Strawberry Studios out properly, and this is where the genesis of 10cc really begins.
While Gouldman went back to New York for a spell working more closely with Kasenetz and Jeff Katz, the remaining trio continued to experiment. The drum-heavy "Neanderthal Man," released under the name Hotlegs, became a surprise chart smash and got all the way to UK No.2 in the summer of 1970. It even charted across the Atlantic, making No.22 in the Billboard listings, and was a sizeable hit across Europe.
A follow-up, "Lady Sadie," and parent album, Thinks: School Stinks, failed to repeat the same success, but there was enough momentum for Hotlegs to secure a support slot on a tour with The Moody Blues, which Gouldman flew back over to work on.
In February 1971, there was another Godley and Creme single, a cover of Paul Simon's "Cecilia," released under the name The New Wave Band and featuring a former member of Herman's Hermits on guitar.
Sporadic work on other musicians' records, including a sizeable commission to play on two Neil Sedaka albums, led to something of a nirvana moment when the trio, now reunited with Gouldman, who had returned from the States once more, decided to stop working for other people and focus their energies instead on shaping a collaborative project, where each member could contribute.
A Stewart and Gouldman song, "Waterfall," was picked in early 1972 to send to Apple Records, but the response was a long time in coming. By the time it did, demos of that song and "Donna," a 50s pastiche, had found their way to the DJ Jonathan King, who wasted no time in signing them to his own label and christening them 10cc. On September 28, 1972, the group appeared for the first time on Top Of The Pops, and "Donna" began to take off…
This formative period in 10cc's career, and in the history of Strawberry Studios, is covered in the 4CD box set Before During After: The Story Of 10cc, which can be bought here.