'Swordfishtrombones,' 'Rain Dogs,' and 'Franks Wild Years': Tom Waits' Legendary Trilogy
The legendary trilogy of albums still sound remarkable today.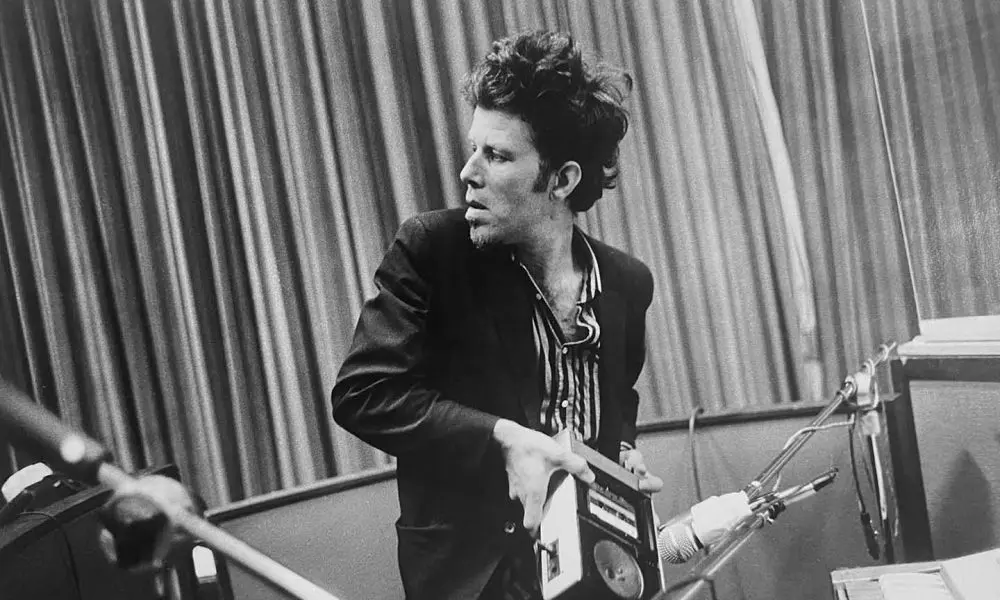 Tom Waits' 70s era albums established him as one of America's greatest songwriters. But his game-changing 80s trilogy revealed him as a visionary.
1976's Small Change contains some of Waits' best early work. The sounds of classic jazz, Tin Pan Alley, and Stephen Foster were filtered through Tom's unique worldview and lyrical genius, and resulted in one of the era's most unforgettable, idiosyncratic musical personas. On its heels came 1978's Blue Valentine, which marked a big departure from earlier Waits albums. Trading the piano for the guitar, Waits was getting rawer and bluesier. (The title track is a great example of the shift.)
Order Tom Waits' Island catalogue on vinyl now.
Released in 1980, Heartattack and Vine was Waits' final album on Elektra/Asylum, and its incendiary title track built on the raw blues approach of Blue Valentine. Alternating between stripped-down, streetwise blues, and cinematically orchestrated ballads (including one of his most popular, "Jersey Girl"), the album also found Waits at what he called a musical crossroads. In an interview at the time, Waits said, "The writing for Heartattack and Vine was more spontaneous… I used to hear everything with upright bass, muted trumpet, or tenor sax. I just had a sort of limited musical scope, so I wanted to try to stretch out a little bit on the new one. I think I've accomplished that to a degree. It's all part of an ongoing process…."
Swordfishtrombones
At a time when major label songwriters were leaning towards the middle of the road, he jumped the guard rail, and kept on going. Waits was forging a new path and reinventing his sound. Encouraged and aided by his new wife and writing partner, Kathleen Brennan, it's she who encouraged him to throw all his disparate influences together and find the place where they overlap. It was a place that mixed field recordings, Caruso, tribal music, Lithuanian language records, and Leadbelly. But nobody could have predicted his transformation into the experimental tunesmith and avant-garde performer fans recognize and revere today.
By resisting his comfort zones and embracing experimental sounds, instruments, and concepts, it was clear that Waits was ready to move ahead with his first self-produced album, Swordfishtrombones. Elektra/Asylum? Not so much. The label rejected Swordfishtrombones, leaving Waits to find another label home. It soon became clear that Island Records was the place. As Island Records founder Chris Blackwell recently told Uncut, "[I] jumped at the opportunity, because he's a unique character and a huge talent… and he knew what he wanted."
found Waits stretching out. Trading his old modes for a junkyard playground where the influences of Captain Beefheart, Harry Partch, Kurt Weill, Thelonious Monk, Ennio Morricone, Ken Nordine, John Philip Sousa, Raymond Scott, and more are refracted in a funhouse mirror.
Tom Waits - "Frank's Wild Years"
In a 1983 interview with Edwin Pouncey for Sounds, Waits explained that he was interested in exploring "how your memory distorts things. It's like an apparatus that dismantles things and puts them back together with some of the parts missing. When you remember something it's always a distorted impression…It's like when you misunderstand somebody or you're eavesdropping and you only hear part of a conversation, you reconstruct the rest of it around that. Or you read a magazine article that says 'continued page 23' but that page is torn out so all you had was those two paragraphs to go on."
The carnival of the mind that Waits constructed by applying these ideas to music is matched by his narrative approach. Instead of following the standard singer/songwriter template and using each song as an outlet for his personal reflections, Waits embodies a different character on each track, and it's always one with a wild tale of their own to tell.
"Shore Leave," follows a sailor's jaunt through Hong Kong streets scouting minor mischief while pining for his lady back home, backed by what sounds like a banjo committing suicide in a marimba factory. On "Frank's Wild Years," Waits comes off like Raymond Chandler trying his luck as a standup comic in front of a cocktail lounge jazz combo, narrating the exploits of a straight-arrow suburbanite who finally snaps.
Tom Waits - "Shore Leave"
Sometimes the tunes don't even need lyrics to evoke an offbeat character. "Dave the Butcher" is an organ-led instrumental that sounds like the soundtrack to a cartoon rat running through a maze. Waits told Sounds the title character was "somebody we'd met. He had yellow hair, looked completely demented, wore a leopard collar made out of real leopard skin and he had two different kinds of shoes, he wore one boot and one Oxford. He worked at a butchery shop so I tried to imagine the music going on in his head while he was cutting up little pork loins."
Rain Dogs
For the follow-up, 1985's Rain Dogs, Waits doubled down. The characters occupying his songs were more outrageous, the crazy-quilt approach to musical arrangement even more unpredictable, the writing more unfettered and imagistic, and the whole thing was painted on a bigger canvas. Waits brought aboard crucial collaborators like former Richard Hell & The Voidoids guitarist Robert Quine, Lounge Lizards sax man John Lurie, The Uptown Horns, and most importantly, percussionist Michael Blair and guitarist Marc Ribot. The latter two turned out to be Waits's sonic soulmates, commanding an arch artillery that perfectly complemented the leader's loopy visions.
Whatever unsavory events are going down in "Jockey Full of Bourbon," Ribot is an entirely culpable co-conspirator, his riffs evoking what might have happened if The Ventures had forsaken the surf-rock scene for Cubano street fairs in downtown New York City. On "Clap Hands" Waits delivers the most ominous-sounding nursery rhyme ever, with Blair's lo-fi polyrhythmic clatter framing the singer's sandpaper moan like an ad hoc pawn shop band backing a used-book browser reading aloud.
Tom Waits - "Jockey Full of Bourbon"
Amid all the arcana, Waits even laid the groundwork for an actual pop hit. When Rod Stewart covered Waits's diffident, heart-tugging love song "Downtown Train" four years later, it went all the way to No. 3. But Waits had no time for commercial concerns, he was getting set to unleash the trilogy's strangest, most ambitious installment.
Franks' Wild Years
Franks' Wild Years emerged in 1987. Between the subtitle Un Operachi Romantico in Two Acts, the album title's callback to the Swordfishtrombones character, and the presence of "Frank's Theme," the record could be viewed as an account of Frank's misadventures. But Waits is a born three-card monte man, so that could all be obfuscation.
The important thing is that the album features some of Waits's most beautiful songs, balancing delicately between his distorted-memory m.o. and a knack for timeless balladry that could give Stephen Foster a run for his money. Blair, Ribot, and company were still lending things an off-kilter edge, and Waits continued to delve into portraying unreliable narrators like the hellfire and brimstone preacher in "Way Down in the Hole" (repurposed decades later as the theme to The Wire) and the three-sheets-to-the-wind lounge lizard in "Straight to the Top/I'll Take New York." Meanwhile, the tenderhearted "Innocent When You Dream" and wistful, bittersweet "Train Song" are tear-inducing.
Frank's travelogue, whether geographical or psychological, encompasses a multitude of moods. If Dali dreamed a tango, it might sound something like "Temptation," and "Yesterday Is Here" could be the theme for the greatest metaphysical Western never made.
Tom Waits - "Innocent When You Dream (Barroom)"
When Waits followed up the trilogy in 1992 with the primitivism of Bone Machine, he basically brought his carefully constructed panoply crashing down and started over from scratch. But the Frank saga blew open doors nobody even knew existed, and its impact was so widespread it would be easier to cite the artists who haven't been informed by it.
Songs from the trilogy have been covered by [deep inhalation] Bob Seger, Rod Stewart, John Hammond, Scarlett Johansson, The Gaslight Anthem, Dave Alvin, Lucinda Williams, Rosanne Cash, Los Lobos, Cat Power, Elvis Costello, Madeleine Peyroux, Diana Krall, Steve Earle, and The Neville Brothers, to name just a tiny percentage. Today there are undoubtedly artists absorbing the influence third-hand who haven't even heard the albums. Just imagine the feeling when they finally find out what they've been missing.