The Diplomats' 'Diplomatic Immunity' Is Defiantly Timeless
The trio's classic debut album took over New York City in 2003 and changed the game.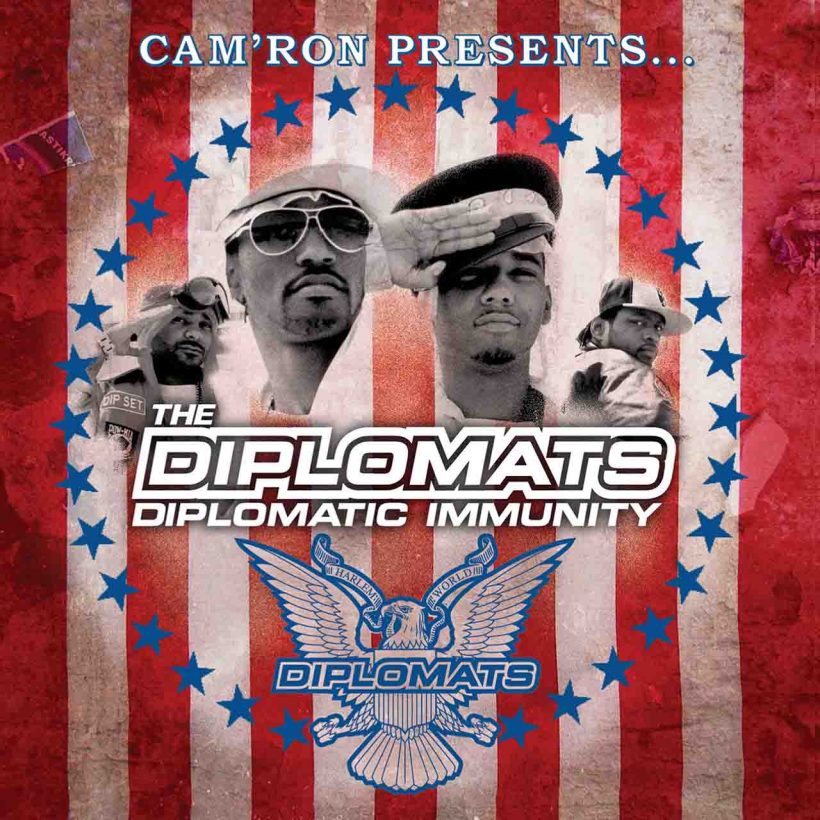 Whoever coined the phrase "too soon" forgot to loop in the Diplomats. "I ain't mad that the towers fell," Juelz Santana spits on "Gangsta," from the Harlem rap crew's 2003 debut Diplomatic Immunity. "I'm mad the coke price went up / And this crack won't sell."
9/11 has loomed large over almost everything in popular culture to this present day, and the gargantuan and bombastic Diplomatic Immunity is certainly no exception: Gilbert Gottfried gaffes be damned, the record is streaked with references to the deadliest terrorist attack in American history, from Taliban name-checks to "Ground Zero," an unmistakably titled track where Santana invites the listener to "Follow me through the debris of these towers." What better reflection of the resilience and perpetual over-it-ness of bred-in-the-bone New Yorkers than the ability to speak freely and recklessly about something that, at the time, many people found totally unspeakable?
Listen to The Diplomats' Diplomatic Immunity now.
Indeed, irreverence – the willingness to say anything, make any joke or turn any phrase, regardless of how profane, potentially offensive, or perplexing it might be – defines Diplomatic Immunity as a whole. A practical showcase for the versatile and at-times dizzying rhymes of Juelz, Cam'ron, Freekey Zekey, Jim Jones, and the then-incarcerated Hell Rell (who still manages to turn a memorable appearance over the prison phone on the beatless "Hell Rell (Interlude)"), Diplomatic Immunity arrived at the perfect time to cement the Diplomats as NYC's tough-talking court jesters, a quintet effortlessly switching between barbed bars and punchlines so sharp they still draw blood. Their lyrical legacy has been deeply felt through the 2010s, from Das Racist's smartly stupid hipsterisms to the tricky wordplay of Long Island spitter Roc Marciano and Action Bronson's pure WTF-worthy audaciousness – but there's never been a group quite like the Diplomats since, either.
Diplomatic Immunity was very similarly a product of its time as well: even by today's stream-busting standards, the collection is large and in charge, spanning two theoretical CDs (remember those?), 27 tracks, and a run time that's just 15 minutes or so shy of The Shape of Water. This largesse harks back to an era in which rap records ran long and languid, but its rambling feel also speaks to the Diplomats' effectiveness when working in the mixtape format. Anyone with even a passing interest in hip-hop that roamed the streets of Manhattan in the 2000s surely remembers picking up a cheaply-printed Diplomats mixtape from a street vendor (DJ Kay Slay's Volume 5 from 2005 was a personal favorite), and Diplomatic Immunity was the practical street-legal version of this approach.
As a whole, the record's not so much the kind of thing you sit around and listen to in one go as it's something to keep in your car's CD changer (if it still has one), or in the background at a party. In other words, vibe-setting music, if you're seeking a vibe that includes one-liners like this: "This cat think he sling / Cause he got a pinky ring / Rinky-dink diamonds / They don't even make your pinky bling." That's Cam'ron on the Jefferson Starship-sampling "Built This City," and his dizzying verbal dexterousness is in pure abundance on Diplomatic Immunity.
The record's overall legacy has obscured that it actually saw release at a time shortly before Cam's real big break: his third solo album, Come Home With Me, which dropped a year previous and sported the huge singles "Oh Boy" and "Hey Ma." But just a year after Diplomatic Immunity would come Purple Haze, his crowning critical achievement that paired the pinks-and-purples of Kanye West's College Dropout-era production style with the type of spitting that sprayed forth like a dripping thesaurus. When it came to New York City rap in the 2000s, Cam'ron's run was impressive in how he worked in controlled detonations, like 4th of July fireworks over the East River. When he was on, he was on, and his standout verses on Diplomatic Immunity can be seen in retrospect as a moment of self-prophecy when it came to his pure verbal skill.
Diplomatic Immunity was also a showcase for production team the Heatmakerz, who carry credit for the lion's share of the record's production work – and how. To music listeners of a certain age, the Heatmakerz were NYC rap radio, full stop: their blend of futzed-with soul samples, tight hi-hats, and basslines so regal they practically deserved coronation sound frozen in amber 15 years later. One of the joys of living in NYC has always been catching the latest sounds from passing traffic and parked cars, and as much as Diplomatic Immunity cuts like the Freeway-featuring "My Love" and the immortal "Dipset Anthem" were made for the club, city denizens can practically feel the wait for the light to change when hearing these songs to this day.
The Diplomats - Dipset Anthem ft. Cam'Ron, Juelz Santana
Despite the Heatmakerz's total dominance on Diplomatic Immunity, perhaps the album's most famous cut came with similarly speaker-blowing production from Paterson, New Jersey's finest, Just Blaze: "I Really Mean It," which makes fantastic hay out of a sample of Major Harris' 1976 single "I Got Over Love" as Jim Jones and Cam'ron trade blow after lyrical blow over the huge-sounding wreckage. Besides carrying a reputation as an absolutely towering rap cut, "I Really Mean It" also served as the backing track for the infamous rap battle meme from the late 2000s featuring then-high schooler Eli Porter.
I Really Mean It (Skit 1)
Much mean-spirited comments-section ink has been spilled about Porter's perplexing rhymes in the decade-plus since the video originally surfaced online, but it's perhaps overlooked how endearing he comes across, letting loose his stilted rhymes over Just Blaze's towering beat in a manner totally unlike Cam and Jimmy's own linguistics. "I'm the best, man – I did it," Porter memorably says at one point, and before you laugh, ask yourself: would the Diplomats not say similar about themselves? Such braggadocio and believe-in-yourself-ness is what makes Diplomatic Immunity so much fun to look back on, and it also speaks to an essential tenet in understanding the Cult of Dipset: even when you're dead serious, it's important to crack a joke every now and again, too.
Listen to The Diplomats' Diplomatic Immunity now.
Editor's note: This article was originally published in 2018.