His Music, His World: How André Rieu Became The 'King Of The Waltz'
As violinist André Rieu celebrates his 72nd birthday we take a look at how he became the 'King of the Waltz'. Happy Birthday André!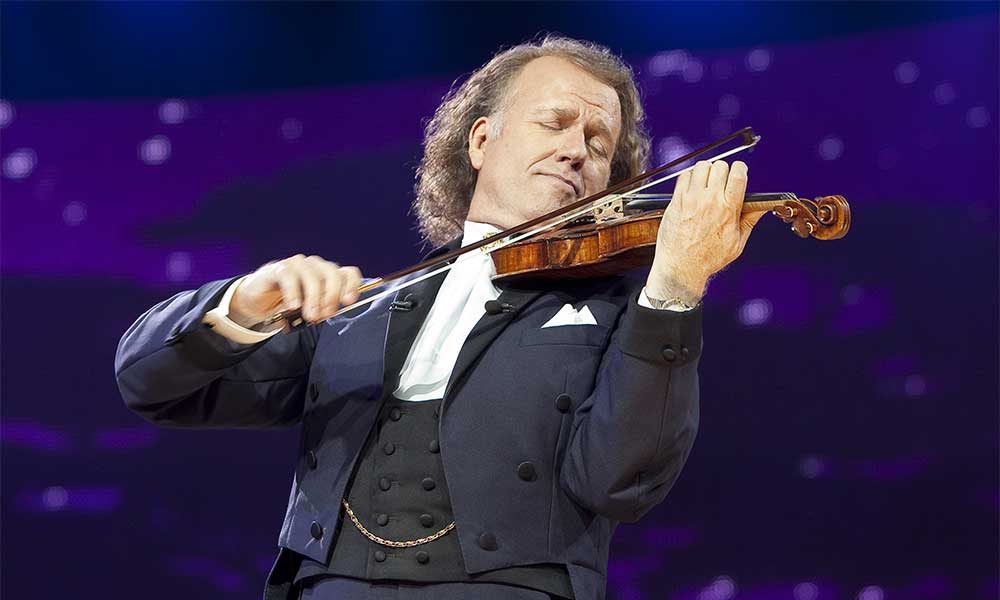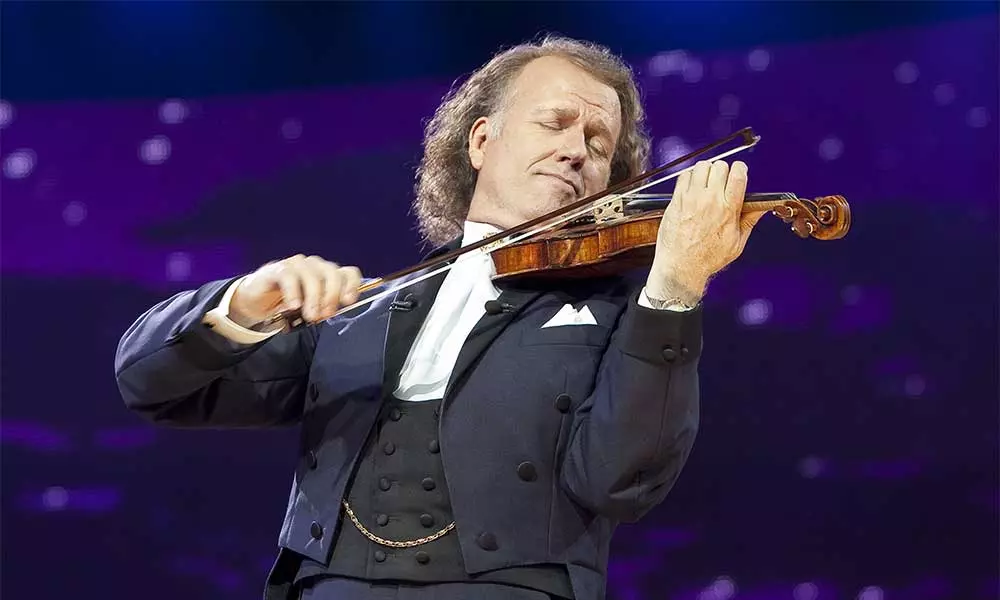 Some records – of the Guinness variety, that is – seem to stick to the amazing 'King Of The Waltz' André Rieu like glue. He's the most successful, the biggest-selling, and the highest-earning classical artist of current times. Other records – of the CD variety – fly in their millions from his shelves into happy customers' pockets. As he celebrates his birthday, we take a look at the career of a fun-loving violinist and conductor who now lives in a castle, and whose life story reads like a fairytale in triple-time. Scroll below to enter the amazing world of the 'King of the Waltz' André Rieu.
Listen to My Music My World – The Very Best Of André Rieu now.
Believe it or not, the word 'caesar' originally meant 'hairy' in Latin. Most likely the early Roman emperors had wild and bushy manes and were given the adjective as a nickname – sort of like the Seven Dwarves – and then it stuck. So, as Maestro Rieu celebrates his birthday, I propose it's time that we elevate the wildest-haired and bushiest-maned conductor on the planet from his title of Waltz King to Waltz Emperor.
Ave, Andreas!
André Rieu - The Beautiful Blue Danube
André Rieu's commercial success
And wouldn't it be well-deserved? The figures relating to André Rieu's commercial success are simply staggering. The broadcast of his annual Maastricht Concert in 2018 became the biggest cinema music event of all time. Did you get that? OF. ALL. TIME. He's sold more than 40 million records. And, in 2018, André Rieu retained his place as the highest-grossing classical artist in Billboard's Boxscore history, with a total gross of $550 million. And, perhaps the most miraculous part of it all, the 'King of the Waltz' looks like he's still loving every minute of it.
It's all off his own bat too. There's no state funding, no grants, no assistance. In my view, he has doubly earned his imperial status, if for no other reason than that he provides a steady income to orchestral musicians in a perilous time for the classical industry.
It's not bad for a violinist and conductor whose career was once so far down the u-bend that he was about to open a pizza parlor, and serenade the customers with his violin over their Paganini Pizzas. But fortunately for his legion of adoring fans, fate had other plans for him.
André Rieu - And The Waltz Goes On (composed by: Anthony Hopkins)
"I had to follow my heart"
André Léon Marie Nicolas Rieu was born in Maastricht on October 1, 1949, the son of a conductor of the Maastricht Symphony Orchestra. Music was part of his life from an early age, and he took up violin and piano at age five. (Curiously, he now lives in the 17th-century castle formerly owned by his piano teacher, whom he confesses he loathed.)
André Rieu followed the usual route of serious music training, but always had a particular affinity with, and flair for, light music – much to his father's disappointment. Even after his son had achieved some success, dad was dour. "He just said to me, 'Ah, I didn't educate you to do waltzes!''' André revealed in an interview for Reader's Digest. "But I simply like it. It's what I want. It was hard on me, but I had to follow my heart."
In his early career, he set up a small ensemble to play at weddings and parties. It took a while to get going, and it was at this point that the pizza parlor seemed to beckon. But he did well enough to found the Maastricht Salon Orchestra in 1978, which morphed into his current Johann Strauss Orchestra in 1987.
It was doing respectable business until things changed exponentially for the better in 1995. This was when André Rieu performed during the half-time break during a Champions League football match between Ajax Amsterdam and Bayern Munich. Incredibly, he got the whole stadium singing along to Shostakovich's 'Waltz No. 2', which had just become popular from an insurance advert on TV. He shifted 200,000 CDs on the back of it, and never looked back.
The Second Waltz, Op. 99a
The 'King Of The Waltz' Waltzes On
Well, not quite. André Rieu subsequently lost around £30 million on a tour of Australia, when he found that CD sales don't necessarily translate into ticket sales. But what's thirty million, here or there? He kept smiling, ploughed on, and earned it all back. And then earned some more.
'To keep smiling' is probably the best phrase for him. He radiates bonhomie and infectious fun when performing, and though it's part of his act, he does it amazingly well. He comes across as a cheerful and good-natured person in interviews, with a nice line in self-deprecation. And it's obvious from his shows that he really does love the repertoire, as well as the razzamatazz around it. Audiences adore him, so much so that he claims (with a twinkle in his eye) that he finds abandoned wheelchairs and crutches lying around after his shows.
Nobody's ever claimed he doesn't have a sense of humor. But humor has rarely played well in the classical sphere, and it's led to the serious music press often either ignoring him or sneering at him. But they might pause to consider that he gives people what they actually want. Populism might not be the solution to all our woes, but one would be unwise to dismiss its lessons out of hand, wherever it appears.
Whatever else it has led to, André Rieu's talent for popular spectacle has made him rich. He now owns a late-period Stradivarius violin known as 'Captain Saville', and he spends plenty of cash restoring his aforementioned 27-room castle in Maastricht. (As well as being owned by his hated keyboard teacher, it also once belonged to Charles d'Artagnan, the inspiration behind Alexandre Dumas's fictional musketeer of the same name. Fancy.)
Today the 'King Of The Waltz' is celebrating his 72nd birthday. Virginia Woolf had a theory that the peak of everyone's life is wildly different: it might be a brief flash of joy for just a few hours when you're five (and the rest is all downhill), or your peak might be the whole of your middle age. Looking at photos of Rieu over the years, and how he appears fully in his own skin even more now than ever, my guess is that his peak is continuing very nicely, thank you.
Hail, Caesar! We who are about to waltz, salute you!
Happy Birthday (150-piece Male Choir & Orchestra)
My Music My World – The Very Best Of André Rieu can be bought here.
---
Format:
UK English