Pianist Ruth Slenczynska, 97, On Her Life In Music
97-year-old pianist Ruth Slenczynska spoke to us about her new album 'My Life In Music' celebrating her remarkable life and career.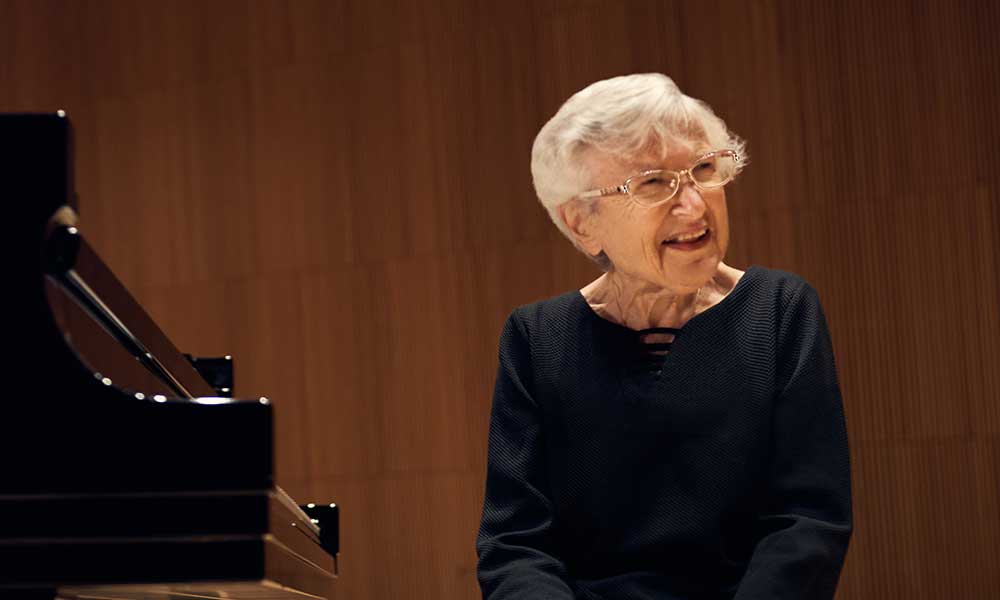 "Music is meant to bring joy," says the pianist Ruth Slenczynska. "If mine still brings joy to people, then it is doing what it is supposed to do." That seems the best of all possible reasons for this renowned artist to release a new album, aged 97. The recording, My Life In Music, is a retrospective of pieces that she associates with some of her most treasured memories. There are plenty of those: she has been performing since she was four years old.
Listen to Ruth Slenczynska's new album My Life In Music now.
Pianist Ruth Slenczynska On Her Life In Music
Born in Sacramento in 1925, Ruth Slenczynska was the daughter of a Polish immigrant violinist. He used to teach at their family home: "After my father was finished giving his violin lessons, I got up on the bench to the upright piano and picked out all of the tunes that his students played," Slenczynska recounts, speaking about her earliest musical experiences. "The first time I heard Josef Lhévinne play La Campenella by Liszt as an encore at a concert, I got up on a chair and said "I want that piece! I want that piece!"
She has been forthright in her book Forbidden Childhood about the tyrannical way her father pushed her as a child prodigy. "I didn't have a childhood," she says. "My father forced me to practise and would chase me around the house with his "magic stick" if I didn't."
Giving concerts in Paris and Berlin at an age when most kids are in primary school, she would have to practise for nine hours a day, while hearing the cheerful voices of other children playing outside. Still, she rejects the idea that she was exceptionally talented: "If I was so talented, I wouldn't have had to work so hard," she insists.
Ruth Slenczynska - My Life In Music (album trailer)
Ruth Slenczynska became a pupil of Sergei Rachmaninov
Nevertheless, there were happier moments. Not least, Ruth Slenczynska became a pupil of Sergei Rachmaninov, whom she met when she was nine years old. "Mr Rachmaninov was scheduled to play a concert and had to cancel due to a problem with his elbow," she says, recalling how it came about. "The manager did not want to lose money from the ticket sales so he contacted my father to see if I could play the concert. My father found out what was on the programme and noted that it included Schumann's Carnaval. He knew that I had been working on the piece, so he included that on my programme. The concert was a great success and Mr Rachmaninov called my father to arrange a time to meet me.
"When I arrived at the door, I was surprised to hear how slowly someone was practising. I assumed that he was working with a slow student. When I knocked and Rachmaninov arrived at the door, I realized it was he that had been practising so slowly. He looked down at me, pointed his finger, and said: 'You mean THAT plays the piano?'
"I was so nervous that I stood there shaking. My father pushed me inside. Mr Rachmaninov saw that I was nervous and showed me a picture of a lake with his boat. He told me that he liked to ride in his boat and that it went zzzz all over the lake. I laughed and he then invited me to play for him.
"He asked me to transpose the piece that I was to play. When he saw that I did so easily, he told me to then play it in the written key. He was pleased and invited me to play additional pieces. He told my father that I could return the following weeks. We met about eight times that year. Mr Rachmaninov taught me to create a musical line that lasted from the first note to the final note of the piece. He also taught me to create a story with my music."
After she had "filled in" for Rachmaninov at that first concert, the composer gave her a present: a gold necklace set with a tiny Fabergé egg. She wears it to this day.
Rachmaninoff: 13 Preludes, Op. 32 - No. 5 in G Major. Moderato
My Life In Music pays tribute to Rachmaninov and other virtuosos
Ruth Slenczynska's new album My Life In Music pays tribute to Rachmaninov, and to several other celebrated virtuosos of the 'golden age' of pianism whom she was lucky enough to consult. "I chose pieces for my new album that have a special connection with various people in my life," she says.
"For example, when I play the Grieg Wedding Day at Troldhaugen, I think of my lessons with Josef Hofmann. I used to go to his house and I always thought that I was there to play with his son. When I play the Debussy The Girl with the Flaxen Hair, I remember my lessons with Alfred Cortot and his performances of Chopin and Debussy. The Bach prelude and fugue reminds me of my childhood lessons with Artur Schnabel and Egon Petri and my love for Bach as a child. The Rachmaninov pieces remind me of my lessons and tea with him.
"I worked on Bach and Mozart with Schnabel and Petri. Schnabel was very meticulous in his teaching. I was very inspired by the way that he dug into every note and articulation. I try to incorporate the same type of detailed work when I work with my students."
J.S. Bach: Prelude and Fugue in C-Sharp Minor, BWV 849
She met the composer Samuel Barber, a fellow student, on her first day at the Curtis Institute in Philadelphia. "I waited on a bench for the lessons and he came in and sat beside me. He was very kind to me and I looked up to him. One day he overheard me attempting to play the major repertoire that some of the older students were playing. He wanted me to show the audience how beautiful the music was, not how well I played."
Her pressurised childhood nevertheless caught up with Ruth Slenczynska when she was about 15. She rebelled and stopped performing; subsequently she got married, then divorced. It was then that she began teaching to make ends meet. By her late twenties she had found her way back to her love for the piano; soon her freshly resumed career went international, leading her to give concerts all over the world, record for Decca, perform for royalty and several US presidents and even play a duet with President Truman in a concert at the White House.
"I look forward to the next project, the next performance"
Some prodigies can be scarred for life by their early experiences, but Slenczynska had found a philosophy that enabled her to keep going despite everything. "I look forward to the next project, the next performance," she says simply. "I don't look backward."
It is tempting to wonder if she has ever felt disadvantaged as a woman pianist in what's largely remained a man's world. "No more so than a woman in any career," Slenczynska comments. "A woman has to be twice as good to get half the price that a man gets. After you get accustomed to that, it is not so terrible." But she adds: "I think this is still a problem."
She was teaching at the University of Southern Illinois, Edwardsville, when she met her second husband, James Kerr, and over the years her numerous students have become an extended family to her. Asked what she most enjoys about teaching, her answer is unequivocal: "Being able to speak the language with the kids who are interested," she says.
"An imagination is most important"
As for her advice to young pianists on how to approach their instrument, its music and their careers, Ruth Slenczynska reflects: "An imagination is most important. The ability to change ideas is also imperative." Her book Music At Your Fingertips looks at aspects of piano technique and offers down to earth, detailed and inspiring words for would-be professional pianists and amateurs alike.
Last but not least, what about some favourite composers? "Beethoven, Mozart, and Bach," says Slenczynska. "I like the early Mozart pieces. I like to imagine the Archbishop [in Salzburg] listening to Mozart and saying: "I like this so much that I want to shave with that. It is nice and slow and pretty…" Anything by Beethoven is marvellous. In the modern pieces, I like Prokofiev and Bartók. They dare to try new sounds, new harmonies, new rhythms. It shows imagination. This is good."
To Slenczynska's generation, Prokofiev and Bartók are indeed modern and new. Today she is one of the last living links to them and their world – and her playing is still bringing joy to her listeners everywhere.
Buy or stream Ruth Slenczynska's new album My Life In Music here.
---
Format:
UK English