Best Classical Music For Spring: Top 10 Pieces
Discover our selection of the best classical music for spring featuring pieces by composers including Beethoven, Debussy and Vivaldi.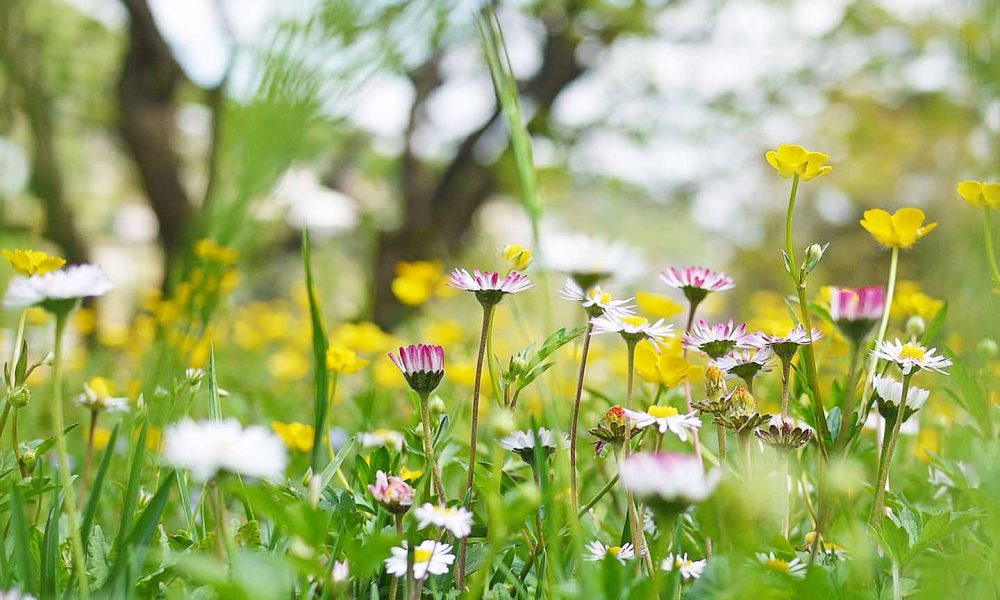 And breathe. The dark, wintery nights are fading, the morning frost is turning dewy, and the sun is creeping higher into the sky each day. As we begin to thaw out and head into the first blissful months of spring, we've compiled a joyfully warming playlist of classical pieces to help ease you into springtime. Discover our selection of the best classical music for spring featuring 10 essential pieces.
Listen to 'Spring' from Vivaldi's The Four Seasons, performed by Janine Jansen, on Apple Music and Spotify.
10. Delius: On Hearing The First Cuckoo In Spring
Delius' tone poem On Hearing The First Cuckoo In Spring is a beautiful example of nature manifested in musical form and one of the best pieces of classical music for spring. It begins with a lilting, chirping theme in the strings, imitating perfectly the call of a cuckoo, before building organically into a gentle cacophony of tweeting birds. Delius also weaves a traditional Norwegian folk song into the earthy fabric of the piece, giving it an easy, pastoral feel.
9. Schumann: Symphony No.1, 'The Spring Symphony'
A grand brass fanfare announces the beginning of spring in Schumann's first symphony. This jubilant, celebratory opening is said to be inspired by these lines from Adolf Böttger:
O wende, wende deinen Lauf –
Im Thale blüht der Frühling auf!
O turn, O turn and change your course –
In the valley spring blooms forth!
A buoyant, busy first movement ensues, followed by an uplifting, lyrical second, lilting, dance-like third, before an animated, triumphant finale.
Schumann: Symphony No. 1 In B Flat, Op. 38 - "Spring" - 1. Andante un poco maestoso - Allegro...
8. Stravinsky: Le Sacre Du Printemps / The Rite Of Spring
A work probably best described as classical marmite … but love it or hate it, Stravinsky's ballet Le Sacre Du Printemps / The Rite Of Spring is a twisted homage to spring. Set in pagan Russia, the score is based almost entirely on fragments of no more than nine traditional Russian folk songs. The music is heavily dissonant and rhythmically aggressive, creating a soundworld that evokes the rustic whilst impinging on primitivism. Stravinsky's score is almost as provocative as Vaslav Nijinsky's original choreography.
7. Beethoven: Violin Sonata No.5, 'Spring Sonata'
We move back to more familiar ground after a gander into Stravinsky's musical springtime offering with one of Beethoven's ever-charming violin sonatas. The fifth (1801) is quintessentially Beethovenian in its technical virtuosity and elegant simplicity. The flowery, soaring lyricism, contrasted with, at times, a buzzing, spritely piano accompaniment, certainly earns this beautifully crafted sonata its nickname.
Beethoven: Violin Sonata No. 5 in F Major, Op. 24 "Spring" - I. Allegro
6. Grieg: 'To Spring' from Lyric Pieces
From the third book of Grieg's Lyric Pieces, this picturesque piano miniature encapsulates both the delicate, almost fragile nature of spring as well as the excitement of bold new beginnings that the seasons offers. The opening section is dainty, featuring a tumbling melody in the upper register with soft, ringing chimes. Moving down the piano to the richer, lower register, the middle section becomes braver, before opening back up into the first theme with flowing accompaniment.
Grieg: Lyric Pieces, Op. 43 - No. 6, To Spring
5. Copland: Appalachian Spring
The Appalachain Spring orchestral suite, from the 1944 ballet of the same name, is another enchanting musical tribute to spring. The suite is lightly instrumented for a chamber orchestra of 13 members, yet the music beautifully evokes the sights, feelings and sounds of spring in marvellous technicolour. The various sections are like perfectly captured screenshots: from soft, idyllic scene-setters, to gleeful, dance-like passages, to a variation on a traditional Shaker hymn, 'Simple Gifts'. A glorious piece of springtime classical music from a remarkable composer.
Copland: Appalachian Spring - 1945 Suite - Very slowly- Allegro - Moderato - Fast-More...
4. Debussy: L'Apres-midi d'Une Faune
The symphonic poem L'Apres-midi d'Une Faune was inspired by the eponymous poem by Stéphane Mallarmé. Debussy's musical interpretation of the poem is a masterclass in musical symbolism: he paints the picture of a faun prancing in amongst budding flowers in a lush, green meadow. The flute, representing the flute of the faun, swoops and dives over swirling, sun-soaked strings, magical harp and woodwind swells. Close your eyes and let Debussy construct this fantastical, rustic scene around you.
Debussy: Prélude à l'après-midi d'un faune, CD 87a
3. Vaughan Williams: The Lark Ascending
Vaughan Williams' compositional style is endlessly evocative of the pastoral, yet always with a touch of sensitivity; somehow, it feels like coming home. The Lark Ascending encapsulates this feeling perfectly. Scored for solo violin and accompanying orchestra, the piece is a firm favourite in concert halls the world over, and with good reason. Vaughan Williams furnishes the solo violin part with unmistakable bird-like features, from recognisable tweets and trills, to light irregular hops, to the swooping flapping of wings in flight. Endlessly sentimental, bursting with sunlight and joyful nostalgia, and one of the best pieces of classical music for spring.
Nicola Benedetti - The Lark Ascending - video
2. Respighi: Pines Of Rome
The finale to Respighi's immense 'Roman Trilogy', Pines Of Rome is a cornucopia of springtime sounds. Each movement is a stunning musical description of scenic location in Rome. The first movement, 'Pines Of The Villa Borghese' introduces fluttering strings and galloping brass, evocative of the excitement and business of spring. Respighi was a keen ornithologist, and even included record birdsong in the third movement 'Pines Of The Janiculum', accompanied by wide, reverberant piano arpeggios, giving the impression of wide, open spaces. The whole piece is wonderfully theatrical and a veritable thrill to listen to: from birds, to catacombs to marching Roman legions.
Respighi: Pini di Roma, P. 141 - I. I pini di Villa Borghese
1. Vivaldi: 'Spring' from The Four Seasons
Vivaldi's famous violin concerto 'Spring' from The Four Seasons undoubtedly tops the list of our best pieces of classical music for spring. The iconic opening allegro introduces buoyant, characterful strings, individually instructed by the composer himself to mimic buzzing insects, barking dogs and other characterful, springtime creatures. Indeed, Vivaldi was an early pioneer of the use of narrative in music, with each of his four seasons being published with a poem. From 'Spring':
Spring has arrived with joy
Welcomed by the birds with happy songs
And the brooks, amidst gentle breezes
Murmur sweetly as they flow
Vivaldi: Violin Concerto No. 1 in E Major, RV 269 "La primavera" - I. Allegro
Recommended Recording
'Spring' from Vivaldi's The Four Seasons performed by Janine Jansen
"With nearly 100 different versions currently available you would have thought that record companies, soloists and public would have had enough of The Four Seasons.  This version, however, is different with the orchestra pared down to single instruments and the solo part played stunningly well by this wonderful young Dutch violinist. The result is a zesty, vivid and colourful performance of great individuality and distinction," noted Classic FM.
Janine Jansen's recording of Vivaldi's The Four Seasons can be bought here.
---
Format:
UK English