Best Classical Music For St George's Day
Discover our selection of the best classical music for St George's Day including masterpieces by Elgar, Holst, Purcell and Vaughan Williams.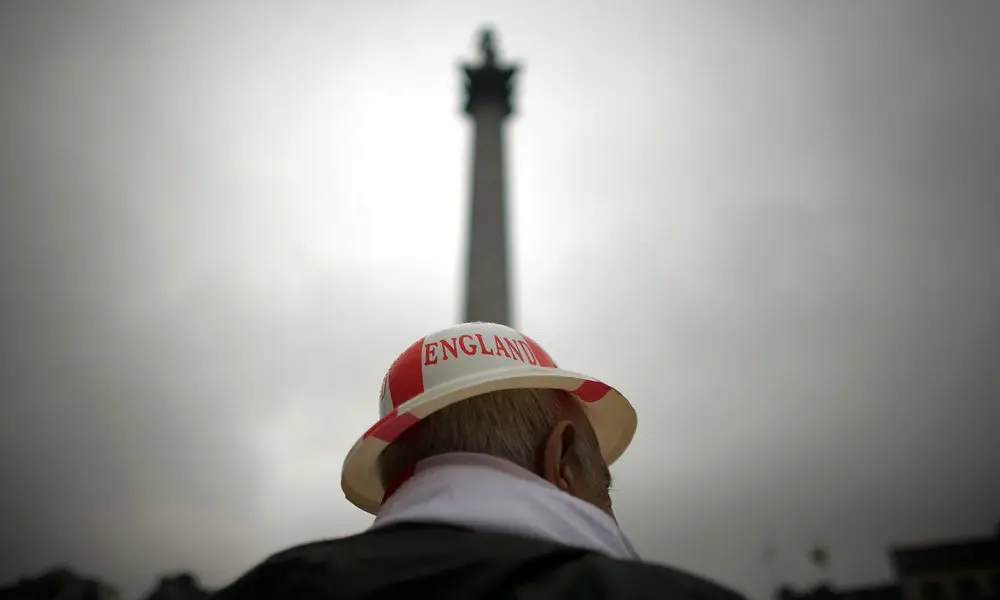 Classical music has always flourished in England's green and pleasant land. From the baroque era, through classicism, romanticism, and modernism, English composers have developed a distinctive musical voice; one that is uniquely and recognizably 'British'. There's no better way to celebrate St George's Day than by delving into the rich traditions of British musical heritage with this hand-picked playlist featuring the crown jewels of patriotic pieces. Scroll down to discover our selection of the best classical music for St George's Day featuring ten essential pieces.
10: Stanford: Songs of the Fleet
Charles Villiers Stanford was a stalwart figure in the British musical landscape during the so-called 'English Musical Renaissance' at the beginning of the twentieth century. He became the first Professor of Composition at the Royal College of Music in London in 1883 and Professor of Music at Cambridge in 1887. His Songs of the Fleet (1904) are a beautiful cycle of five songs for baritone, accompanied by chorus and orchestra. From the triumphant, 'Sailing at Dawn' to the playful fourth movement 'The Little Admiral', Stanford's musical voice emanates full-blooded warmth and pride in Britain's naval heritage.
Charles Villiers Stanford : Songs of the Fleet for baritone, chorus and orchestra Op. 117 (1909-10)
9: Purcell: 'When I Am Laid In Earth' from Dido and Aeneas
It's fair to say that British classical music wouldn't be where it is today without Purcell: his name is consecrated in the classical canon as one of the all-time greats. He also cultivated an inherently 'English' style of baroque counterpoint, as exemplified by the seminal 'When I am Laid in Earth' from the opera Dido and Aeneas. This aria is inextricably linked with remembrance and is widely performed in England to mark the anniversary of World War II. A stunning, poignant piece of classical music for St George's Day.
8: Handel: Zadok the Priest
Originally composed for the coronation of King George II in 1727, Handel's Zadok the Priest is bound up with British patriotism, the monarchy, and all things pomp and ceremony. The opening bars are simply iconic: flowing strings build suspense and anticipation, culminating in that well-known, dramatic entry of the choir. Everything about this piece exudes grandeur on an awesome scale, from the enlarged performing forces to the profundity of the text and the anthemic reprise. Quite literally fit for King (or Queen) and the epitome of good old-fashioned royal pomp and ceremony.
Handel: Zadok the Priest (Coronation Anthem No. 1, HWV 258)
7: Holst: 'Jupiter' from The Planets Suite
Another key figure in British modernist scene, Gustav Holst curated a compositional style that is audibly 'English'. The crowning jewel in his famous Planets Suite is undoubtedly 'Jupiter'. Bold, characterful oom-pah themes, a beefed-up brass section, and warm dancing strings breathe life into Holst's personification of the Red Giant. 'Jupiter' is one of the best pieces of classical music for St George's Day for two reasons. Not only is this an example of fine English craftsmanship, it also lends its rousing tune to the poignant hymn, 'I Vow to Thee My Country', set to words from Sir Cecil Spring Rice's poem.
Holst: The Planets, Op. 32 - 4. Jupiter, the Bringer of Jollity
6: Vaughan Williams: English Folk Song Suite
Another name synonymous with British classical music is that of Ralph Vaughan Williams, who spearheaded neo-nationalist musical idiom in Britain. Eschewing the musical pomp and ceremony, Vaughan William's unique style paints pastoral, idyllic landscapes and beautiful countryside. The English Folk Song Suite (1934), one of the best pieces of classical music for St George's Day, is a celebration of the British musical folk tradition, with an emphasis on authentic folk tunes, modal harmonies, earthy timbres and lilting triple metres. Guaranteed to get those toes tapping!
Vaughan Williams: English Folk Song Suite - 1. March: Seventeen come Sunday
5: Delius: North Country Sketches
Frederick Delius continued long-held romantic and neo-romantic trends in Britain. His North Country Sketches was inspired by the landscapes of Yorkshire, the place of the composer's birth, throughout the various and changing seasons. The first two movements, representing autumn and winter, establish bleak, desolate, bare countryside. Gradually, shadowy feeling begins to melt away, unfurling and blossoming into a more buoyant 'Dance' and a more optimistic, sunny finale, 'March of Spring'. Delius paints the most brilliant bucolic musical pictures, contrasting sweeping romantic lyricism with darker earthy hues and characterful melodic gestures.
Delius: North Country Sketches - 4. The March of the Spring
4: Britten: War Requiem
In some ways, Britten stands apart from contemporary trends in British music and pursued his own, individual path. His War Requiem, first performed in 1962, is a requiem like no other: settings of nine poems by the war poet Wilfred Owen are woven into the structure of a traditional Latin mass. Britten himself was a conscious objector to the war and his angst permeates this work, felt keenly in tumultuous moments such as the angular, jarring 'Dies Irae' and 'Be Slowly Lifted Up'. The final movement 'Let Us Sleep Now' reconciles these darker hues with a lighter, peaceful moment of remembrance.
Britten: War Requiem, Op. 66 - VI. Libera me: c. Let Us Sleep Now... In Paradisum
3: Parry: I Was Glad
Considering the fame of some of his work, Hubert Parry's name is surprisingly little-known. As part of his extensive contribution to the back catalogue of Anglican church music, he is the composer that gave us the glorious hymn Jerusalem, for example. The anthem that makes our St George's Day playlist, however, is that lesser-known diamond, I Was Glad, a choral introit with glittering royal connections. Like Handel's Zadok, I Was Glad was originally written to be sung at the coronation of the British monarch. It was also Kate Middleton's bridal entrance music when she married Prince William at Westminster Abbey in 2011.
2: Elgar: Pomp and Circumstance March No.1
A doyen of British music, Elgar is often credited with putting English music back on the map: not since Henry Purcell, who died in 1675, had a British composer claimed such international recognition. Our selection of the best classical music for St George's Day would not be complete, of course, without Pomp and Circumstance March No.1. This piece oozes Britishness and ceremonial splendour and will forever be great music for fireworks. In case this piece didn't feel patriotic enough, lyrics were later added by A. C. Benson, giving us the rousing anthem 'Land of Hope and Glory'.
Elgar: Pomp and Circumstance Marches, Op. 39 - March No. 1 in D Major
1: Vaughan Williams: The Lark Ascending
Easily topping our list of the best classical music for St George's Day is the mighty Vaughan Williams with his sublime orchestral work, The Lark Ascending. This masterpiece, written after he returned from war, is based on a poem of the same name by George Meredith. Vaughan Williams immerses the listener in a pastoral idyll with twittering birds and dazzling sunlight, with a compositional style rooted in traditions of folk music but quintessentially Vaughan Williams. The Lark Ascending was recently voted the greatest piece of classical music in Classic FM's Hall of Fame 2022, the world's biggest poll of classical music tastes, in Vaughan Williams' 150th birthday year.
Nicola Benedetti - The Lark Ascending - video
---
Format:
UK English