Best Philip Glass Works: Essential Pieces By The Great Composer
One of the most prolific and influential composers of our age, Glass is an icon and figurehead.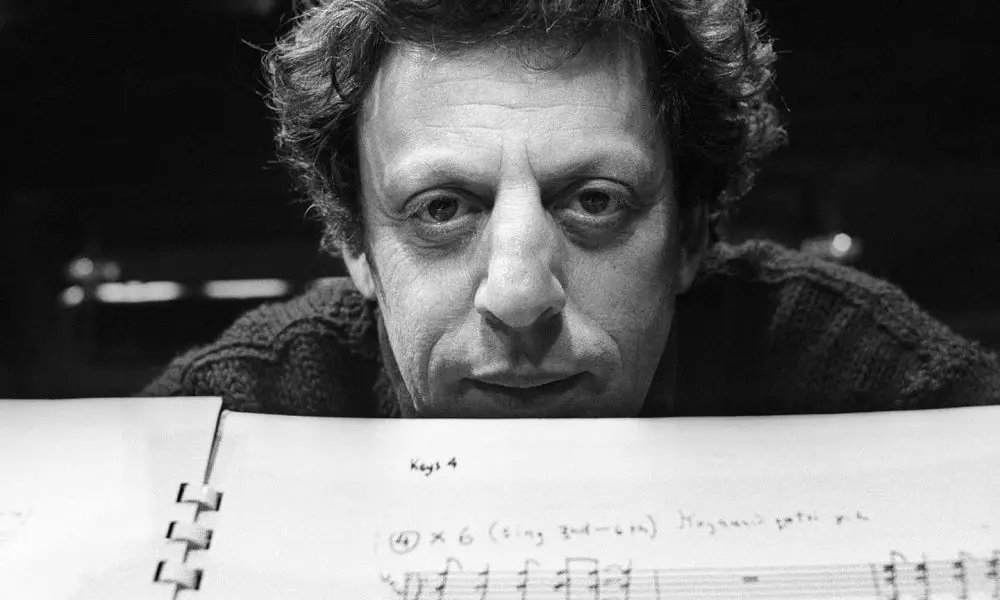 One of the most prolific and influential composers of our age, Philip Glass has become an icon and figurehead in the arts. At its core, Glass describes his music as having "repetitive structures." He's taken that foundation to fifteen operas, multiple chamber operas and musical theater works, fourteen symphonies, twelve concertos, chamber music, nine string quartets, and several film scores (three of which have been nominated for an Academy Award). Glass founded the Philip Glass Ensemble in 1968, and the group continues to perform worldwide and record to this day.
When getting to know his work, you'll start to find connections to popular culture and history everywhere. To wit, this list of the best of Philip Glass includes encounters with David Bowie, Kafka, Hollywood, J.S. Bach, and more along the way.
Listen to the best of Philip Glass now.
Opening (1981)
When Philip Glass originally composed his six-movement piece Glassworks in 1981, his intention was to introduce his music to a broader audience following the success of large-scale concert and stage works. It was composed for the recording studio and Glass intentionally wrote the work in shorter and more accessible movements to extend a hand into the broader listening community. It worked. Classical music aficionados, and those new to classical music alike, will find it hard not to immediately find something to love about this mysterious and sentimental piece.
Glass: Glassworks - Opening
Violin Concerto No. 2, The American Four Seasons (2009-2010)
There's one critical difference between Philip Glass's "The American Four Seasons" and its companion piece, Vivaldi's "The Four Seasons." In Glass's version, there is no indication which season is linked to which movement and the listener must decide for themselves. The music features sweeping strings and showcases Glass's signature two-against-three rhythmic motive. This feeling of two against three creates a natural push and pull in the music, an underlying source of tension and intrigue.
Glass: Violin Concerto No. 2 - The American Four Seasons - Movement II
Metamorphosis (1988)
If Philip Glass's "Metamorphosis" sounds familiar, it could be for a few reasons: "Metamorphosis One" was included in an episode of Battlestar Galactica and "Metamorphosis Two" can be found in the acclaimed 2002 film, The Hours. "Metamorphosis Two" is also the piece that Pearl Jam plays before their shows! What inspired Glass to create this work? The name "Metamorphosis" is a reference to Franz Kafka's 1915 novella of the same name. Perhaps the disquieting threat of drifting into a distant key throughout Glass's work can be linked to Gregor Samsa's unwelcome transformation in Kafka's story.
Echorus (1995)
"Echorus," which stems from the word "echo," is a lush work for two solo violins and string orchestra. Philip Glass has shared that "the music is inspired by thoughts of compassion and is meant to evoke feelings of serenity and peace." These intentions shine through brightly. Glass calls upon the chaconne in this work, a form that J.S. Bach is famous for using, and the soloists either play the chaconne or melodic parts.
The Poet Acts (2002)
While "Metamorphosis I" was inserted into The Hours, "The Poet Acts" is part of the original score that Philip Glass created for the film. This is the kind of moody music that's perfect for a rainy day – of particular note is the bass line which alternates between taking place as the accompaniment and the melody.
Glass: Glass: The Hours - Arr. Michael Riesman: The Poet Acts
Four Movements for Two Pianos (2008)
Perhaps the most dissonant of Philip Glass's works to be found on this list, this piece showcases Glass's profound piano writing. Glass, who is also a trained pianist, creates an engaging dialogue between the two instruments. One wonders, at moments, if the pianos are conversing or in argument.
Glass: Four Movements for Two Pianos - IV. —
Heroes Symphony (1996)
Who was Philip Glass's favorite rock musician? The evidence points to David Bowie. Glass took inspiration from Bowie's "Heroes" album when composing his "Heroes Symphony," and Glass's first symphony is based on Bowie's album Low. The "Heroes Symphony" is exuberant and bright, with the brass and winds coming to the forefront.
Études – No. 6 (1994)
The pianist is in a full-out sprint throughout this incredibly virtuosic étude. Like many of Philip Glass's best works, equal attention must be paid to both the left and right piano hands, as they both contain melodic material. It's simultaneously the sound of pure joy and determination.
Discover more of our articles collecting the best works of composers through the ages.
Format:
UK English