Discover Max Richter: The Groundbreaking Contemporary Composer
Max Richter is one of the most influential contemporary classical composers in the world. We take a look at his groundbreaking career.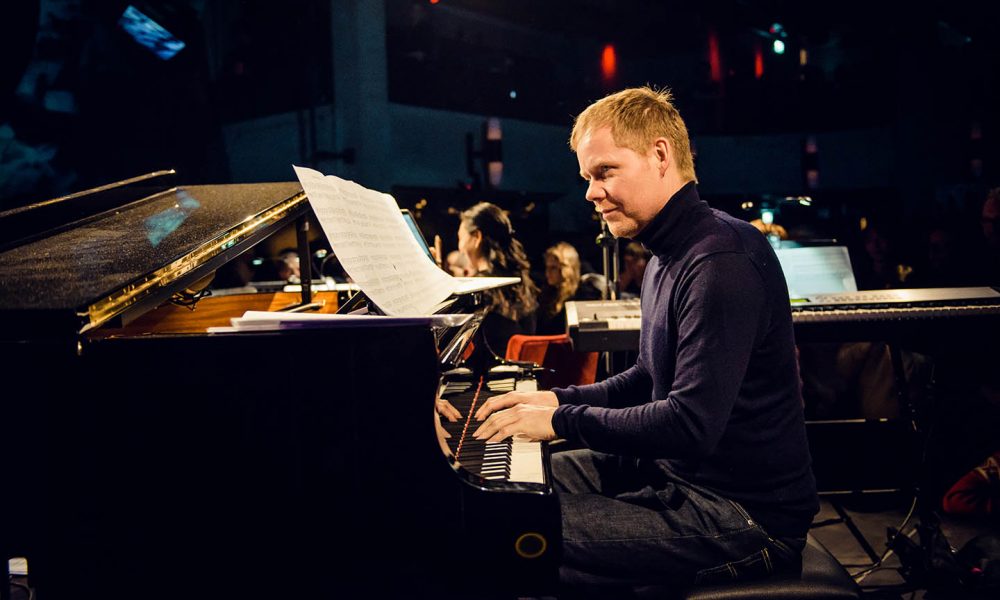 Max Richter is one of the most influential figures on the contemporary music scene, producing groundbreaking work as a recording artist, composer, pianist, and collaborator. He is best known for his genre-defying solo albums including The Blue Notebooks, named by The Guardian as one of the best classical music works of the 21st Century, Recomposed By Max Richter: Vivaldi – The Four Seasons, which topped the classical chart in 22 countries, and his landmark eight-hour magnum opus Sleep praised by Pitchfork magazine as one of the 50 best ambient albums of all time. But how did Richter get here?
Listen to Voyager: Essential Max Richter, the first-ever collection of the innovative composer's work, now.
Despite his music's all-embracing nature, Richter was classically trained: he studied composition and piano at Edinburgh University, the Royal Academy of Music, and with Luciano Berio in Florence. He initially established himself with the contemporary classical ensemble Piano Circus, which he co-founded in 1989, and spent much of the next ten years championing the minimalist works of composers like Arvo Pärt, Steve Reich, Terry Riley, and Michael Nyman. It was during this 1990s period that Richter began to broaden his horizons significantly beyond his classical background (though, notably, his own interests already accommodated everything from folk to punk).
A composer for his time
Max Richter is very much a composer of and for his time, having been keen to collaborate with electronic musicians from his earliest days in professional music, and even contributed strings to Lucky Pressure by famed drum'n'bass act Reprazent (in 2000). Richter's work with ambient auteurs Future Sound Of London has been particularly notable, starting with their 1996 album Dead Cities and with him going on to work extensively on their Amorphous Androgynous project. These leanings, and that interest in ambient soundscapes above all, have made Richter's work a natural meeting point between the classical and the popular, ambient influences being as much a part of his composition, and of his working methodologies, as his classical training.
Yet he eschews the chocolate box tendencies of many of the composers who follow his work, and instead touches the hearts and soothes the souls of his vast, rhapsodic audience more through experience, talent, the brave tackling of social and political issues, and the rebirth of devotional music styles, than through calculated manipulation. While many simply tinkle the ivories winsomely, Richter's sights are set much higher, with the results usually challenging as well as populist. Richter may be of now, but he is steeped in the music's history, and has also composed extensively for opera, ballet, television, and film. While many of his followers' works glisten with sugar, Richter's is more like a gourmet meal, replete with every course from the amuse-bouche to the dessert wine.
The blossoming of the scene surrounding post-classical music was perhaps summed up by the initiation of the cult German electronica label Kompakt's Pop Ambient compilation series in 2001 (retaining the rave generation as they continued to yearn for electronica, but without the endless late nights, and just about to celebrate its twentieth anniversary). The scene had FatCat's 130701 off-shoot (the label which championed Richter in his early days, not to mention fellow Deutsche Grammophon composer Hauschka) as its standard-bearer. It has now grown into a much broader movement, which has seen countless acts and labels spring up worldwide, working in a variety of styles in their pursuit of new routes for classicism. At the heart of it, though, remains Richter.
Even in the early part of his solo career, Richter's work could be breathtaking, ambitious, lightly experimental, and yet vividly colored with melody, as with the 130701 collections since reissued by Deutsche Grammophon, one of the world's most long-lived and respected classical labels. The Blue Notebooks (2004) dealt with the Iraq War and with memory most movingly and was named by The Guardian as one of the best classical music works of the 21st Century. Songs From Before (2006) took melodic ideas from outside sources and reinvented them delicately. 24 Postcards In Full Colour (2008) was a novel concept album, based around ringtones, and Infra (2010) accompanied a ballet.
The Blue Notebooks featured Tilda Swinton, and Songs From Before likewise Robert Wyatt, reading from literary greats, a thread which Richter later returned to with another ballet work, his Virginia Woolf-themed, Gillian Anderson-featuring release Three Worlds: Music From Woolf Works. Richter's readings have always been selected carefully, to throw new light onto the source material and ongoing real-world situations and tropes.
Film, TV, and advertising soundtracks
Richter seems to now work at a remarkable pace, particularly as his storytelling pieces became ever more popular for film, TV, and advertising soundtracks. This was a process that began with 2007's Waltz With Bashir, and which continues apace, most recently with the score for Brad Pitt's latest movie, the 2019 science fiction box office smash Ad Astra. In between, it has touched upon much-loved water cooler television such as HBO's The Leftovers and Charlie Brooker's Black Mirror. In his soundtrack commissions, of which there have been many more than for most of his predecessors, Richter has captured the zeitgeist by adapting with ease to the 21st century's methods of music distribution.
Likewise, when his pop breakthrough piece, the epochal, durational, Gustav Mahler-influenced 2015 lullaby Sleep, was premiered, beds were wheeled into the concert halls; and when it was linked to World Sleep Day, that worked fine for him as well. When like-minded artists stepped up to remix excerpts from Sleep and The Blue Notebooks, Richter didn't balk. And when Spotify became a go-to for those searching for calm, Richter's compositions were right there, ready and waiting.
A diverse set of influences
Richter's synthesis of contemporary electronics, stark pre-millennial minimalism, nineteenth-century romance, and early music's sense of poise and majesty, leads back to a diverse set of influences (also including a good dollop of rock, from krautrock to heavy metal to post-rock). Richter is proud to reference this consistently in interviews and on social media, and to interact with it via recitals and via reinterpretations of pieces by his favored composers. Most significantly he radically reworked Vivaldi's The Four Seasons on Recomposed, which topped the classical charts in 22 countries, and has also recorded pieces by Bach, Tallis, and Satie. All of this has allowed him to become a notable gateway to further exploration for new, young classical fans.
That remarkable position can only be improved yet further by the fact that a Richter compilation has finally been released recently – the career-spanning double CD Voyager: Essential Max Richter (the Voyager space missions were influential on Richter's Ad Astra OST). The anthology is comprised of original compositions from Richter's catalogue of successful solo albums, and his iconic TV and movie themes and soundtracks. And how did Richter celebrate the release? Not with anything special, surely? Oh no, he just casually performed Sleep at the Great Wall Of China. Sleep has also inspired the making of a fascinating and immersive 90-minute documentary.
One of today's most in-demand artists
So what might Richter do next? He finds himself in a privileged position for a classical composer, able to watch his own career explode both critically and commercially, and at the same time able to make use of the improved budgets which come with such success. Could we, for instance, see him collaborating more intensively with some of those from the popular music world who have already remixed his work? Or could we see him working with more of the classical world's most notable current performers? Either way, his best work may well be yet to come.
Voyager: Essential Max Richter can be bought here.
Format:
UK English