Blues Power – The Story Of The Guitar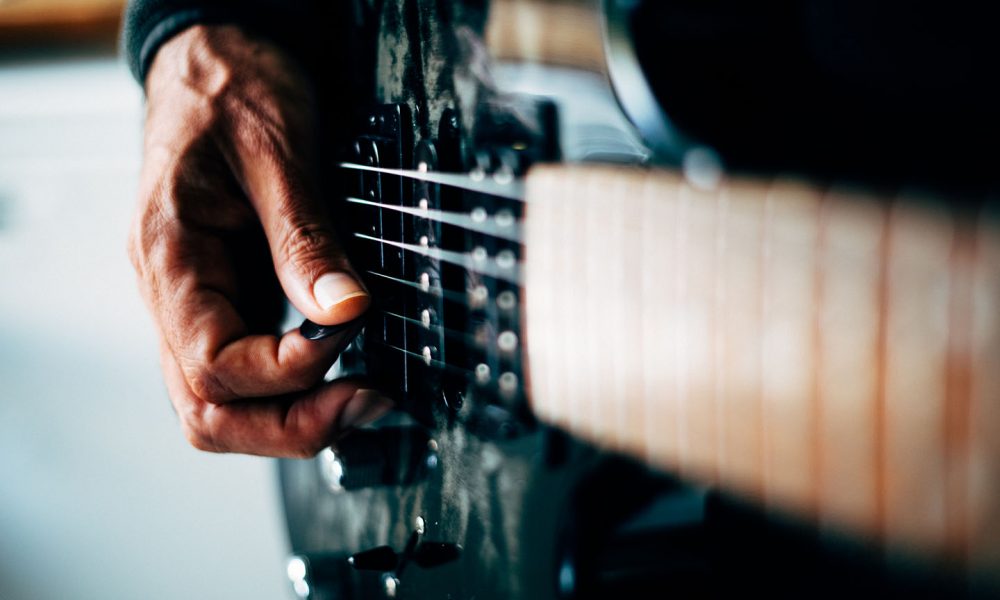 The Blues are very much about the individual; an artist who is at one with their music and their feelings. A guitarist, who feels every nuance of the blues and plays them, personify that feeling – this is Blues Power.
The first blues guitar hero
Back in 1903, the self-styled "Father of the Blues," W.C. Handy met a man who is arguably the first in a long and venerable line of guitar playing blues artists who have things to say and the ability to play their instrument in a way that transcends the ordinary and in some special cases feels like the work of the gods…or maybe even the devil.
Handy takes up the story, "Then one night in Tutwiler, as I nodded in the railroad station while waiting for a train that had been delayed nine hours, life suddenly took me by the shoulder and wakened me with a start. A [man] had commenced plunking a guitar beside me while I slept…as he played, he pressed a knife on the strings of the guitar in a manner popularised by Hawaiian guitarists. The effect was unforgettable. His song too, struck me instantly. "Goin' where the Southern cross' the dog." The singer repeated the line three times, accompanying himself on the guitar with the weirdest music I had ever heard."
Was this the first blues guitar hero? It's unlikely that he was ever recorded, but it gives us an idea of when the notion of a guitar-slinger came about. Most people say that Papa Charlie Jackson was the first bluesman to record, but that's not true. Both Ed Andrews and Charles Anderson recorded slightly before Papa Charlie cut his debut in August 1924. But only one of these men qualifies as a guitar-slinger. Anderson was a singer who sang with a pianist, Papa Charlie played the banjo (much louder than a guitar and ideal for busking on the streets), which leaves the enigmatic Ed Andrews, who recorded "Barrel House Blues" in Atlanta in late March 1924 accompanied by his own guitar. We know absolutely nothing about Andrews, but we can listen to his song, and on it, we hear him play a couple of "guitar solos"; the first played by a bluesman on record. Mr. Andrews has a lot to answer for.
Blind Lemon Jefferson
It's the wonderfully named Blind Lemon Jefferson, who we generally acknowledge as the first bluesman who played guitar solos. No one knows for sure if Lemon was his real name, but there is no doubt that his name stands as one of the pinnacles of Country Blues music. Jefferson began his career playing for tips on street corners in Dallas, reportedly earning up to $150 a day. He could well have stayed on the street corners but for the foresight of a Dallas store owner who told Paramount Records, suggesting they record the 27-year-old blind singer and guitarist.
Paramount agreed to record Jefferson, and sometime in December 1925 or January 1926, he was taken to Chicago. For some strange reason, neither Blind Lemon nor Paramount was keen on recording a blues song. He recorded two spirituals and headed home to Dallas. A couple of months later, he was back in Chicago. This time he did record the Blues, four sides were cut, including what became his debut. Long Lonesome Blues came out in May 1926, Paramount and Blind Lemon changed forever the face of recorded Blues – and arguably the course of popular music.
Blind Lemon's delivery, his unusual phrasing, and the way he combined his guitar and vocals to enhance the melody line were what made him unique. Between 1926 and 1929, he cut over 90 sides, making him the most recorded of the early bluesmen. His massive record sales afforded him the luxury of two cars and a chauffeur. Jefferson was a unique talent who combined a high-pitched voice, with great guitar virtuosity: Lemon produced "a sound," something that stood him apart from other artists. The artist was now the star, not the material.
Like many guitar gods who followed him, Blind Lemon met a tragic end, although Jefferson's death is shrouded in mystery; he may have died of a heart attack, or he could have frozen to death in a Chicago snowstorm shortly before Christmas 1929.
Blind Blake and Robert Johnson
Record companies, in the wake of Jefferson's success, tried to find artists that could compete. Among them was Blind Blake. Just listen to "Blind Arthur's Breakdown" to hear where the idea that a virtuoso guitar player could sell records came from. He may be a bit more ragtime than blues, but he is brilliant.
Then in 1936, 25-year-old Robert Johnson recorded for the first time. During his short career, he made just twenty-nine recordings, and each one has been studied and dissected to extract every last nuance of what makes them so brilliant. There is an insatiable demand for information and a seeming need to understand not just his playing, but also his life, his motivations, and his influences. But he became the fountainhead from which every blues-loving guitarist in the 1960s, and beyond, has taken inspiration.
T-Bone Walker
But Johnson was not the only pre-war guitar hero. In his late teens, Aaron Thibeaux Walker was often to be found leading Blind Lemon Jefferson along Central Avenue in Dallas. He was self-taught on the guitar, and he began playing local parties from around 1923, later touring in medicine shows and with Ida Cox. In 1929 he made his first recordings, in Dallas as Oak Cliff T-Bone. Walker's boyhood friend Charlie Christian became one of the top jazz guitarists of the early 40's, and an inspiration within Jazz circles like Walker in the Blues.
Around 1936 Walker began to experiment with the electric guitar; it was arguably one of the great experiments in modern music. During the early 40's Walker developed his stage act, doing the splits while playing the guitar behind his head or playing it between his legs; later copied by Jimi Hendrix and Chuck Berry. But it was not all flash; there was a huge amount of substance to the way he played. His intricate jazz chords, coupled with his superb tone and sense of dynamics, made Walker an inspiration for just about every guitarist that followed.
By 1946 Walker signed to the Black and White label and had his first R&B hit in 1947 with "Bobby Sox Blues." The next year it was followed by "Call It Stormy Monday (But Tuesday is Just as Bad)," better known as "Stormy Monday Blues." T-Bone Walker is a bonafide guitar god, and if you don't believe us take B.B. King's word for it. "Charlie Christian, of course, I was crazy about him, and then finally I heard "Stormy Monday," my guy called T-Bone Walker, I went crazy for the guitar and then crazy in every sense. I'd never heard anything sound like that guitar to me."
B.B. King
Twenty-three-year-old Riley B. King was inspired by Sonny Boy Williamson's radio show to move to Memphis in 1948, where he landed a job at the radio station WDIA. He was known as the Beale Street Blues Boy, which naturally got shorted to B.B. King. His popularity in Memphis earned him the chance to record for Bullet in 1949. His first sides were not too successful, but then Sam Phillips got B.B. into his Memphis Recording Services studio in September 1950. The Bahiri brothers visiting Memphis in search of talent, signed B.B. to their RPM label and agreed to release the sides that he had cut with Phillips.
These records failed to catch hold, and so Joe Bihari, the youngest brother, went to Memphis and recorded B.B. in a room at the YMCA on 8 January 1951. On a subsequent visit to Memphis Bihari recorded B.B.'s version of Lowell Fulson's "Three O'clock Blues." It entered the chart on December 29, 1951 and eventually spent five weeks at No.1 in early 1952. Not quite an overnight sensation, it was the start of the most successful long-running career in modern Blues history. B.B. had made more records than any living blues musician, or for that matter, most musicians. His influence as a guitar player is heard through the playing of so many that followed.
King's great skill has been to ride out the mood swings of modern music and continue to come up with interesting albums. He brought the Blues out of the margins and into the mainstream of American music, he is, for many, the King of the Blues, but there are many others that sit close to his thrown.
Muddy Waters
The man who held the title of the King of Chicago Blues was first recorded in mid-summer 1941 when Alan Lomax visited Stovall's Plantation for the Library of Congress. 26-year-old Muddy Waters sang "Country Blues" and "Burr Clover Country Blues." In 1943 Muddy went to live in Chicago. Big Bill Broonzy helped the country boy break into the urban scene and he got his first break, playing guitar behind Sonny Boy Williamson No.1.
Muddy's recording career began in 1947 playing guitar for Sunnyland Slim. Waters and bass player Big Crawford recorded two other songs, but Leonard Chess was unimpressed, and so they went unreleased. However, the following year Muddy and Crawford were back and cut "I Can't Be Satisfied" and "Feel Like Going Home," which Leonard Chess released on Checker. The initial pressing sold out in less than a day, going on to make No.11 on the R&B charts.
By 1951 the Muddy Waters Blues Band was recording as an entity, the epitome of the hard-edged, driving electric Blues band of Chicago, the very fountainhead of what we call rock music today. Throughout the 1950s and early 1960s Muddy's band was the city's premier recording outfit, a veritable academy of the Blues. Among those who played with Muddy were guitarists Jimmy Rogers, Luther Tucker, Pat Hare, Earl Hooker, and Buddy Guy.
Chuck Berry
There's not a guitarist who began their career, post-1960, that has not been influenced by Chuck Berry. In the mid-1950s Berry began working in Chicago, where he met Muddy Waters, who introduced him to Leonard Chess. Within a few weeks, on 21 May 1955, Ol' Flat Top cut his first record, "Ida Red"; a country blues tune that Berry renamed "Maybelline." The record went to No.1 on the R&B charts for 11 weeks and No.5 on the Hot 100; it was a defining moment in rock and roll.
From then until the start of the 60's Berry was a constant on the R&B and Hot 100 charts; "Roll Over Beethoven" (1956), "School Day" (1957) "Sweet Little Sixteen" (1958) and "Johnny B. Goode" (1958) were his biggest records. While Berry was clearly not a straight blues player his records were full of blues licks and influences.
But Berry, like every guitarist, was also influenced by others. In 1958 his classic "Johnny B. Goode" opened with an intro that has become something of a signature piece. In 1946 Louis Jordan was the man that every aspiring black musician looked up to. Along with his Tympany Five he recorded "Ain't That Just Like A Woman." The guitarist with the Tympany Five was Carl Hogan, and his guitar intro to the song was almost note for note the same as Chuck Berry's later recording. As the old adage goes, there ain't no such things as new ideas, there's just old ones thought of again.
Chicago and Elmore James
Chicago in the 1950s and early 1960s was a hotbed of hotshot guitarists. Besides those we've already mentioned, there were Bo Diddley, Hubert Sumlin's – Howlin' Wolf's guitarist, Wolf himself, Eddie Taylor, Otis Rush, and over in Detroit was John Lee Hooker, who recorded in Chicago. All these musicians wielded influence on a generation of English wannabe guitar gods. But there was one guitarist who latterly recorded in Chicago but started out his career in the deep South that has more to answer for than most.
Elmore James purchased his first guitar in 1933, it was a $20 National, and he started by playing house parties and jukes joints as Cleanhead or Joe Willie James, and pretty soon, he was playing gigs all over the Delta. In 1937 Elmore moved to Greenville, Mississippi, and met and played with Sonny Boy Williamson (Rice Miller) and Robert Junior Lockwood. It was here that he met Robert Johnson and probably first heard "I Believe I'll Dust My Broom," the song that was to establish James's reputation. There is speculation that it was Johnson that taught James how to use a piece of metal in order to "slide" the notes on the guitar, a talent that James would come to master.
After World War 2 and his service in the army, he reunited with both Sonny Boy and Homesick James, who both had radio shows on KFFA in Helena, Mississippi. Elmore was given some time on the shows, often performing "Dust My Broom." In 1951, Sonny Boy secured a recording contract with Trumpet Records, and in 1952 he recorded "Dust My Broom," using the name Elmo James; the song made No.9 on the R&B charts. By early 1953 he had another top ten R&B hit, "I Believe," and he had settled in Chicago and in 1959 Fire Records signed him, and with them, he recorded some of his best music, "The Sky Is Crying" made No.15 in the R&B chart; it's one of his best numbers.
The Rolling Stones
Shortly after "The Sky is Crying" made the charts 19-year-old Brian Jones went to see the Chris Barber Band in Cheltenham; the band featured Alexis Korner in a blues segment. A month later, Brian visited Alexis in London and heard his first Elmore James record, soon after which he bought an electric guitar. Within a year, calling himself initially Elmo Lewis, Brian formed the Rolling Stones.
Brian, Keith, and Mick were all blues lovers, and guitarists like James, Chuck Berry, Bo Diddley, and Muddy Waters did so much to influence the sound and what the fledgling Rolling Stones played. Over the next 50 years, the Stones' love for the blues has not diminished, and Keith has honed the sound of the blues guitar in particular, along with Mick Taylor and later Ronnie Wood. As Muddy later said, "Before the Rolling Stones, people didn't know anything about me and didn't want to know anything. I was making records that were called 'race records.' I'll tell you what the old folks would have said to kids who'd bought my records. They'd have said, 'What's that?' Take off that n____r music! Then the Rolling Stones came along, playing this music, and now the kids are buying my records and listening to them."
Blues in the UK
As the Stones were starting out in South West London at the Crawdaddy Club, the slightly younger art school student and blues-loving Eric Clapton was watching them. In October 1963, Eric joined the Yardbirds, and after he left to join John Mayall's Bluesbreakers – a more blues-loving band than the Yardbirds, Jeff Beck took his place. By June 1966, Jimmy Page had joined Beck in the Yardbirds, but after a few months, Beck left to form his own band.
By the summer of 1968, Jimmy Page was recording an album he was thinking of releasing under the name, The New Yardbirds; come the time of its release, they were called Led Zeppelin, and the rest was very definitely history. Led Zep's embracing of the blues was total and absolute, with influences that ran all the way back to Robert Johnson and even Blind Lemon – 'The Lemon Song' from their second album may have owed a lot to Howlin' Wolf's "Killing Floor," and a good dollop of sex, but it would seem churlish not to believe they were name-checking the Texan legend.
Following in Clapton's wake, after he left to form Cream, in Mayall's band was, of course, Peter Green, who went on to found Fleetwood Mac, and Mick Taylor. All these British guitarists loved the new breed of American guitarist/bluesman that were up and coming in the early to mid 1960s, among them, Matt Guitar Murphy, Freddy King, Albert King – whose song "Blues Power" we used as the inspiration for this feature – and Albert Collins who stamped their particular playing styles on the genre.
Clapton left Cream and formed Blind Faith with Stevie Winwood, and by the time Eric became Derek and the Dominos, the addition of the three American musicians and of course, Duane Allman made the blues even more popular. Other British bands made the blues central to their recording and live careers; initially, after leaving John Mayall, Peter Green, Mick Fleetwood, and John Macvie made Fleetwood Mac a blues powerhouse. There were others in the 1960s like Rory Gallagher's band, Taste, Savoy Brown, Ten Years After, and by the 1970s Free and Bad Company were based around the concept of a great lead guitarist and a fine singer. Later still, Gary Moore came along and became a virtual one-man blues revival machine.
Blues in the US
But not for one second was the blues' influence felt in the UK alone. In America on March 24, 1964, as The Stones were playing The Station Hotel in Richmond, three Americans in their early to mid-twenties were recording at the Woman's Club in Milwaukee, Wisconsin. John Koerner, Dave Ray, and Tony Glover had all met at the University of Minnesota where Koerner and Ray were taking classes; Glover simply hung out in search of like-minded Blues fans.
They met E.D. Nunn, the heir to the Nunn-Bush Shoe Company fortune, who had his own record label, Audiophile – their previous biggest seller was an album with one side devoted to a thunderstorm. On their album, Koerner, Ray, and Glover covered Lead Belly, Muddy Waters, and Blind Lemon Jefferson, among others. It also included a brilliant version of "Dust My Broom," and so they were arguably among the first "white boys playing the blues" to come out of America.
A year later, the Paul Butterfield Blues Band released their debut album, and playing guitar was Mike Bloomfield, who hailed from Chicago, but rather than being Black, he was White and Jewish, not a natural blues pedigree. He was, however, one of the first genuine American white boy blues guitar greats. Plowing a similar, although more electric-based sound, The Blues Project started life in New York City before signing to Verve Records and creating some exciting music, especially live.
Later there was Duane Allman, whose band, The Hour Glass, along with his brother Gregg, wanted to play the blues, but they were saddled with a producer who saw them more as a white-boys-play-Motown band. By 1969 they had become the Allman Brothers Band, and along with guitarist Dickey Betts, they played some of the greatest blues-influenced rock to come out of America. At Fillmore East, recorded in New York in March 1971, featured band originals alongside Willie McTell's "Statesboro Blues," Elmore James' "Done Somebody Wrong," and T-Bone Walker's "Stormy Monday." The twin-lead guitar work of Duane Allman and Dickey Betts has been the model for just about every twin-led guitar band.
To list those that followed and formed during these heady days, we must include Johnny Winter, the brilliant Albino Texan whose deep respect for the blues and his consummate skill led to him recording some great music with Muddy Waters in the 1970s.
Likewise, Jimi Hendrix, whose playing helped redefine everything we have come to understand as the electric guitar, was never far away from the blues when he played. Hendrix played many extended Blues jams in his live shows; songs like "Red House" or "Catfish Blues" best demonstrate Jimi's commitment to the Blues. In his early shows, including those in New York, he played Robert Johnson as well as Jimmy Reed. Throughout his work, you hear the influences of Muddy, B.B. King, and Chuck Berry, and you hear Jimi's influence on Buddy Guy in particular.
Later still came Stevie Ray Vaughan, who died tragically before he could fully explore what could be played on the electric guitar. Fortunately, he left some classic recordings, including some with Albert King that are intense and powerful.
Blues women
And it wasn't just men who were playing the guitar and singing the blues. Back in the 1940s, Sister Rosetta Tharpe played some scintillating electric blues, having been influenced by Memphis Minnie. They helped lay the ground for an 18-year-old Bonnie Raitt, who started playing gigs in 1967 before graduating to work with John Hammond Jr, Son House, Mississippi Fred McDowell, and Robert Pete Williams
We've left out many names, names that, given the space, we would write about. We all have our personal favorite guitar gods, and almost without exception, it's because they play the blues that we love them. There is something so special about seeing a brilliant guitarist with their eyes shut, head flung back, wringing the plaintive notes of pain and anguish from their guitar. It's playing that uplifts us, enriches us, and makes us feel good. It's a fallacy that the blues are all about sad times. It's music for every occasion, and as long as people play the guitar, some of them will play the blues.
Format:
UK English