Iggy Pop's Historic First Three Solo Albums Get Vinyl Reissues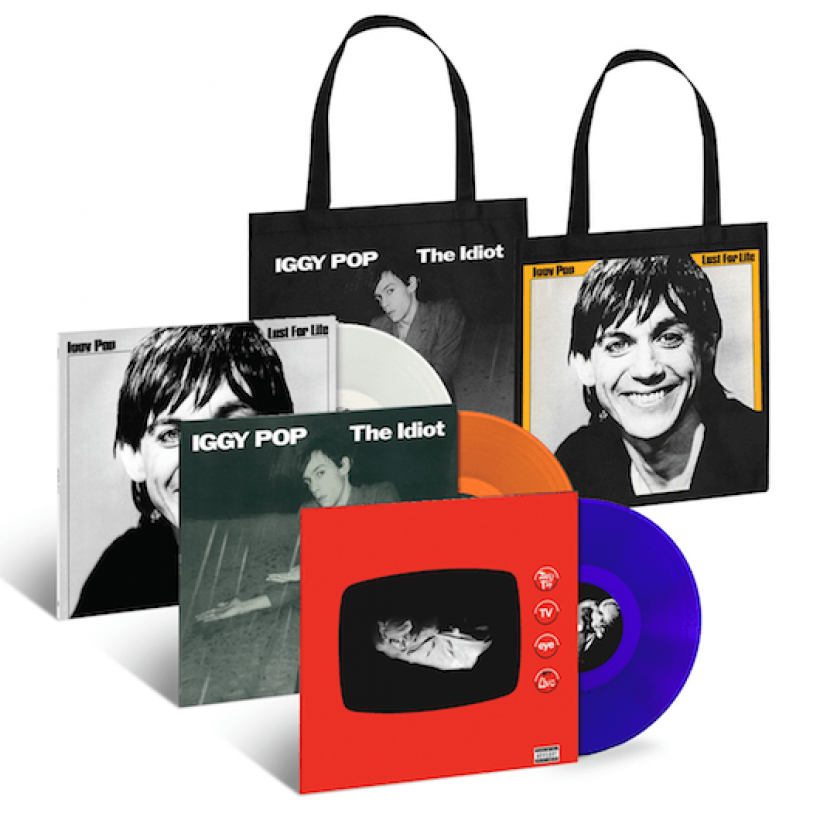 It's been 40 years since the release of The Idiot, which introduced the world to a very different Iggy Pop. The former formidable frontman of the seminal proto-punk band The Stooges had been on hiatus for two years since the band disbanded and tapped his longtime friend and collaborator, David Bowie, to help him get back into the saddle.
The result was a creative transformation of Iggy, whose new material was more cerebral and referential than it had ever been. Bowie helped to co-write the new songs as well produce and play on the album. The Idiot was released on 18 March, 1977 and marked the beginning of his rebirth as an artist and would result in three solo albums: The Idiot, Lust For Life in September of 1977 and TV Eye Live in May of 1978.
To celebrate the anniversary of The Idiot and the cornerstones of Iggy's pioneering catalogue, three new coloured-vinyl reissues will be released on 2 June and offered as a limited edition bundle with a custom tote bag featuring the iconic cover art of The Idiot on one side and Lust For Life on the other, available exclusively here. All three titles also feature their original cover art and will also be available in standard black vinyl editions.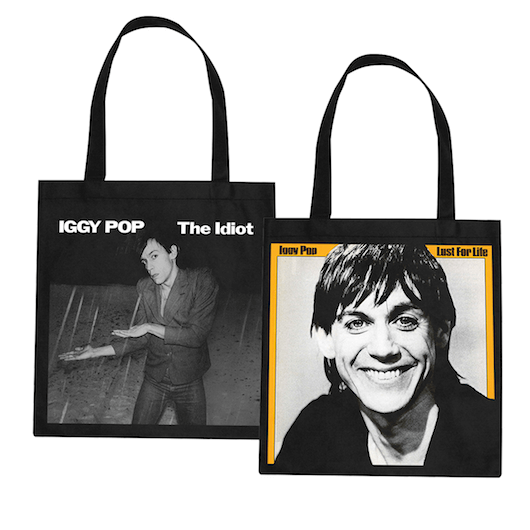 Pop has characterized The Idiot as his "album of freedom", and rightly so. Gone were the clashing guitars and fierce vocals of Raw Power, replaced with Bowie's stylish synths and Pop's voice dropping a register to convey his world-weary wisdom. His confessional lyrics are peppered throughout, from looking back at his lost weekends on 'Nightclubbing', his glory days with The Stooges on 'Dum Dum Boys' and affairs with 'China Girl', a later hit for Bowie.
On Lust For Life, Bowie was still a guiding force for good but his stylistic hand was not as heavily felt. Pop has paid his penance was looking to kick his heels up again as the title track implied. Back was the rock 'n' roll decadence on tracks like 'Tonight', 'The Passenger' and 'Some Weird Sin', but he retained his wit and self-awareness from The Idiot.
If there was any doubt that Iggy couldn't live up the chaotic reputation of a Stooges show, it was quickly dispelled during his 1977 US tour, captured on the live album TV Eye Live. Featuring performances from three shows (with Bowie on keyboards for one), the raw energy of Pop was finally pressed to vinyl since the release of the legendary Metallic K O. The album contains memorable tracks that cut across the Iggy and Stooges catalogue including 'Lust For Life', 'Sixteen', 'Nightclubbing', 'I Wanna Be Your Dog', 'I Got A Right' and 'TV Eye'. As the final collaboration between Iggy Pop and David Bowie, TV Eye Live serves as a time capsule of this influential duo during a critical crossroads of their career.
The Idiot, Lust For Life and TV Eye Live coloured vinyl are out as a bundle on 2 June and available for pre-order here. The individual black vinyl are available individually.
Format:
UK English