New Human League Collection Takes The Top Spot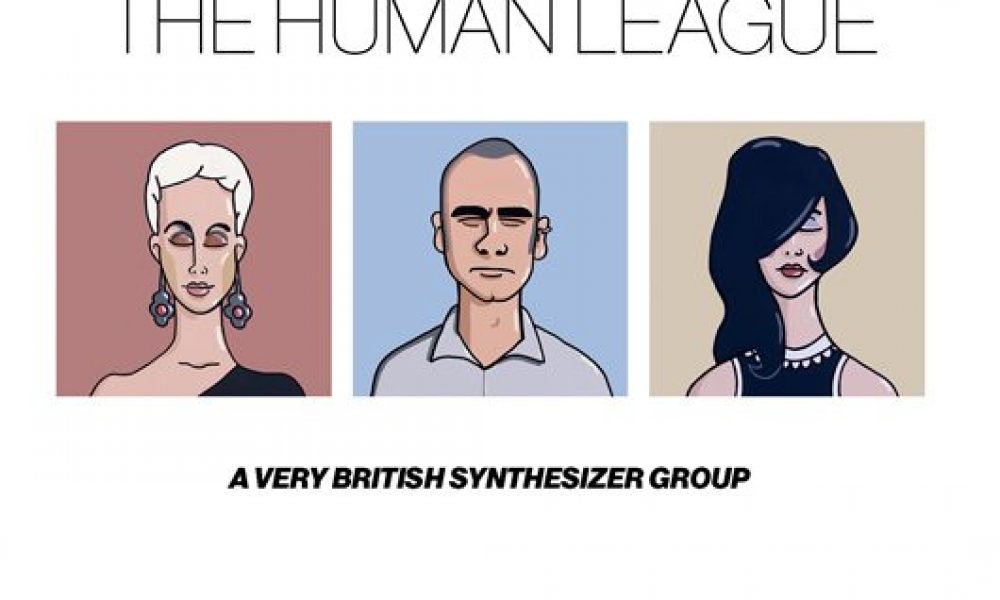 Rarely has a band gone through so many changes and still remained at the top of their game. However, the self-proclaimed "Very British Synthesizer Group", The Human League, have done just that, having cycled through so many phases that it's become hard to keep up. Released on 18 November, the 3CD+DVD collection A Very British Synthesizer Group (also available on vinyl) traces their wide-ranging career, distilling some of the most inventive pop music ever recorded into an easily digestible whole. With a host of classic singles and unreleased demos, it promises to offer a unique insight into the band's development.
Formed in Sheffield, in 1977, the group were among the most forward-thinking outfits to emerge in the British new wave. Though far from punk, The Human League certainly worked outside the mainstream, embracing the possibilities of new technology and drawing influence from the likes of David Bowie and Kraftwerk. It was during this period that they recorded influential tracks such as 'Being Boiled' and 'Only After Dark', and worked up a stunning multi-media live show that was as much audio-visual experience as it was concert.
Moving into the 80s, the group lost two of its members, Ian Craig March and Martyn Ware (who went on to form Heaven 17), and gained two female singers, Susan Ann Sulley and Joanne Catherall, embarking on a new phase that resulted in sophisticated electro-pop hits the likes of 'Love Action (I Believe In Love)' and 'Don't You Want Me'. It was the first in a number of confidently executed stylistic revolutions throughout their career – among them teaming up with juggernaut production duo Jimmy Jam and Terry Lewis (Janet Jackson, Boyz II Men), and psych-tinged Sheffield-based electronic duo I Monster.
With a visual flair expected of the finest pop acts riding high in the charts during the 80s, The Human League matched their musical inventiveness with an equally alluring visual one. Its a legacy that's further explored on A Very British Synthesizer Group's DVD, which collects all 21 of the band's promo videos, plus a further 24 live performances taken from the likes of Top Of The Pops and Later… With Jools Holland. Like the band itself, A Very British Synthesizer Group is the complete package.
A Very British Synthesizer Group is released on 18 November. Scroll down to read the full 3CD+DVD tracklisting, and purchase the CD and LP editions here:
The Human League - Don't You Want Me (Official Music Video)
The full A Very British Synthesizer Group tracklisting is:
CD1
'Being Boiled'
'The Dignity of Labour (Part 3)'
'Empire State Human'
'Only After Dark (Single Edit)'
'Nightclubbing'
'Boys And Girls'
'The Sound Of The Crowd (Instrumental Version)'
'Hard Times'
'Love Action (I Believe In Love)'
'Open Your Heart'
'Don't You Want Me'
'Mirror Man'
'You Remind Me Of Gold'
'(Keep Feeling) Fascination (Extended Version)'
'The Lebanon (Single Version)'
'Louise (DJ Edit)'
CD2
'Life On Your Own (DJ Edit)'
'Human (Extended Version)'
'I Need Your Loving (DJ Edit)'
'Love Is All That Matters (DJ Edit)'
'Heart Like A Wheel (William Orbit Remix)'
'Soundtrack To A Generation (Edit)'
'Tell Me When (Radio Edit)'
'One Man In My Heart'
'Filling Up With Heaven'
'Stay With Me Tonight (Single Version)'
'All I Ever Wanted (Radio Edit)'
'Night People (Radio Edit)'
'Never Let Me Go (Album Version)'
'Sky (Radio Edit)'
CD3
'The Path Of Least Resistance' [Early Version]
'No Time' ['The Word Before Last' – Early Version]
'Being Boiled (State Of The Art Mix 1)'
'Stylopops You Broke My Heart' ['Marianne' – Early Version]
'I Am The Law' [Early Version]
'Darkness' [Early Version]
'Louise' [Early Version]
'The Real Thing' [Early Version]
'Love On The Run' [Early Version]
'A Doorway' [Early Version]
'FM' ['Soundtrack To A Generation' – Early version]
'Happening Woman' ['Filling Up With Heaven' – Early Version]
'Give It Back' ['Houseful Of Nothing' – Early Version]
'New Start' ['All I Ever Wanted' – Early Version]
'SH5' ['Liar' – Early version]
'Biller 10' ['Single Minded' – Early Version]
'Jupiter 4c' ['Sky' – Early Version]
DVD
The videos
'Circus Of Death'
'Empire State Human'
'Love Action (I Believe In Love)'
'Open Your Heart'
'Don't You Want Me'
'Mirror Man'
'(Keep Feeling) Fascination'
'The Lebanon'
'Life On Your Own'
'Louise'
'Human'
'I Need Your Loving'
'Love Is All That Matters'
'Heart Like A Wheel'
'Soundtrack To A Generation'
'Tell Me When'
'One Man In My Heart'
'Filling Up With Heaven' [Previously Unreleased]
'All I Ever Wanted'
'Night People' [Previously Unreleased]
'Never Let Me Go' [Previously Unreleased]
Live at the BBC
'The Path of Least Resistance' (Mainstream, 6 November 1979) [Previously Unreleased]
'Rock'n'Roll' (Top Of The Pops, 8 May 1980) [Previously Unreleased]
'The Sound Of The Crowd' (Top Of The Pops, 30 April 1981)
'The Sound Of The Crowd' (Top Of The Pops, 21 May 1981) [Previously Unreleased]
'Love Action (I Believe In Love)' (Top Of The Pops, 6 August 1981)
'Open Your Heart' (Top Of The Pops, 8 October 1981)
'Don't You Want Me' (Top Of The Pops, 24 December 1981)
'Love Action (I Believe In Love)' (Christmas Top Of The Pops, 25 December 1981) [Previously Unreleased]
'Love Action (I Believe In Love)' (Multi Coloured Music Show, 30 May 1982) [Previously Unreleased]
'Mirror Man' (Top Of The Pops, 18 November 1982) [Previously Unreleased]
'(Keep Feeling) Fascination' (Top Of The Pops, 5 May 1983) [Previously Unreleased]
'The Lebanon' (Top Of The Pops, 3 May 1984) [Previously Unreleased]
'Life On Your Own' (Top Of The Pops, 28 June 1984) [Previously Unreleased]
'I'm Coming Back' (On The Road, 25 August 1984) [Previously Unreleased]
'Rock Me Again And Again And Again And Again' (On The Road, 25 August 1984) [Previously Unreleased]
'Human' (Wogan, 13 August 1986) [Previously Unreleased]
'Human' (Top Of The Pops, 28 August 1986) [Previously Unreleased]
'Heart Like A Wheel' (Wogan, 13 August 1990) [Previously Unreleased]
'Heart Like A Wheel' (Top Of The Pops, 23 August 1990) [Previously Unreleased]
'Tell Me When' (Top Of The Pops, 22 December 1994) [Previously Unreleased]
'Tell Me When' (Top Of The Pops, 5 January 1995) [Previously Unreleased]
'One Man In My Heart' (Top Of The Pops, 16 March 1995) [Previously Unreleased]
'The Stars Are Going Out' (Later… With Jools Holland, 25 November 1995)
'The Sound Of The Crowd' (Later… With Jools Holland, 25 November 1995)
Format:
UK English