New York Dolls' Classic 70s Albums Return On Limited-Edition Coloured Vinyl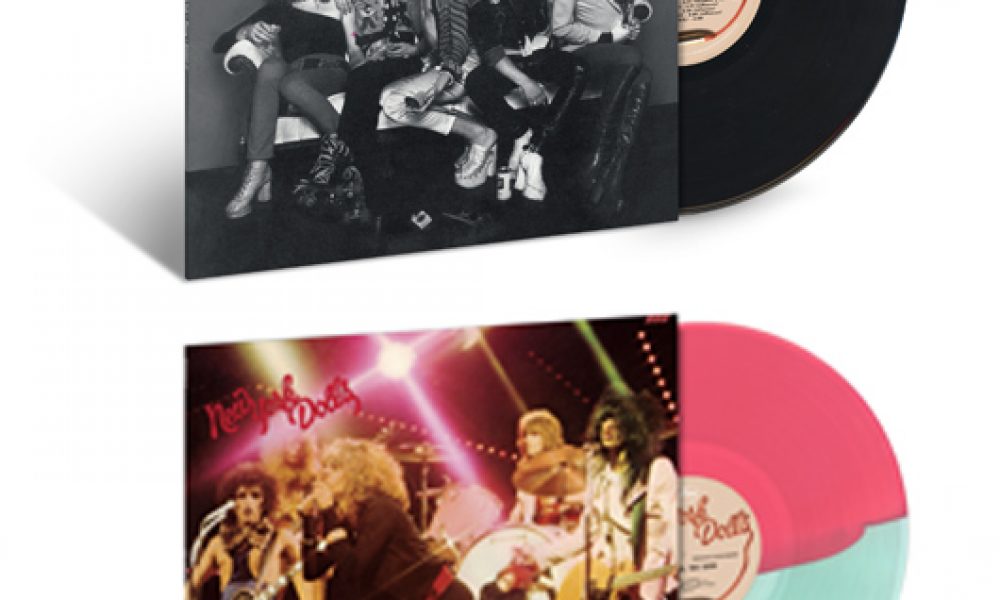 Flamboyant, stack heel-sporting proto-punk legends New York Dolls have long since been able to cite seminal artists such as Sex Pistols, KISS, Ramones, Guns N'Roses, The Damned and Morrissey among their ever-expanding fan base.
Forming in 1971, the Dolls' original line-up predated glam and punk, and cut two highly influential cult classics, New York Dolls and Too Much Too Soon. Both these landmark titles are being made available in strictly limited vinyl editions, exclusively through uDiscover, ready for shipping from 5 May 2017. The self-titled disc sports a unique opaque pink-and-black colour scheme, while Too Much Too Soon comes in an audacious combination of opaque pink and clear vinyl.
These two illustrious platters showcase New York Dolls' classic line-up of vocalist David Johansen, guitarists Johnny Thunders and Syl Sylvain, bassist Arthur "Killer" Kane and drummer Jerry Nolan. Having signed to Mercury Records early in 1973, their eponymous debut was produced by studio wizard Todd Rundgren, though he adopted an atypically hands-off approach, and the resulting LP – which included landmark Dolls anthems such as 'Personality Crisis', 'Trash' and 'Looking For A Kiss' – captured the band at their raw, raucous best.
New York Dolls - Personality Crisis
Reclusive ex-Shangri-La's producer Shadow Morton oversaw the Dolls' sophomore LP, 1974's Too Much Too Soon. Incorporating strings, sound effects and girl-group-style choruses, the record was a little more refined than its rowdy predecessor, and its tracklist featured an inspired mix of original songs, including 'Babylon' and 'Human Being', and covers such as Sonny Boy Williamson's 'Don't Start Me Talkin' and The Cadets' 'Stranded In The Jungle'.
Sadly, New York Dolls split prematurely, in 1975, though – with the patronage of superfan Morrissey – an all-new Dolls, built around surviving members Johansen and Sylvain, reformed in 2004 and cut three critically acclaimed albums, One Day It Will Pease Us To Remember This, 'Cause I Sez So and 2011's Dancing Backwards In High Heels.
The New York Dolls and Too Much Too Soon coloured-vinyl reissues are out on 5 May and can be ordered here.
Format:
UK English