ABBA's Frida On 'Voyage,' Becoming Avatars, And Not Watching Eurovision
'You're always a bit nervous when you release anything new,' said the Swedish star in the BBC Radio 2 interview.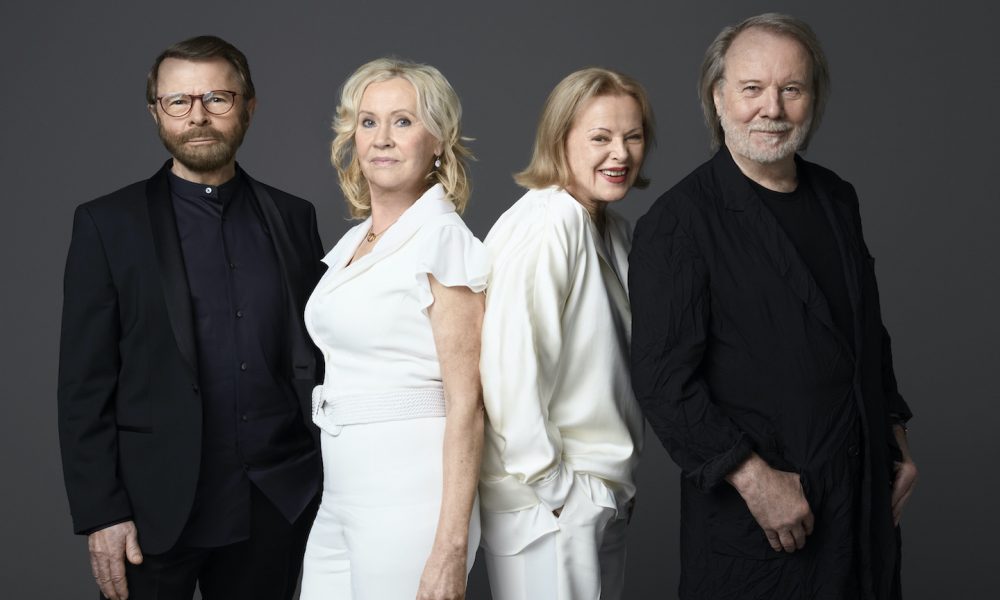 ABBA's Anni-Frid (Frida) Lyngstad has spoken to BBC radio about the group's reunion, how it feels to be recreated as avatars, and the fact that she doesn't watch Eurovision, the song contest that made them famous.
"We didn't expect anything actually," she told Zoe Ball of the sessions that led to their new Voyage album, speaking on the Radio 2 Breakfast Show in a world exclusive this morning (11). "You're always a bit nervous when you release anything new.
"If I compare it to how it was 40 years ago, it's a bit of a difference because I would personally say I don't take it that seriously as I would do earlier on when I was younger because then it meant so much, but as Benny [Andersson] said in an earlier interview, we don't have to prove anything. So we have just done it for the fun of it and that's a good feeling actually. And then when people like it, as they seem to do, then of course it's wonderful."
ABBA - Keep An Eye On Dan (Lyric Video)
Frida revealed that although the album represented their first time in the studio together for decades, the four Swedish stars have continued to be in close touch. "We have never stopped working together because we have had meetings concerning different things over the years and we've always stayed in touch more or less over the years as well," she said. "When this idea with the ABBA digital or the avatars…came out then Benny suggested we maybe have a couple of new songs on that show so that's how it started.
"So with anticipation I went into the studio to meet with the others because it's always fun to work together with them… a little bit tense maybe, but we also decided on if it doesn't go well then we don't have to release it.'
Of the studio process, she said: "We actually go into the studio and rehearse first…go through the lyrics and the keys…so as Benny writes the songs there's a big range vocally, it kind of shows itself when we start to sing who is the better one on a song. But I must say to Agnetha's favor that she is an absolutely wonderful storyteller, she has something magical in her storytelling which I unfortunately not have the same way. Or maybe that is good because that means that we kind of sing these lyrics and the songs in different ways…we are very honest with each other. I would never do anything that I would know I wouldn't do so well as Agnetha can."
ABBA - I Still Have Faith In You
Of the ABBA Voyage show opening in London next May, in which they will appear as avatars of their younger selves, she enthused: "It feels very very good because all the people working with us on this project are such wonderful and creative people. It's very exciting, I didn't know what to believe at the beginning, but getting into it we understood more and more because it was hard to comprehend I must admit, but now we see some of the results I'm very excited about the whole thing."
Of the group's relationship with the UK, where they won the Eurovision Song Contest in 1974 with "Waterloo," she reflected: "Oh, [the] UK has been very very important for us. In a way we have a strong bond with the UK that maybe we don't have with any other country in the world, we've been there so much, we've done so much…I even lived there for some years…so I have a strong bond to England, to [the] UK and especially to Henley-on-Thames, where I stayed for some years. And also there I met the man I live together now with for 40 years…I call him 'My bloody Englishman.'"
Asked whether she still follows Eurovision, she replied: "I'm sorry to say no I don't. I'm not so interested because it has changed so much over the years and it's not what it was at that time. Now it's more like a show, it's very technical and there are some good songs coming out of it, but I cannot say I'm a fan of Eurovision, maybe I shouldn't say it, but I did it anyway."
On the subject of whether these are ABBA's final recordings, as was suggested recently by Andersson and Björn Ulvaeus, she struck a somewhat different tone. "I have learnt to say 'Never to say never…' This year we have probably said this must be the last thing we do because also thinking of our ages, you know, we are not young any longer and you never know. But I'm saying you never know so don't be too sure." She closed the interview by choosing "I Let The Music Speak," from 1981's The Visitors, as an ABBA song she likes especially.