Abbey Road Studios Re-Open Their Doors After First Closure In 90 Years
After shutting down amid COVID-19, the iconic London studios welcomed the Royal Philharmonic Orchestra and Melody Gardot for the jazz singer's forthcoming fifth album.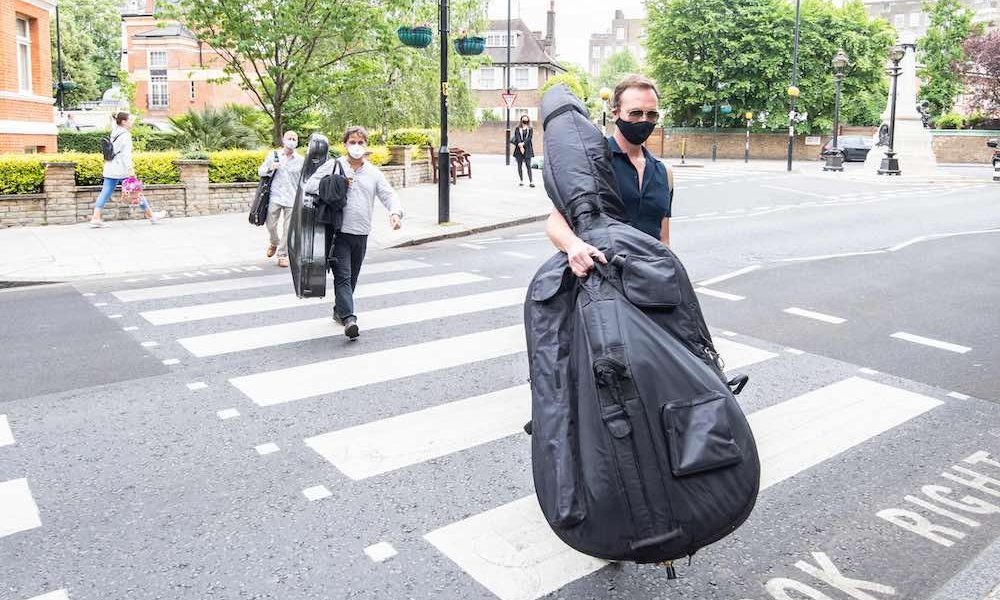 Following a closure that lasted nearly 10 weeks, amid the COVID-19 pandemic, London's iconic Abbey Road Studios re-opened their doors today to the Royal Philharmonic Orchestra. The session, which also marked the first post-lockdown reunion for the renowned orchestra's musicians, was for jazz singer Melody Gardot's forthcoming fifth studio album.
Carrying a variety of instruments, masked musicians walked across the newly-refreshed zebra crossing where Abbey Road meets Grove End Road – made famous by The Beatles on their 1969 Abbey Road album cover. Over the past weeks, the studio – which had been closed since 24 March – communicated with other facilities across the country to implement new safety standards for audio recording and production under COVID-19.
"Music is proven to help us get through difficult times, providing escape and easing our mood – so it's never been more important than in the current circumstances", said Abbey Road Studios' Managing Director, Isabel Garvey. "We've witnessed the creative community's desire to create new music and communicate their feelings throughout this time, and we've received numerous requests from our clients to get back to work. So, we're thrilled to have established new standards for safe recording and to re-open Abbey Road once more."
The session, for jazz singer, songwriter and multi-instrumentalist Melody Gardot (who attended remotely from Paris), was helmed by the acclaimed producer Larry Klein, who also joined virtually from his home in Los Angeles.
Gardot, who physically recorded at the studio in 2009 for the Live from Abbey Road TV series, said, "Knowing that we are the first session back at Abbey Road Studios after its re-opening is an absolute honour. I was told that until COVID-19 the studio had never been closed for business in almost 90 years of operation. Even during WWII it stayed open. The fact that we're recording the Royal Philharmonic Orchestra, helping get the musical community back on track in a way that is safe for all involved. It feels like we are touching history."
Established in 1931, Abbey Road was the world's first purpose-built recording studio and has since been home to countless landmark recordings, including those by Pink Floyd, Radiohead, Oasis, and, most famously, The Beatles. More recent sessions have also taken place for Florence + The Machine, Frank Ocean, Ed Sheeran, Brockhampton, Sam Smith and Adele, while numerous film scores have also been recorded at Abbey Road, including those for The Lord of The Rings trilogy, the Harry Potter films and the majority of the Star Wars movies.
Gardot, meanwhile, recently called on fans and musicians around the globe to contribute to her single, 'From Paris With Love'. The artist created an opportunity to hire out-of-work musicians, who all recorded individual parts from their homes. Fans, meanwhile, submitted videos and photos of handmade messages of love for the song's video.
The forthcoming track will be released via Decca Records, with profits benefitting Protégé Ton Soignant, which supports French healthcare workers who are on the frontlines of the COVID-19 crisis.
Listen to the best of Melody Gardot on Apple Music and Spotify.
Format:
UK English