Anti-Flag Host Free London Art Show Ahead Of New Album 'American Fall'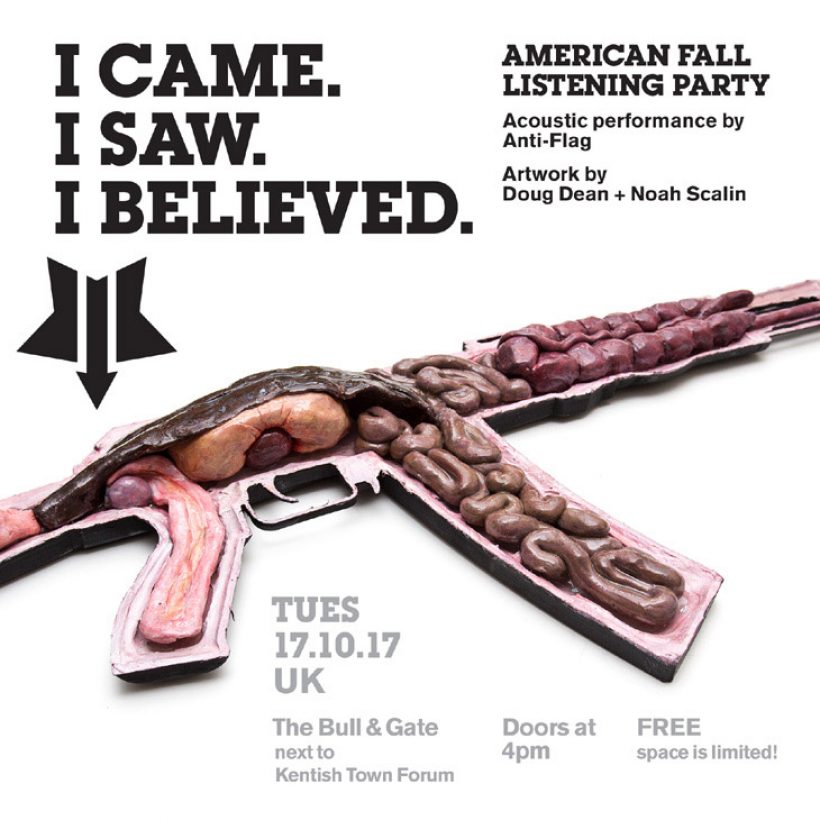 Pittsburgh punks Anti-Flag will host a free art show at The Bull and Gate, Kentish Town, London, on Tuesday, 17 October. At the event, the band be showcasing the art of their forthcoming album, American Fall (set for release on 3 November via Spinefarm Records) and everyone is invited to take a closer look at the design and message, as they display the artwork – created by artists Doug Dean and Noah Scalin – for one day only.
Those in attendance will get the opportunity to hear the band's new album, in full, ahead of release date, as well as witness an intimate acoustic session from the band. Additionally, limited edition newspapers featuring the artwork seen on display will be handed out on a first come, first served basis.
Anti-Flag have always used their album artwork as an opportunity to embolden their agenda, creating an aesthetic that provokes thought, challenging racism and hatred everywhere.
"We truly believe the artwork for American Fall is a statement beyond chords, words and 2 and a half minute punk rock songs," Anti-Flag say in a statement. "Doug Dean and Noah Scalin use their vocation to challenge the status quo, convey emotion and share empathy. These newspapers, much like the album, stand as a document of a moment in history where we can decide our collective futures. I came. I saw. I believed."
Anti-Flag - American Attraction
Since unleashing their seminal 1996 debut, Die for the Government, Anti-Flag has empowered their listeners for two generations with a timeless punk spirit. With today's chaotic political landscape stemming from the controversial 2016 presidential election, the Pennsylvanian quartet comprising (Justin Sane [vocals], Chris#2 [bass, vocals], Chris Head [guitar, vocals], and Pat Thetic [drums]) felt the time was right for to release their most definitive offering American Fall.
Anti-Flag are currently on tour in the UK as part of their Fireball Fuelling The Fire tour. They are due to play two shows in London at the O2, Kentish Town Forum on 16 and 17 October respectively.
Format:
UK English