Beastie Boys' Chart-Topping 'Hello Nasty' Returns In Deluxe Vinyl Boxset Edition
Originally released in this format in 2009, but long out-of-print, the record's new edition features 21 bonus tracks and much more.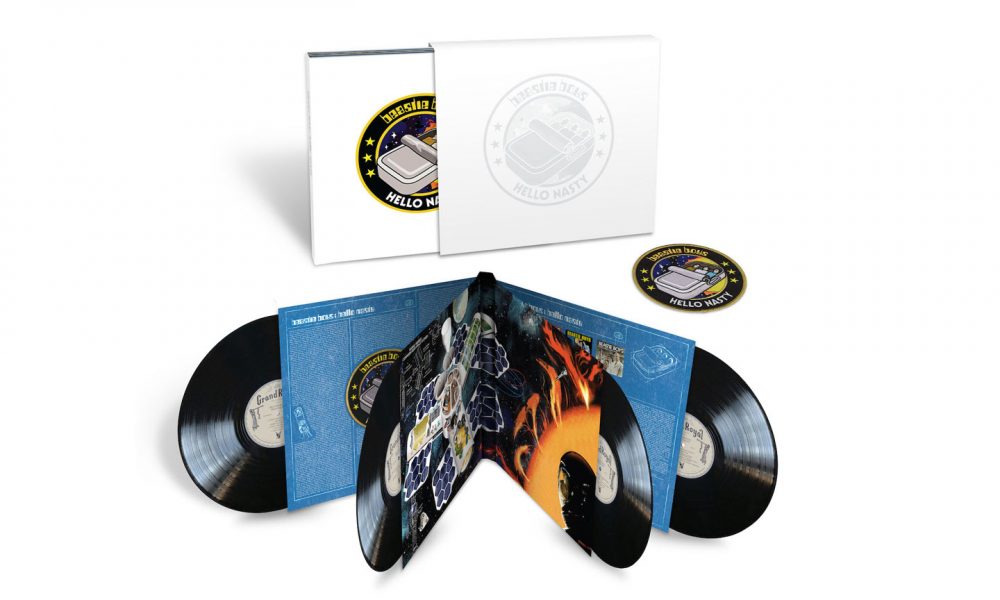 To coincide with the 25th anniversary of Beastie Boys' multi-platinum selling album Hello Nasty, the record's highly sought after and long out-of-print limited deluxe edition 4LP boxset edition has been reissued and is out now via UMe.
Shop the best of the Beastie Boys' discography on vinyl and more.
Originally released as a limited run in 2009 featuring 21 bonus tracks including rarities, remixes and B-sides, Hello Nasty is now pressed on 180g vinyl in an 8-panel gatefold package housed in a hardcover "coffee table book" slipcase with a removable sew-on patch.
The record also features some standout guest spots, including Miho Hatori of Cibo Matto, Brooke Williams, and Lee "Scratch" Perry. While a lot of rap records today rely heavily on studio production and can be rarely replicated in a live performance, Beastie Boys could bring the goods both in the studio and on stage. This is one reason why Hello Nasty still sounds as fresh and innovative as it did when it was first released.
Preceded by the universal smash "Intergalactic," Hello Nasty crashed into the No.1 spots of charts worldwide upon its July 1998 release, with first week sales of nearly 700,000 in the U.S. alone. Buoyed by the launch of the 360 in the round tour, the album would yield B Boys classics "Body Movin'," "Three MCs and One DJ," "Remote Control," "Super Disco Breakin'" and more, win two Grammys, see the band presented with an MTV Video Vanguard lifetime achievement award, and ultimately sell some 7 million copies worldwide.
uDiscoverMusic previously said of the record: "Hello Nasty had the Beasties eschewing their punk songs and reconnecting with their hip-hop roots. It marked the first time they wrote rhymes together since Paul's Boutique and the lyrics took on a more playful tone, reminiscent of Licensed to Ill but without any of the more profane humor, such as: "I'm the king of boggle. There is none higher. I get 11 points off the word 'quagmire'," from "Putting Shame in Your Game." This also may be why so many stanzas of their rhymes have an old school, hip-hop flavor, with all of them all shouting the last word in unison."