Brian May, Roger Taylor & 'Bohemian Rhapsody' Stars Switch On Queen-Inspired Lights In London's Carnaby Street
Carnaby Street and 20th Century Fox have collaborated to bring the world's first Queen-inspired light installation to London.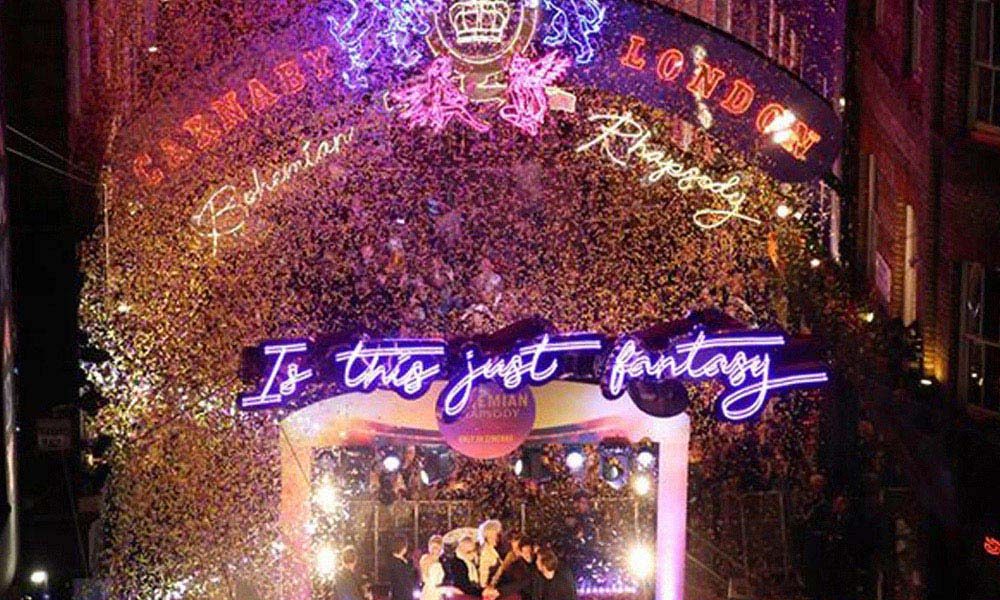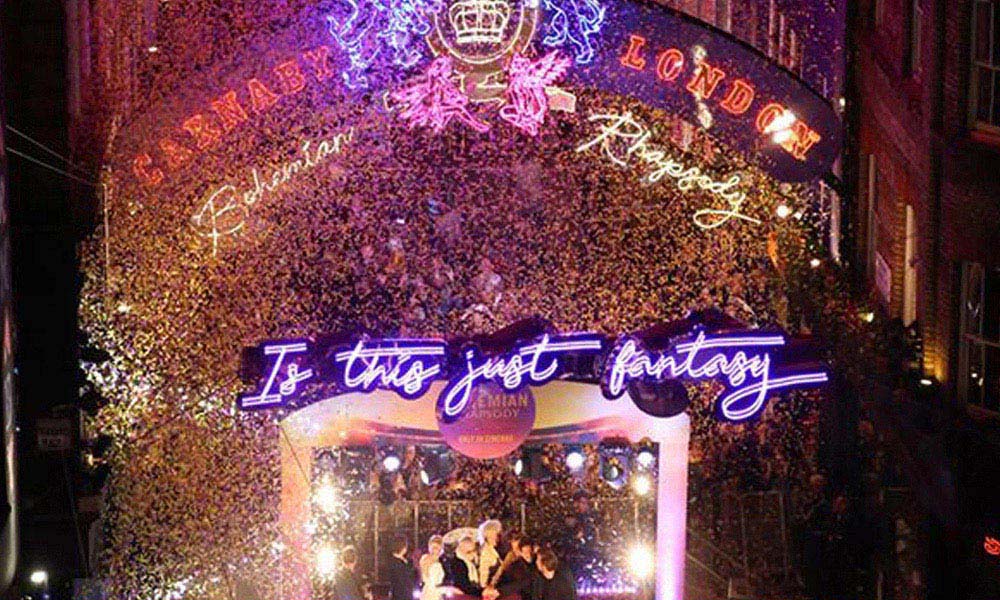 Is this just fantasy? No, but at 7pm tonight, there were thunderbolts and lightning and now the Bohemian Rhapsody-themed light installation is officially on in London's famous Carnaby Street after Queen stars Brian May and Roger Taylor pushed the plunger in partnership with cast members from the Bohemian Rhapsody biopic including Rami Malek who plays Freddie Mercury in the film. You can watch footage of the ceremony at the band's official Facebook page.
Carnaby Street landlord Shaftesbury have collaborated with 20th Century Fox to bring the London public the world's first ever Queen-inspired light installation in celebration of the release of the highly anticipated Bohemian Rhapsody. The street, in the heart of Soho, has been transformed with Queen's prominent crest feature upon the famous Carnaby arch and a spectacle of Freddie Mercury's iconic lyrics manifested into dazzling neon lights.
As uDiscover Music previously reported, a Queen pop-up shop also opened on Carnaby Street on Friday, 19 October to celebrate the arrival of the much-anticipated Bohemian Rhapsody in UK cinemas. The stores showcases photographs, prints, exclusive Live Aid footage and show-stopping costumes. In addition to this, there is official Bohemian Rhapsody film merchandise and a large collection of Queen products for sale.
When it was released as a single, 'Bohemian Rhapsody' became a commercial success, staying at the top of the UK Singles Chart for nine weeks and selling more than a million copies by the end of January 1976. It reached number one again in 1991 for another five weeks when the same version was re-released following Mercury's death, eventually becoming the UK's third-best-selling single of all time. It is also the only song to be the UK Christmas number one twice by the same artist.
The Bohemian Rhapsody light installation will be up in Carnaby Street until 4 January and will later be joined by the street's requisite Christmas lights for the festive season.
Explore Our Queen Artist Page.
Format:
UK English