Bono And The Edge Give David Letterman A Dublin Tour In 'A Sort of Homecoming' Trailer
The film will arrive on March 17, the same day as the band's new album 'Songs of Surrender.'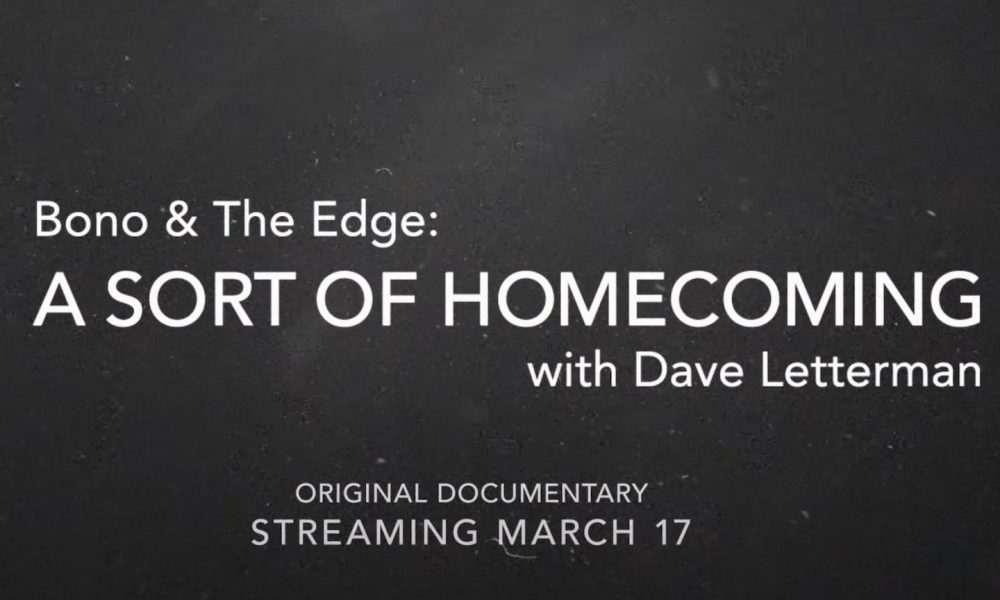 Bono & The Edge: A Sort of Homecoming, With Dave Letterman is set to arrive on March 17 on Disney+, to coincide with the release of their new album, Songs Of Surrender.
In a new trailer, the late-night host accepts the U2 duo's invitation to spend time with them in Dublin, marking Letterman's first-ever trip to Ireland. With documentary cameras following them around, Bono, the Edge, and Letterman toured the city and its music scene, culminating in an intimate concert performed by the U2 duo at a local landmark.
Bono & The Edge: A Sort of Homecoming with Dave Letterman | Teaser | Disney+
"Recently, I won a radio contest," Letterman joked in a statement. "Winner gets to visit Dublin with Bono and The Edge (radio contest part not true, but I feel like a winner). They showed me around, introduced me to their musician friends, and performed some of their greatest songs in a small theater. It's a great tour. Get in touch with them ― I'm told there are still availabilities. I'm the luckiest man on the planet. (There are no availabilities)."
Earlier this week, the band announced Songs Of Surrender, a collection of 40 seminal songs from across the band's catalog, re-recorded and reimagined for 2023 in sessions spanning the last two years. The album will arrive on the same day as the new documentary.
The first track to be made available from this brand new set of recordings is the anthemic "Pride (In The Name Of Love)." Songs Of Surrender is curated and produced by The Edge and finds the band revisiting some of the most celebrated songs of their 40+ year career, including "With Or Without You," "One," "Beautiful Day," "Sunday Bloody Sunday," and "Invisible," for a musical reimagining resulting in a completely new recording of each track, to include the arrangements and, in some cases, new lyrics.
Intes
The Edge said of the project: "Music allows you to time travel, and we became curious to find out what it would be like to bring our early songs back with us to the present day and give them the benefit, or otherwise, of a 21st century reimagining.