Brendan Croker, Respected Musician, Member Of Mark Knopfler's Notting Hillbillies, Dies At 70
The splinter group's sole studio album 'Missing…Presumed Having A Good Time' reached No.2 in the UK in 1990.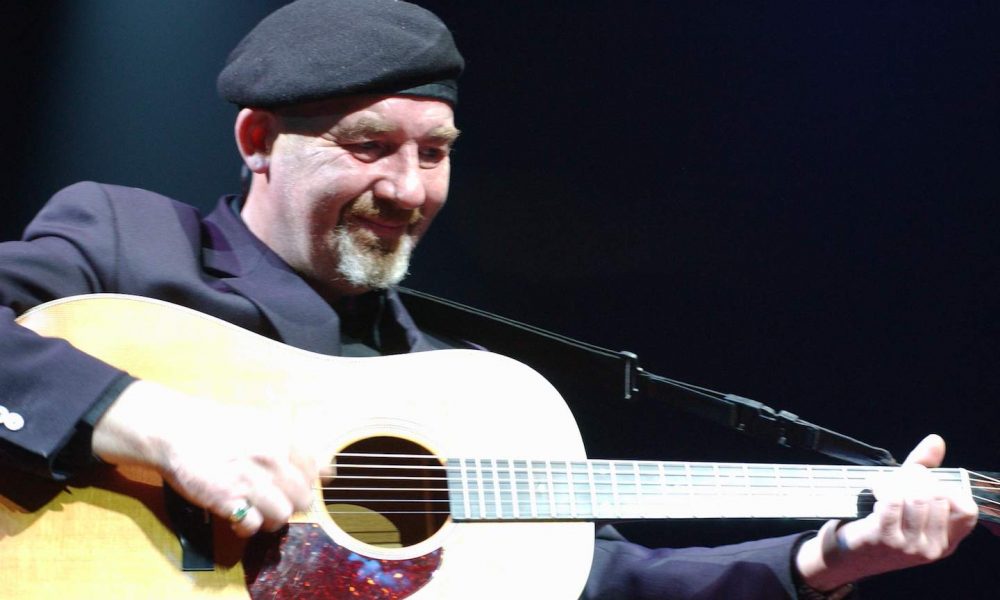 Yorkshire-born musician Brendan Croker, who led his own band the Five O'Clock Shadows and was a longtime friend and collaborator of Mark Knopfler, notably in the occasional band the Notting Hillbillies, died on September 10 at the age of 70.
In the late 1980s, Croker was a member of Sally Timms and the Drifting Cowgirls and was also an auxiliary member of punk veterans the Mekons, collaborating with Eric Clapton, Chet Atkins, Kevin Coyne, Tanita Tikaram, and others. But it's his association with Knopfler for which he will be best remembered, notably as a member of the splinter group the Notting Hillbillies, which Knopfler formed as a relaxed outlet in the latter days of Dire Straits. Their only studio album Missing…Presumed Having A Good Time was released in 1990, reaching No.2 in the UK and No.6 in Australia, where it went gold.
Knopfler wrote on Instagram: "It's a sad farewell to old friend in song Brendan Croker who has succumbed to leukaemia. You'll probably read more about Brendan in obituaries soon. He was a true artist in every way, appeared eccentric to many but was positive, brave and generous to a fault.
The Notting Hillbillies - Feel Like Going Home (Official Video)
"We had many happy years sharing music including touring and singing with our mutual pal Steve Phillips in the Notting Hillbillies. The song I can hear Brendan singing now is the one we used to finish our set with, 'Feel Like Going Home.' My thoughts are with Brendan's partner Ali and their friends everywhere."
Croker recorded five albums with the Five O'Clock Shadows in the 1980s, starting with 1985's Central Station Hotel. He also collaborated with Dire Straits' Guy Fletcher on 1988's On The Big Hill and made two early 1990s albums with the Serious Offenders. That decade, he also embarked on a solo career with 1990's Country Blues Guitar, releasing another five albums. His work was anthologized on the 2000 compilation Not Just A Hillbilly…More Like A Best of Brendan Croker.
His website biography recounts: "In 1976 Brendan and Steve Phillips were upstairs neighbors. On a day Brendan came to Steve with a broken guitar 'like a banana.' After that Steve said: 'I never got loose from him.'"
It goes on: "Through Philips, who had been befriended with Mark Knopfler for some years, he got in contact with Knopfler, with whom he had already jammed around Leeds before. Mark Knopfler got interested in Brendan Croker's music and wanted to assist the duo…to the sessions he brought along Guy Fletcher, who played keyboard and guitar with Dire Straits. Through Knopfler, Croker got contact with London musicians as well." The Notting Hillbillies project followed, of which Knopfler speaks with great fondess to this day.