reDiscover The Notting Hillbillies' 'Missing…Presumed Having A Good Time'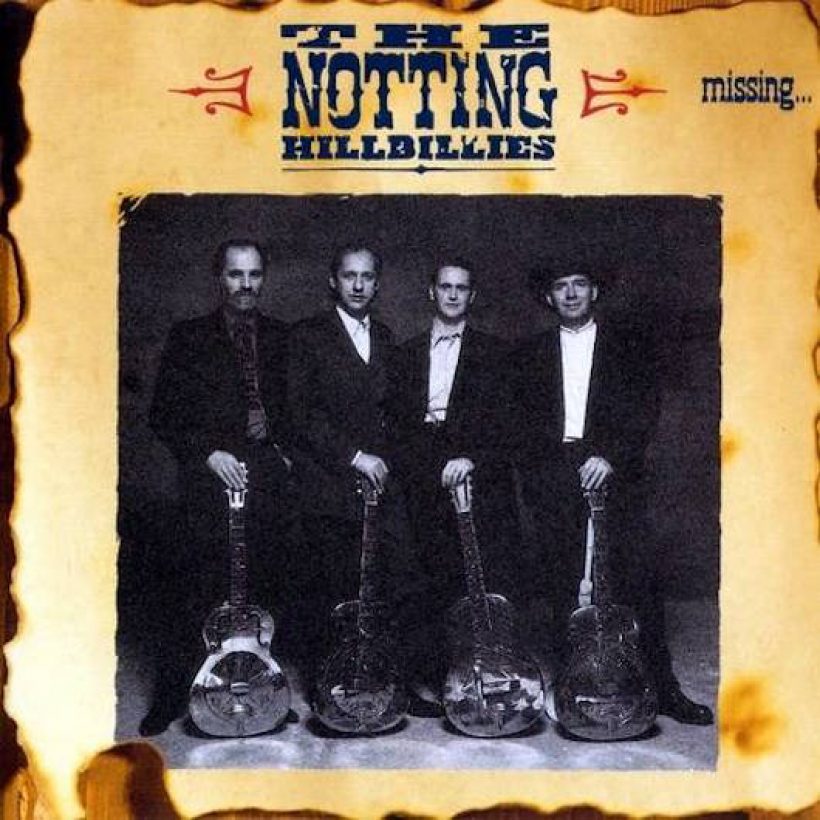 By the turn of the 1990s, the years of relentless touring as the kings of stadium rock had taken their toll on Dire Straits and, especially, frontman Mark Knopfler. Today we look at his remarkable side project with a bunch of mates that, by Knopfler's own description, made him fall in love with music again. We're reDiscovering the Notting Hillbillies' Missing…Presumed Having A Good Time.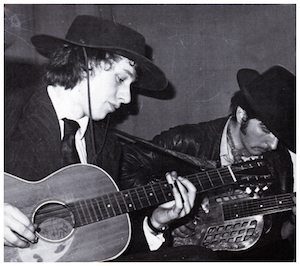 The roots of the Hillbillies went back to the late 1960s, when Mark, at the time an aspiring journalist in Leeds, met local guitarist Steve Phillips. He encouraged Knopfler to pursue his own passion for guitar, and the duo teamed up for local gigs as the Duolian String Pickers.
As we all know, Mark eventually left for London to play with Brewer's Droop and then form Dire Straits, while Phillips stayed local, later working with the Bradford-born writer and guitarist Brendan Croker, under the name Nev and Norris.
Both Phillips and Croker released records of their own and remained friends with Knopfler; Croker's records in the second half of the 1980s, including some with his band the 5 O'Clock Shadows, enjoyed critical success, even if the longer shadow was the one cast by Straits' massive worldwide success.
In May 1986 Knopfler, in need of some creative sustenance at the height of the global mania for Brothers In Arms, gathered with Phillips, Croker and other friends for a pub gig as the Notting Hillbillies, the name an affectionate nod to the Kinks' much-loved 1971 album Muswell Hillbillies.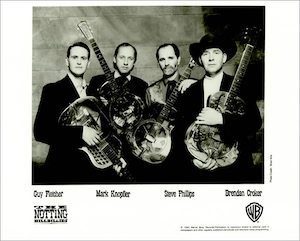 Also on board were Dire Straits' effervescent manager and inveterate drummer Ed Bicknell; Knopfler's constant on keyboards, Guy Fletcher; pedal steel player Paul Franklin and Marcus Cliffe, from Croker's band, on bass. The gig took place back in Leeds, in the back room of the Grove pub, which was packed with some 80 people. The band played a combination of originals and covers such as 'Love Me Tender,' 'That's All Right' and 'Your Cheatin' Heart.'
Further plans for the Hillbillies had to wait on the availability of its members. One more individual show took place in Sheffield in 1989, but then came the commitment to make the album. It was every bit as much a delight for listeners as it was for the friends making it.
Missing…Presumed Having A Good Time, produced by Knopfler and Fletcher, sounds in retrospect like a preview of the rootsy style that Mark has pursued with such distinction in his solo career. But when it was released in March 1990, when Dire Straits were still together, its undiluted Americana stylings were quite a surprise for many listeners who had grown used to Knopfler as the rock frontman.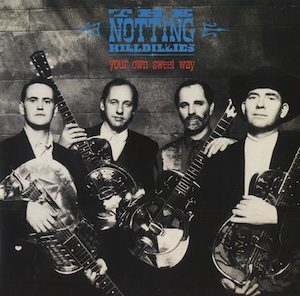 It featured three new songs, one by each of the principles, with Knopfler's distinctive 'Your Own Sweet Way' complemented by Phillips' 'That's Where I Belong' and Croker's 'Will You Miss Me.' But the album was also a platform for the Hillbillies to visit some of their favourite country-roots favourites, such as the Louvin Brothers' 'Weapon Of Prayer,' the Delmore Brothers' 'Blues Stay Away From Me,' Charlie Rich's 'Feel Like Going Home' and a number of traditional pieces.
The band supported the record with a 16-date UK tour between March and May 1990, touring without the comforts of the stadium and arena circuit. As Bicknell told Q magazine just before the tour started: "We'll travel in a minibus, with one truck for the gear. No tour catering — as Mark said, 'There's an Indian restaurant open in most towns, isn't there?'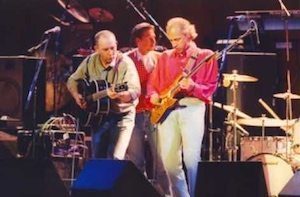 "But there'll be 17 of us and it's virtually impossible to get rooms not less than 50 quid a night for a group that large. Those are the realities you have to deal with. There's the cost of five weeks' rehearsals to cover too and I had to give serious consideration to the fact that most of the people on this tour need to earn a living, even if Mark and me can afford to be blasé about that sometimes."
The album performed well, debuting in the UK at No. 2 and spending weeks on the top 100, and reached the top ten in many other European countries, and in Australia. And then this pleasurable diversion was over, as the group members went back to their day jobs, so to speak.
But the Hillbillies have reconvened on a few occasions, most recently for a 1998 tour that included residencies at Ronnie Scott's clubs in both London and Birmingham. Let's hope that when they want to go missing and have another good time together, they might treat us to another Hillbillies adventure.
Listen to Missing…Presumed Having A Good Time on Spotify
Explore our dedicated Mark Knopfler and Dire Straits Artist Pages
Format:
UK English