British Artist Simon Beck Creates Huge Sand Drawing Of Sparks On Somerset Beach
The acclaimed UK land artist created the work to celebrate the release of Edgar Wright's 'The Sparks Brothers' film.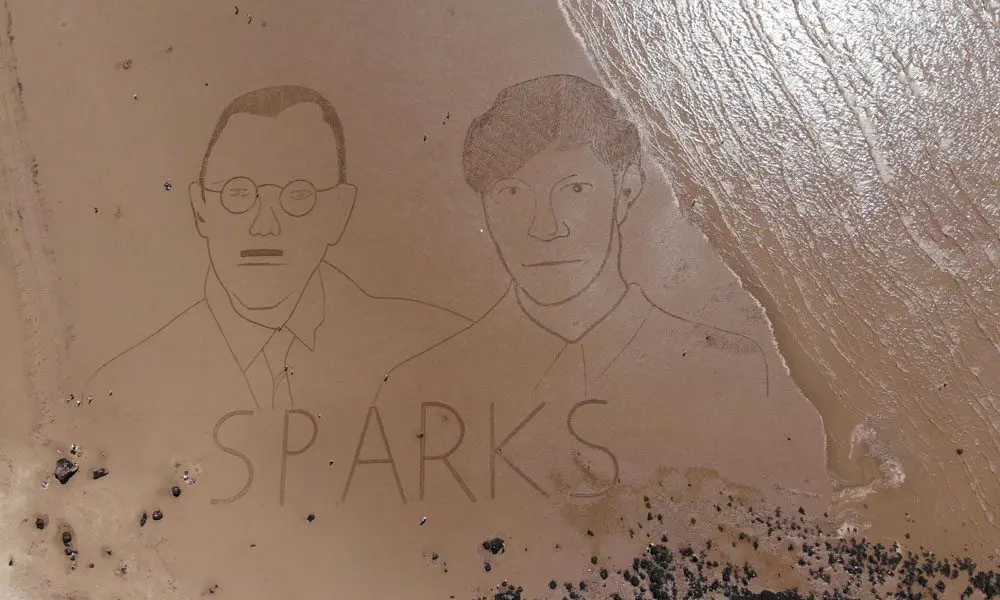 Internationally acclaimed land artist Simon Beck has created a giant drawing of the band Sparks – brothers Ron & Russell Mael – on the beach at Brean, near Burnham on Sea, Somerset, to celebrate the acclaimed release of the film The Sparks Brothers.
"We've seen fan art, Sparks tattoos, Sparks fashion design, Sparks cosplay, etc., etc., but this is absolutely amazing in its scope and ambition. The remoteness of the location and the temporal quality of the beach sand drawings only adds to the sheer stunning head shaking quality of it all. Yikes. Coming soon to a beach near you." Ron and Russell Mael said in a statement.
Directed by Edgar Wright (Baby Driver, Shaun of The Dead, Hot Fuzz) the film explores the career of the hugely influential band who first came to prominence in the UK in 1974 with the hit single "This Town Ain't Big Enough For Both Of Us" and who have now released 25 genre-defying albums in their extraordinary 50 year career.
The Sparks Brothers (2021) | Official Clip
A now familiar sight on the Somerset beach, 62-year-old Taunton-based Simon Beck creates perfect, detailed geometrical designs using a rake and a magnetic compass. The former cartographer created his first design on snow (by running in snow shows) in the Alps in 2004, and his first sand design in 2014. The drawing of Sparks is Simon's 175th design on the beach at Brean.
Sparks are the influential Art Pop duo of Ron and Russell Mael whose career spans more than 50 years. The Californian brothers are known for the wit of their lyrics, the inventiveness of their music, and their ability to shift genres between glam, hard rock, chamber pop and electro disco. The only constants are singer Russell's dramatic, heavenly falsetto, and keyboardist Ron's exquisite songwriting.
Their significant releases include singles "This Town Ain't Big Enough For Both Of Us" and "When Do I Get To Sing 'My Way'?", and albums Kimono My House,  No.1 In Heaven and Lil' Beethoven. Their resurgent popularity has seen Sparks' 25th album A Steady Drip, Drip, Drip reach the UK Top 10.
In recent years they have written a radio opera (The Seduction Of Ingmar Bergman) and, as well as being the subjects of Edgar Wright's The Sparks Brothers, Ron and Russell wrote the film musical Annette, starring Adam Driver, Marion Cotillard and Simon Helberg and directed by Leos Carax, which opened the 2021 Cannes Film Festival.
Listen to the best of Sparks on Apple Music and Spotify.