BTS Play First South Korean Live Show In Two Years
The band kicked off their first of three concerts at Seoul's Olympic Stadium.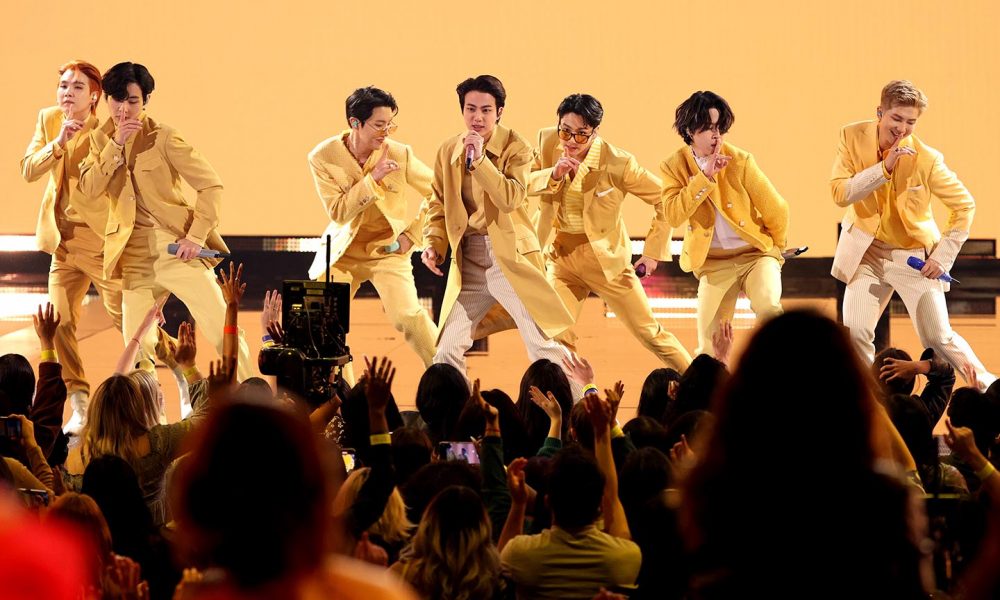 K-Pop superstars BTS kicked off the first of three highly-anticipated concerts at Olympic Stadium in Seoul, South Korea last night, marking the group's first in-person performance in their home country since October 2019. Drawing nearly 15,000 fans, the event also the largest concert to be approved by the South Korean government since the beginning of the pandemic. The next two shows are scheduled for Saturday and Sunday, while livestreams will be available for fans who couldn't attend.
The concert opened with the group's single, "ON," from their critically-acclaimed album, Map of the Soul: 7. Released in February 2020, the song debuted at No.4 on Billboard's Hot 100, becoming the highest charting song ever by a South Korean group.
BTS eventually beat their personal record, with four No.1 hit songs in nine months, between September 2020 and June 2021, including "Dynamite" and "Butter" — both of which appeared on the setlist. During the night, they also serenaded their bandmate, SUGA, as the show coincided with his 29th birthday.
In addition to their sold-out shows in South Korea, BTS have already reached several major achievements in 2022. The seven-piece group was recently named the Top Global Recording Artist by the International Federation of the Phonographic Industry (IFPI), earning them the record of being the only act to win the title in two consecutive years. Their upbeat single "Butter," released in May 2021, also became the first track to spend ten weeks at No.1 on Billboard's Hot Trending Songs chart, with over four million mentions on Twitter.
Fans in the US will soon have the opportunity to see BTS live in concert as well. Last month, the group announced a four-night residency at Las Vegas' Allegiant Stadium, taking place on April 8, 9, 15, and 16. In order to accommodate additional fans, BTS Permission To Dance On Stage – Las Vegas will also be broadcast live as an in-person event at MGM Grand Garden Arena. On April 16, meanwhile, fans across the world will be able to view the final night''s performance as a livestream. More information is available on the community platform, Weverse.