Listen To 'City Of Tiny Lites' From The 'Zappa 80: Mudd Club/Munich' Album
The latest cargo of treasure from the Frank Zappa vault will be issued via Zappa Records/UMe on March 31.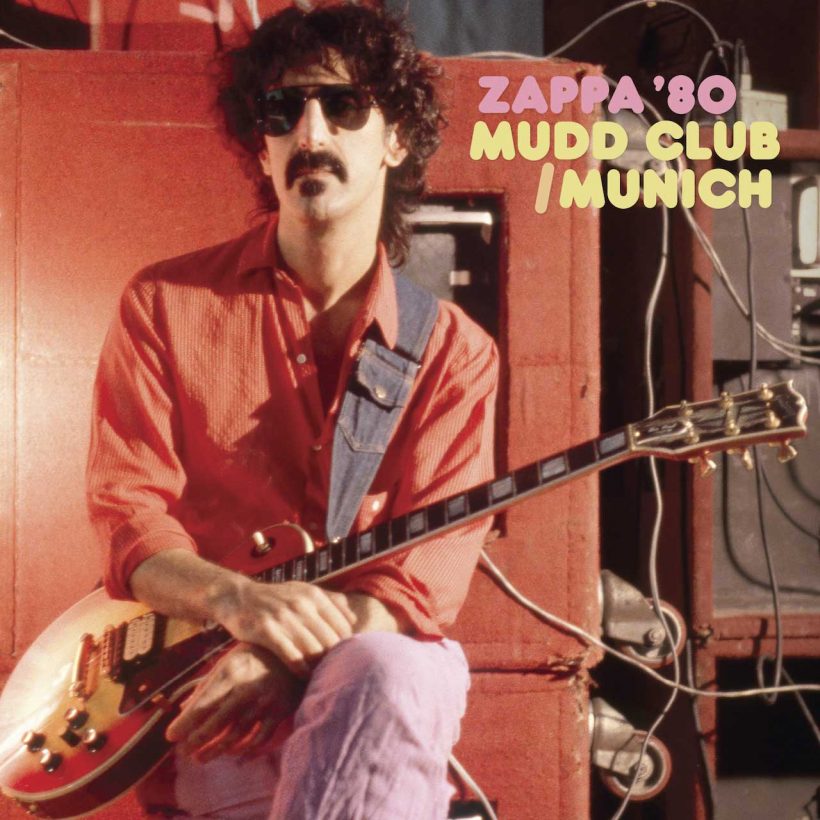 A thrilling live performance of Frank Zappa's "City Of Tiny Lites," recorded on July 3, 1980 at Olympiahalle in Munich, Germany, showcases the maestro leading his short-lived 1980 lineup through a rollicking version of the Sheik Yerbouti standout and live set fixture with a extended guitar workout that allows the band to stretch their musical muscles. The track, the next audio appetizer for the forthcoming album, Zappa 80: Mudd Club/Munich, is available to stream now and follows a scintillating performance of Joe's Garage favorite "Outside Now" from the Mudd Club show.
Presenting two previously unreleased concerts from Zappa's brief 1980's band, the latest exciting live collection to be released from The Vault, Zappa 80: Mudd Club/Munich, offers fans an opportunity to hear two blistering shows recorded in two distinct settings: the intimate 240 capacity Mudd Club in New York City and the massive 12,000 seat German arena, Olympiahalle in Munich.
Produced by Ahmet Zappa and Zappa Vaultmeister Joe Travers, this historically significant release, releasing digitally and on 3CD on March 31 via Zappa Records/UMe, marks the first time that full concerts have ever been released featuring the 1980 lineup of Zappa leading the five-strong band which included the dual vocal attack of Ike Willis and Ray White, Arthur Barrow on bass, Tommy Mars on keyboards, and newcomer David Logeman on drums.
City Of Tiny Lites (Live At Olympiahalle, Munich, Germany, July 3, 1980)
Additionally, this is the first posthumous release of this distinct, brief lineup, as Logeman, who replaced drummer Vinnie Colaiuta, would end up leaving when Colaiuta returned to the band. Previously only two tracks from these shows – "Love Of My Life" from Mudd Club and "You Didn't Try To Call Me" from Munich – were ever released by Zappa on his CD live series, You Can't Do That On Stage Anymore.
The Mudd Club show was recorded on May 8, 1980 by Klaus Weidemann on a 2-track Nagra tape recorder while the Munich show at Olympiahalle was recorded and mixed by engineer Mick Glossop direct to digital 2-track stereo and has the distinction of being the first digital live recording of Zappa ever.
Zappa '80: Mudd Club/Munich will be available digitally and as a 3CD set with the 15-track Mudd Club performance in its entirety on disc 1 and the 22-track full Munich concert spread across discs 2 and 3. The package features cover photography and a host of rare and unseen photos of Zappa and the band members in the accompanying 17-page booklet shot on tour by superfan George Alper.
In 1980, The Mudd Club was a happening, underground venue in lower Manhattan best known for being a popular hangout for the counterculture and a bastion of new wave and punk which dominated NYC's music and fashion scene. As Travers writes in the liners, "celebrities and musicians alike would frequent the 'art bar cabaret' during its heyday between 1979 and 1983, dancing, drinking and making the scene amongst the New York City denizens of the deep." Zappa loved the small, seedy club and the punks, posers and hipsters that called it home, and so made it a priority to play there while on tour, scheduling a performance on May 8th, 1980, at the tiny 240-capacity room, sandwiched between much larger arena dates in Cincinnati, Philadelphia and the Nassau Veterans Memorial Coliseum in Long Island where he played two shows in one night to more than 20,000 fans total.
Zappa and his five-piece band treated the sweaty, packed club to a thrilling 15-song, hour-long set filled with tracks from the recently released 1979 albums, the triple LP rock opera, Joe's Garage ("Joe's Garage," "Keep It Greasy," "Outside Now," "Why Does It Hurt When I Pee?"), and Sheik Yerbouti ("Bobby Brown Goes Down," "City Of Tiny Lites"), along with songs from across his prolific catalog, including "I Ain't Got No Heart" and "You Didn't Try To Call Me" from 1966's Freak Out!, and the title track from 1970's Chunga's Revenge.
Additionally, the band played early versions of Zappa's homage to the club, "Mudd Club," "The Meek Shall Inherit Nothing," and "You Are What You Is," which would all be recorded after the tour and released the following year on You Are What You Is. The show was famously captured by an Austrian film crew DoRo (Rudi Dolezal and Hannes Rossacher) who included two songs – "Mudd Club" and "Chunga's Revenge" – in their documentary, Frank Zappa: New York and Elsewhere.
Whereas the Mudd Club show took place early into the tour, the concert at Munich's Olympiahalle arena was the final show and saw the band firing all on cylinders after three months on the road together. The set, which included most of the songs played at the Mudd Club, was nearly twice as long and also featured such highlights as "Cosmik Debris," "Dancin' Fool," "Pound For A Brown," "The Illinois Enema Bandit," and a cover of Tony Allen's "Nite Owl." Notably the band played an early rendition of "Pick Me, I'm Clean," which Zappa would release the following year on the double live album, Tinsel Town Rebellion.
Zappa '80: Mudd Club/Munich is an opportunity to experience Zappa and his terrific yet transitory 1980 band playing two fantastic concerts at two very different venues for the first time.