Def Leppard Announces Special 'One Night Only' Intimate Hometown Gig And Livestream
Net proceeds from ticket sales will be donated to the Music Venue Trust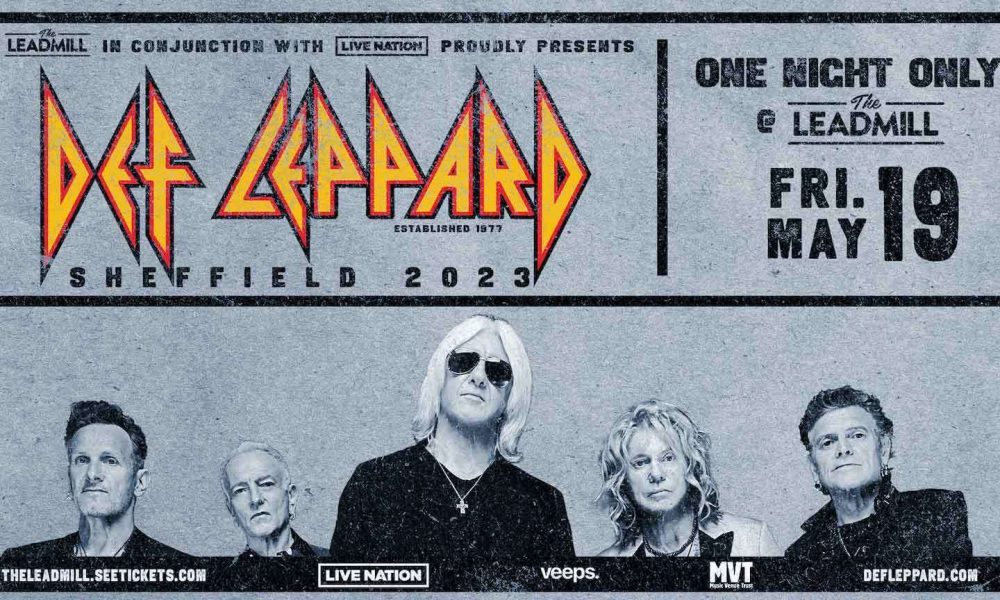 Def Leppard has announced a special one-off intimate gig and livestream to be held in its hometown of Sheffield.
The band will perform at the 8,500-capacity club venue, The Leadmill – one of the city's most iconic music spaces – on May 19. The show will mark the group's most intimate show in the UK or Europe in 35 years.
In an effort to make the rare evening even more special, Def Leppard's setlist will be for one night only – unique to this show and different to the setlist the band will play three days late when it kicks off its UK and European tour. That jaunt will begin across the city at a sold-out Bramall Lane stadium on May 22.
The one-off gig aims to shine a light on The Leadmill, a vital part of the Sheffield and national UK music scene and one of the many small venues in the country that are being threatened with closure. Net proceeds from ticket sales for the show will be donated to the Music Venue Trust, which is working to help those venues in need.
"Sheffield is in the very DNA of this band," frontman Joe Elliott said in a press release. "We are ecstatic to be starting the European leg of our world tour at home at Bramall Lane! When thinking of a warm-up, it made sense to do a special set at The Leadmill, in the city where it all started.
"We know there are a lot of small music venues struggling across the UK, so we wanted to give back to what gave to us. The net proceeds from the evening will go directly to Music Venue Trust in an effort to keep UK clubs alive…and to coincide with the release of our symphonic record, 'Drastic Symphonies,' on [May 19]. It's all very special!"
Tickets for the special gig will go on general sale here at 9am BST on May 12. Fans can gain access to a special pre-sale by pre-ordering a copy of Drastic Symphonies in any format from the Official Def Leppard UK Store before 5pm BST on May 10. The pre-sale will then open at 9am BST on May 11.
Due to strictly limited tickets being available, the band will also stream the once-in-a-lifetime show on Veeps to allow fans from across the globe to experience the gig. Tickets are available to purchase worldwide now (or after May 13 for fans in the UK) for $14.99 ($17.99 on or after May 19) from Veeps.com.
Each livestream ticket will include a replay window of 24 hours, allowing fans to relive the magic of the performance. Fans will also be able to purchase limited edition merchandise to commemorate the show, donate directly to the Music Venue Trust, and engage in Veeps' built-in chat room during the event.
"It's fantastic to get this support from such an iconic and legendary group as Def Leppard," Music Venue Trust's CEO and founder Mark Davyd said. "The UK's grassroots music venues are facing an incredibly tough year; currently, one is permanently closing every week. It's going to take a huge collective effort to turn that around, and it's so important that artists get involved and lead the fight we need to stop closures."
On May 19, Def Leppard will also return with a bold new album, Drastic Symphonies. The record will see it deconstruct and rebuild some of its biggest songs with the majestic accompaniment of the Royal Philharmonic Orchestra.
While the album will largely feature the original audio of Leppard classics, newly combined with the RPO, Drastic Symphonies will also include new vocals and guitars to create epic new symphonic arrangements. At some points, listeners will be able to hear Elliott duetting with his younger self.