Dennis Chambers, Ex-Parliament, Funkadelic, In 'Give The Drummer Some' Series
Jazz pianist Joe Warner has secured some highly notable drummers for the September shows, also including Bernard Purdie and Lenny White.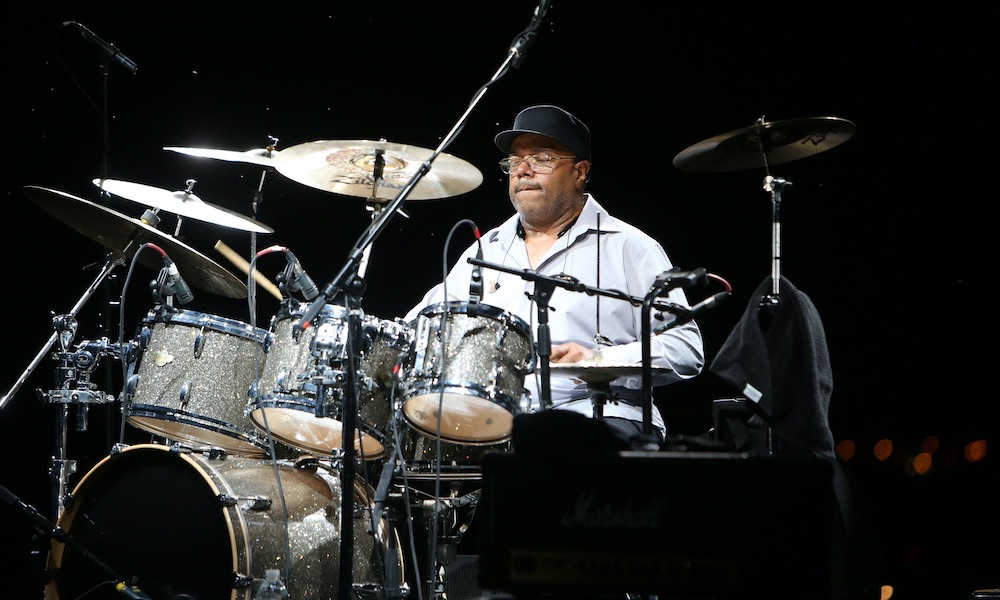 Jazz pianist Joe Warner has secured some of the most notable drummers in jazz, soul and funk for the upcoming Give The Drummer Some concert series.
The events will take place on successive Saturdays in September at the California Jazz Conservatory. They will star former Parliament and Funkadelic member Dennis Chambers, ex-Miles Davis collaborator and Return To Forever member Lenny White, former Aretha Franklin band member Bernard "Pretty" Purdie, and Darrell Green, who's toured with Pharoah Sanders, Dr. Lonnie Smith, and others.
The Bay Area's Mercury News reports that the concerts are funded by a grant from the Fleishhacker Foundation, and will see Warner in collaboration with these and other artists in small ensembles. The first event takes place this Saturday (September 4), when he'll be joined by Chambers and bassist Curtis Lundy.
"It was a no-brainer to call these cats," says Warner. "They're people I've admired for a long time. The drummer makes or breaks the band, and there's a real affinity between piano and drums, as they're both percussion instruments."
Gloryhallastoopid (Pin The Tale On The Funky)
Of Chambers, who came to prominence at just 18 when he joined Parliament and Funkadelic in 1978, Warner says: "He can play anything. I heard him first on the Maceo Parker album Roots and Grooves where he's playing really funky on one piece and then swinging hard on a Ray Charles tune. He handled all of it."
On September 11, Warner will invite Lenny White, another former teenage sensation who was 19 when he played on Davis' Bitches Brew, to the stage. He was a member of Return To Forever in the 1970s and has worked with distinction in his own bands such as Twennynine. They'll be joined at the upcoming show by bassist Essiet Essiet, who was part of the final line-up of Art Blakey's Jazz Messengers.
Bernard "Pretty" Purdie, whose towering achievements include five years with Aretha Franklin and work with Louis Armstrong, Dizzy Gillespie, and countless others, will star at the September 18 concert with Warner. Joining them are the latter's wife, seasoned vocalist Faye Carol, Cuban percussionist Jesus Diaz, and bassist Rustee Allen, who replaced Larry Graham in Sly and the Family Stone from 1972-75. Purdie will also give an afternoon workshop the following day at Geoffrey's Inner Circle in Oakland.
The Bay Area's own Darrell Green will play at the final show in the series on September 25 with bassist Essiet Essiet and rapper Rico Pabon. Green, in demand for his work in New York, across Europe, and Japan, has also toured with Sherman Irby, Steve Turre, Faye Carol, Lavay Smith and the Red Hot Skillet Lickers, and Jeremy Pelt.
Buy tickets for all Give The Drummer Some events via the California Jazz Conservatory.