Director Brooklyn Sudano, Bobby Brown And More On 'Love To Love You Donna Summer'
'Her depth, and how grounded and real she was and then her connection to the divine… I can't believe it's all in one film.'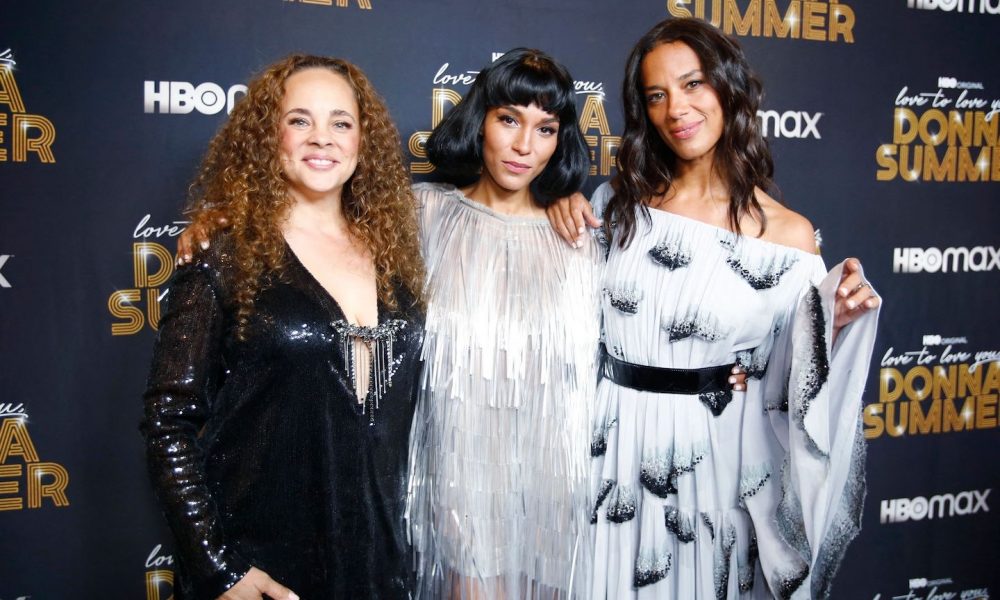 Even in a crowded landscape of music documentaries, HBO's Love To Love You Donna Summer, sets itself apart as a tender portrait of the woman, mother, and prolific performer that was Donna Summer. Ahead of the film's premiere on HBO on May 20, Universal Music Group (UMG) and its film and television division, Polygram Entertainment, hosted a star-studded screening and Q&A with the film's co-director, Summer's daughter Brooklyn Sudano.
The event was attended by actress Tisha Campbell, R&B legend Bobby Brown, Ron Livingston and his wife Rosemarie DeWitt, and more.
Director Brooklyn Sudano And Friends Host A First Look At HBO's 'Love To Love You Donna Summer'
Hosting the Q&A was legendary film critic, filmmaker, and host of KCRW's The Treatment, Elvis Mitchell, who spoke with Sudano about her experience delving into her mother's legacy and co-directing the film with Oscar-and-Emmy-Award winning filmmaker Roger Ross Williams.
DeWitt reflected on the film's impact, saying, "Her depth, and how grounded and real she was and then her connection to the divine… I can't believe it's all in one film. And I'm so in awe of Brooklyn right now." While Livingston added, "You just feel like you're learning more and more about her humanity."
Following the screening, Bobby Brown offered some thoughts on the film, saying, "Expect a lot. It draws you into who [she was] as a human being… You have to see it."
Tisha Campbell spoke about the bravery in the filmmaking choices, saying, "I thought it was such a beautiful film because we got to see another side of her and her commitment to God and all of these beautiful, amazing, heart-wrenching, devastating things about Donna Summer that you didn't even know…I thought, wow, how brave of Brooklyn and her entire family to allow us to see that side of her.
"I'm just very excited about this film and that people are going to see that and get to know her for who she really was, the constant performer and constant show person. There was that division… With family or with the responsibility to the world…I thought it was so beautiful for them to allow us to see that side of her."
Elvis Mitchell, in conversation with Brooklyn Sudano, reflected on Summer's power as a performer, saying, "The doc does such a great job of making her an intimate performer because, as I said, she was, at heart, a cabaret performer, and all these performances you guys picked for this, we can see her communicating with the audience. And that was key to who she was, and that's something you won't find on Wikipedia."
Sudano concurred, saying, "She was, yes, this larger-than-life person, but any of the people here in this room that knew her, knew that she was also the most grounded person, the most relatable person…like, if you had a gift and she saw that gift in you, she would automatically become your stage mum, and she would champion you and encourage you to go do that thing. So she was very real and very grounded even with this kind of larger-than-life persona that she was able to portray.
Sudano also reflected on Summer's legacy in another interview, saying, "I think for me it was really understanding just how intense her stardom felt to her and how much of a struggle balancing that with motherhood and identity. I think you kind of have an idea, but when you put it all together and you just kind of see all the things that she did, and she created, and who she needed to be for everyone. The amount of appreciation, the amount of grace, the amount of respect that I have for her is bananas now, and it goes beyond."