10 Things We Learned From The 'Love To Love You, Donna Summer' Documentary
'Love To Love You, Donna Summer' is a deeply personal portrait of the Queen of Disco.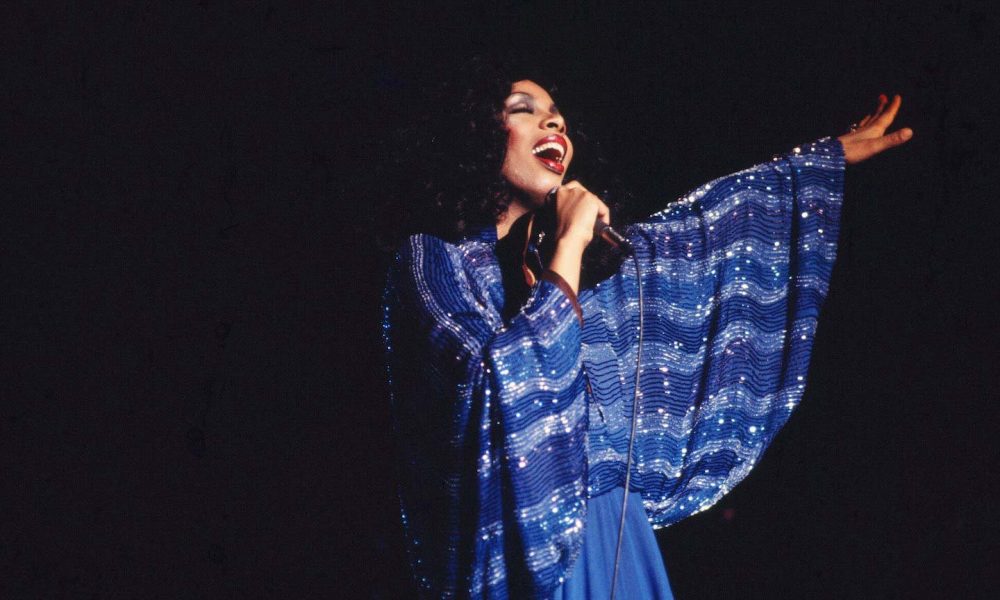 The film opens with an extreme close-up of her doe-like eyes, singing orgasmically to the song that would define her career, "Love To Love You Baby," but this is just one version of Donna Summer that's known to the public. "I have a secret life," she admits in a voiceover, "How many roles do I play in my own life?"
That essential question is answered in a new revelatory documentary, Love To Love You, Donna Summer, which premieres on May 20 on HBO Max.
Co-directed by Summer's daughter Brooklyn Sudano along with Oscar-and-Emmy-winning documentarian Roger Ross Williams, Love To Love You, Donna Summer is hardly the hedonistic tale of the Queen of Disco, but instead, an intimate and tender portrait of a singular artist, a pioneering female performer, and a mother.
Apart from one brief narration by Elton John, the film doesn't rely on famous talking heads but instead utilizes personal interviews with her family and friends to tell Summer's story before her tragic passing in 2012. Along with some incredible archival performances, the documentary lets Summer narrate her own story, with a wealth of personal home movies, behind-the-scenes tour footage, and voiceover narration to showcase Summer's formidable abilities as a singer, performer, and songwriter.
Here are 10 takeaways from this very generous and immersive portrayal of one of the most influential Black women in music.
Love to Love You, Donna Summer | Official Trailer | HBO
'Love To Love You Baby' didn't start as a song
As with most enduring songs in music history, Summer's biggest hit, "Love To Love You Baby," happened by accident. "I wrote it as a concept, not as a song, for someone else to write lyrics to," Summers reveals. She made up a voice, a sexy persona, to create a vibe, and that vibe would change her life. "It wasn't me," she adds, "it was a role."
Summer wrote the song with the help of the legendary European producers Giorgio Moroder and Pete Bellotte. The two were looking for an English speaker for a demo and met with Summer, who was also a session singer at the time. It would become the most fruitful relationship of her career. The original version was only a minute long, then extended to three. After Casablanca Records label boss Neil Bogart played it at a party and guests demanded to hear it repeatedly, the song was extended to its final 16 minutes and 48 seconds running time.
It became a song of revolution and a gay anthem and inspired a new phrase in the industry, "sex rock," as audiences would tear off their clothes when they heard it. "Love to Love Your Baby" was banned by the BBC for being too explicit and went on to sell one million copies. As Summer's grandmother reacted, "I'm never gonna be able to go to church again."
'I Feel Love' was the first electronic disco song
If "Love To Love You Baby" seduced the writhing dancefloor masses, the following Summer/Moroder/Bellotte collaboration aimed for the heavens. As someone who honed her voice singing gospel and Broadway," Summer's elastic vocals were perfectly suited to the otherworldly sound of "I Feel Love."
"I had the sense I was floating, the elation you feel when you're in love," says Summer. "We were forging ahead; everyone else was following." Not only was it the first electronic disco song, but it was the first use of a drum machine track in music. "I remember when 'I Feel Love' came on at Studio 54, you just stopped in your tracks, you thought, what is this?" narrates Elton John.
Summer's relationship with Morodor was more than just a creative one. As someone who'd experienced abusive relationships with men, Summer trusted him more than most. "He took me under his wing and was a redeeming figure for men in my life," shares Summer.
Donna Summer - I Feel Love (Live)
She started out in a rock band
Long before she became the Queen of Disco, a young LaDonna Gaines (as she was known then) became entranced by Janis Joplin and rock music, fronting the Boston psychedelic rock band the Crow. In high school, she would sneak out and play clubs in Boston before decamping to New York and living above the famous Café Wha in the summer of 1968. Summer was taking in the thriving hippie scene ("There was music pouring out of every doorway"), but as fate would have it, she met the director of the hit musical HAIR through a friend and left to perform in the German production at 19.
She first got famous in Germany
As a star in HAIR, Summer not only performed in German but became fluent in the language. Like many Black American artists like Nina Simone and Josephine Baker before her, Summer experienced a newfound freedom in Europe. "Being in Germany gave me license to be myself," she confesses. She was a star in Europe as a model and a singer and eventually met her first husband, the Austrian actor Helmuth Sommer while living there. Donna would take on his surname and Americanize it, and gave birth to her eldest daughter Mimi, who also makes a frequent appearance in the film.
Casablanca Records was her whole world
After moving from Munich back to New York City, Casablanca Records founder Neil Bogart personally handled her career. Everything from outfitting her in fur coats ("You're gonna look like you're already rich") to painting her toenails while she got ready. As Summer reflects in voiceover, Bogart "taught her how to dream." Donna would later have a falling out with the label, but it was Bogart who gave her the sexy persona and "took me where I needed to go."
She struggled with fame, and her image
One of the film's recurring themes is Summer reckoning her stage persona with her home self. She was always trying to become the person she was onstage. "I approach it as an actress,' she explains. 'I'm not trying to be me." Her stage shows were also very theatrical, and she was always playing a part. "I didn't dream about fame; I dreamed about singing. I didn't know how to deal with the attention."
Summer's daughters also remark on how much of a private person their mother was. Doors would be locked, and they would find out things about her from newspapers or the radio.
"I actually remember the first time that we heard 'Love to Love You Baby,' shares her youngest daughter, Amanda Ramirez. "I Didn't even know it existed. Brooklyn came in the room and was like, 'Have I got a song for you to hear!'"
Donna Summer - Love To Love You Baby
She had a complicated relationship with faith
Growing up in the church, Summers was raised on gospel music. Her father would play her records by Mahalia Jackson and say, "Sing like this record." She became obsessed and would listen to Jackson for hours, saying, "She has what I want." At eight years old, she filled in for someone sick in the church choir and blew everyone away. Everyone was in tears, "I knew I was going to be famous," Summer remembers. But despite growing up deeply spiritual, her faith was tested after being molested by a minister when she was in her teens. It wasn't until later in life that she returned to the church to become a born-again Christian. "When you're successful and reached your goals, and it feels empty, what happens after this," she wonders. After having a mental breakdown in New York, Summer returned to her faith and found her footing again.
She was an aspiring filmmaker and fine artist
Much of the documentary relies on home movies shot by Summer herself. She was studying to become a director and had a video studio at home. She bought herself a movie camera and made movies while on tour. From family parties to full-fledged short films, Summer captures her world with a keen eye. Later in her career, she wanted to explore other creative aspects of her personality and started painting. She became an avid painter for 15 years and exhibited her work at many fine art galleries. "When I leave the stage, I don't go home with anything. With painting, I have something tangible."
'She Works Hard For The Money' was inspired by a bathroom attendant
Summer continued her streak of hits well into the 80s with her feminist anthem "She Works Hard For The Money," inspired by a bathroom attendant she saw the night of the Grammys in 1983. While attending an after-party at the West Hollywood restaurant Chasen's, Summer saw Onetta Johnson asleep in the ladies' room and thought this woman works hard for the money. Summer even included Johnson in the album artwork on the back of the LP. "She Works Hard For The Money" would become the first music video by a Black female artist on MTV.
Donna Summer - She Works Hard For The Money
She performed and toured with her family
Summer grew up in a big family as one of seven children, and her family was very protective of her. She brought her three sisters, Mary Ellen, Dara, and Linda, on the road with her. Initially, they joined to watch out for their sister, then eventually formed their own disco group Sunshine in 1978 and served as backing vocalists. Mary Ellen Bernard continued to perform with Summer until her sister's passing on May 17, 2012, due to pancreatic cancer.