Eddie Vedder Remembers Chris Cornell In New Interview
'I still haven't quite dealt with it,' the Pearl Jam frontman told Howard Stern.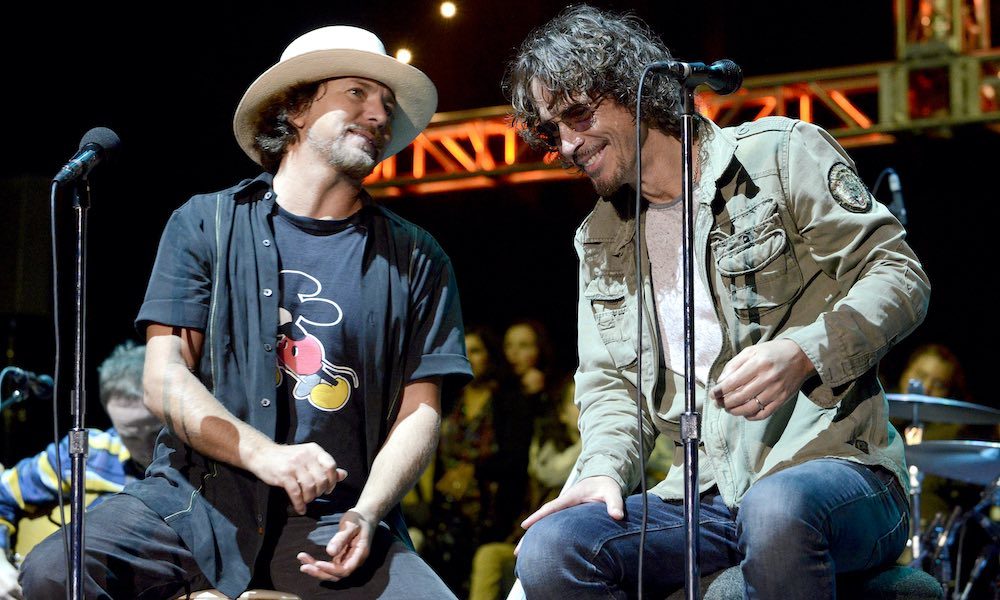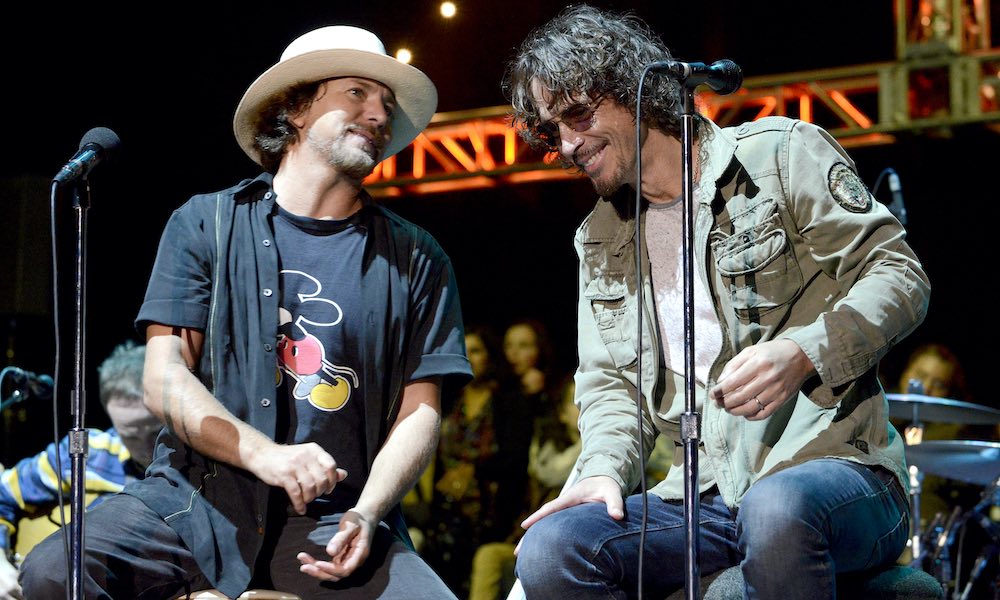 During a lengthy interview on The Howard Stern Show this week, Pearl Jam frontman Eddie Vedder remembered his friend, and fellow grunge pioneer, Chris Cornell, who died in 2017.
Eddie Vedder Remembers Chris Cornell
"I've had to be somewhat in denial," Vedder told Stern about processing Cornell's suicide. He said that was the "one way I was even able to do it, and…I don't even feel like I had a choice…I was terrified of where I would go if I allowed myself to feel what I needed to feel or what I was instinctively wanting to feel or how dark I felt like I was going to go."
He continued, "I still haven't quite dealt with it…I'll get stronger as time goes."
He added that, while he hadn't seen the former Soundgarden and Audioslave frontman as frequently over the past decade, they "were close, and it wasn't just because we were playing music. We were neighbors. I would hang out with him outside of the band even more than…the band guys, and I didn't know that many people in Seattle. So, we would go on crazy hiking adventures or we would go mountain biking or we would chase the dog in the rain drinking s__tty beer."
"It was cool, because it had nothing to do with anything like being around other music people or…some kind of L.A. life."
Vedder also spoke about Cornell's eldest daughter Lily, who he said is "a tremendous, tremendous girl…she's been kind of like a big sister to my kids." Vedder recently joined Lily as a guest on her podcast, Mind Wide Open, which focuses on issues surrounding mental health.
Fans of Pearl Jam, meanwhile, were recently treated to the single "Get It Back," which marked the band's first new music since Gigaton. The track originally appeared on Good Music To Avert The Collapse Of American Democracy Vol. 2 – a compilation that benefitted voter rights organization Fair Fight. The release, which was only available to purchase for one day, featured 40 previously-unreleased tracks from such artists as Soccer Mommy, R.E.M., Thurston Moore, Matt Berninger, and Hayley Williams.
Listen to the best of Pearl Jam on Apple Music and Spotify.