Ella Fitzgerald's 'The Complete Piano Duets' For 2CD, Digital Release
The set, featuring such pianists as Ellis Larkins, Paul Smith and Oscar Peterson, will be released by Verve Records/UMe on 13 March.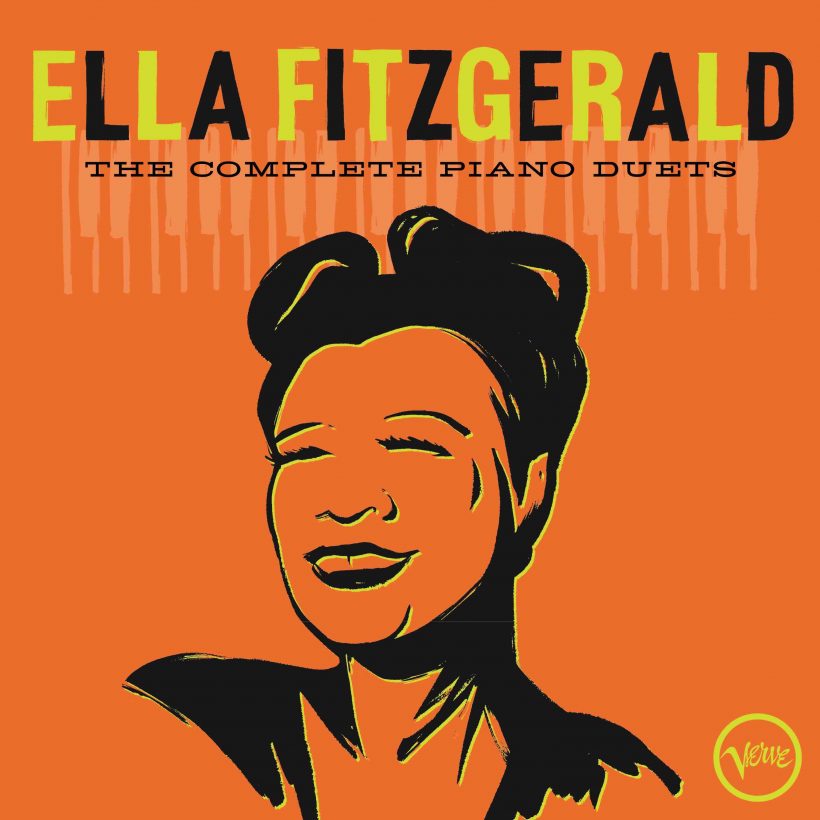 For the first time, all of Ella Fitzgerald's collaborations with pianists recorded for the Decca, Verve and Pablo labels will be brought together on the album The Complete Piano Duets. The set will be released by Verve Records/UMe on 13 March as a 2CD and digital collection.
The double album includes detailed liner notes by the respected author and music critic Will Friedwald, who writes: "Fitzgerald was so great at everything — especially scatting and swinging — that it tended to overshadow her ballad singing. Yet, as any one of the 43 tracks on this collection makes clear, Ella Fitzgerald was a nonpareil singer of love songs, a balladeer par excellence.
"Like her closest colleagues, Louis Armstrong, Frank Sinatra, Nat King Cole and Billie Holiday, Fitzgerald could get deep into not just the words but the inner meaning of a song and bring out the profound truths that the lyricist had in mind all along."
The Complete Piano Duets sequences each track in its chronological recording order. It takes the listener to her early sessions with pianist Ellis Larkins ('Someone To Watch Over Me,' 'But Not For Me' and 'I've Got a Crush On You'), then, with Paul Smith, to Cole Porter's 'Miss Otis Regrets' and the gritty 1960 crime drama Let No Man Write My Epitaph ('Black Coffee,' 'Angel Eyes,' 'I Cried For You').
The peerless vocalist teams with Tommy Flanagan at a 1964 French gig for 'Somewhere In The Night' and we hear 1975 duets with Oscar Peterson from the "third act" of her career ('Mean to Me,' 'How Long Has This Been Going On?,' 'April In Paris').
Fitzgerald first worked with Larkins for her 1950 album, Ella Sings Gershwin, which did so well that they reunited for another voice-and-piano album, Songs In A Mellow Mood, in 1954, featuring a selection of Great American Songbook standards. The singer would occasionally return to the intimate format , including piano duets on 1956's Ella Fitzgerald Sings The Cole Porter Song Book and 1957's Ella Fitzgerald Sings The Duke Ellington Song Book.
The 1960 LP Ella Fitzgerald Sings Songs From Let No Man Write My Epitaph included songs from the film in which she appeared in as a pianist-singer, and became her third full album with only piano accompaniment, this time played by Paul Smith. The rendition of 'Somewhere In The Night' with Flanagan was recoerded live on the French Riviera and later issued on the 1964 live set Ella at Juan-Les-Pins. Fitzgerald's final major combination with a piano player was Ella and Oscar, a 1975 release with her longtime collaborator Oscar Peterson.
The Complete Piano Duets is released on 13 March. Scroll down for the full tracklisting, and pre-order it here.
Listen to the best of Ella Fitzgerald on Apple Music and Spotify.
Disc One:
1. Looking For A Boy
2. My One And Only
3. How Long Has This Been Going On?
4. I've Got A Crush On You
5. But Not For Me
6. Soon
7. Someone To Watch Over Me
8. Maybe
9. I'm Glad There Is You
10. Baby, What Else Can I Do
11. What Is There To Say?
12. Makin' Whoopee!
13. Until The Real Thing Comes Along
14. People Will Say We're In Love
15. Please Be Kind
16. Imagination
17. My Heart Belongs To Daddy
18. You Leave Me Breathless
19. Nice Work If You Can Get It
20. Stardust
21. Miss Otis Regrets
22. Lush Life
Disc Two:
1. My Melancholy Baby
2. Angel Eyes
3. Black Coffee
4. I Hadn't Anyone Till You
5. I Cried For You
6. Misty
7. Who's Sorry Now?
8. I Can't Give You Anything But Love, Baby
9. I'm Getting Sentimental Over You
10. Then You've Never Been Blue
11. September Song
12. Reach For Tomorrow
13. One For My Baby
14. Somewhere In The Night
15. Mean To Me
16. How Long Has This Been Going On?
17. When Your Lover Has Gone
18. More Than You Know
19. There's A Lull In My Life
20. How Long Has This Been Going On (Take 5 alternate)
21. More Than You Know (Take 1 alternate)
Format:
UK English