Eminem Breaks Historic Hip-Hop Record After Charting For 500 Weeks In The UK
The rapper's album, 'Curtain Call: Greatest Hits,' hasn't left the charts since 2005.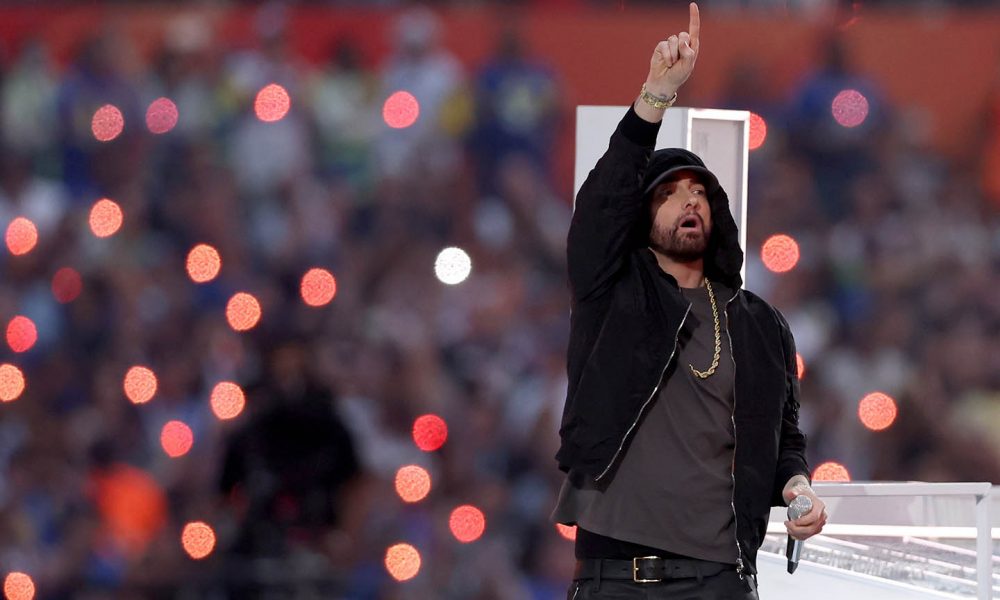 Eminem is celebrating a monumental career achievement: his compilation album, Curtain Call: Greatest Hits, is the first hip-hop album to spend 500 weeks (and counting) on the UK charts. Originally released in December 2005 (debuting at No. 1), the record hasn't left the album charts in the seventeen years since. Even more notably, it has primarily remained in the Top 50 of the charts each week.
At the time, Eminem's single, "When I'm Gone," peaked at No.4 in the UK, which helped the compilation's popularity upon its release. From there, the rapper has gone on to have ten No.1 albums across the pond. He joins the ranks of classic albums, including Fleetwood Mac's Rumors and Pink Floyd's The Dark Side of the Moon, that have achieved the 500-week feat.
Curtain Call: Greatest Hits has also been highly successful for Eminem in the US. In its first week of release, the compilation sold over 400,000 copies, while in August 2017, the title broke records as the longest-charting rap LP on the Billboard 200. Featuring some of the artist's biggest songs of the early aughts – including "Without Me" and "The Real Slim Shady" – Curtain Call has since received a septuple-platinum certification by the RIAA, marking an astonishing seven million records sold.
Eminem recently joined a roster of fellow hip-hop legends, including his frequent collaborator Dr. Dre, during a spectacular Super Bowl Halftime Show performance. The rapper delivered an empowering rendition of his 2002 hit, "Lose Yourself," during the medley.
Eminem has also continued to focus his sights outside of music. In 2017, he opened his highly-successful restaurant, Mom's Spaghetti, in his hometown of Detroit. Ahead of the Super Bowl, he set up a pop-up version in Los Angeles. Last month, meanwhile, the rapper collaborated with Peloton to launch the Peloton Eminem Artist Series, which included a live, one-night-only boxing event on the fitness platform. Additional classes are currently available to stream on-demand.