Eminem Shares Teaser For New 'Venom: Let There Be Carnage' Soundtrack Cut
The song will feature Skylar Grey, Polo G and Mozzy.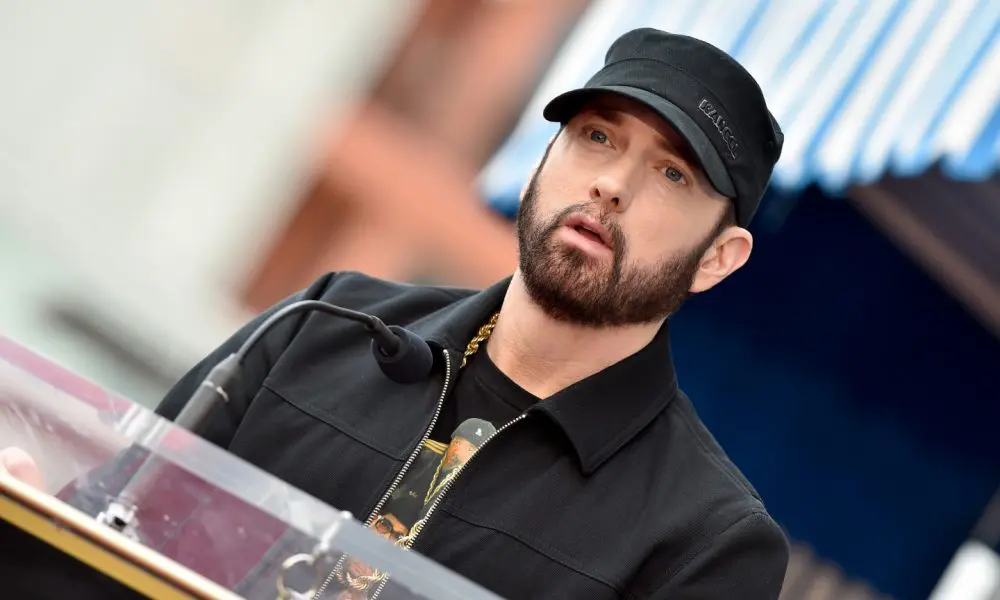 Eminem has shared a teaser trailer for his upcoming, currently untitled contribution to the soundtrack for the forthcoming film Venom: Let There Be Carnage. The film arrives in theaters on Thursday, September 30.
In an 18-second video shared on social media featuring the film's branding, Eminem shared a piece of audio from the song. Though no lyrics are featured, it does feature a portion of the track's cinematic production. The trailer also revealed that the song will feature the rapper's longtime collaborator Skylar Grey in a stacked lineup that also includes Chicago rapper Polo G and California-born artist Mozzy.
Eminem also appeared on the soundtrack to the first installation of Venom, sharing a track of the same name in 2018.
The rapper and Grey frequently appear on each other's projects, dating back over a decade. He has appeared on the singer's tracks "C'Mon Let Me Ride" and "Kill For You" while she sang on their Dr. Dre collaboration "I Need A Doctor" as well as on the Music To Be Murdered By cuts "Leaving Heaven" and "Black Magic."
The Venom soundtrack cut will mark Eminem's first release since May, when he shared the remix for his single "Killer" which featured Kentucky rapper Jack Harlow and North Carolina-hailing singer and rapper Cordae.
News of the new song follows the announcement of Eminem's newest endeavor, a restaurant in his home city of Detroit, Michigan called Mom's Spaghetti. The pasta restaurant, which offers vegan options and 'sghetti sandwiches, is a play on the classic "Lose Yourself" lyric "His palms are sweaty, knees weak, arms are heavy / There's vomit on his sweater already, mom's spaghetti." The restaurant will have its grand opening today.
In addition to music and the restaurant business, Eminem will also be tapping into his acting side through appearances on 50 Cent's upcoming Starz series BMF. The show will explore the narrative of the legendary Black Mafia Family with Eminem in the guest star role of White Boy Rick.
Listen to the best of Eminem on Apple Music or Spotify.