Florence + The Machine Announce Trio Of Intimate UK shows
The band play shows in Newcastle, Blackburn and at London's Theatre Royal in April 2022.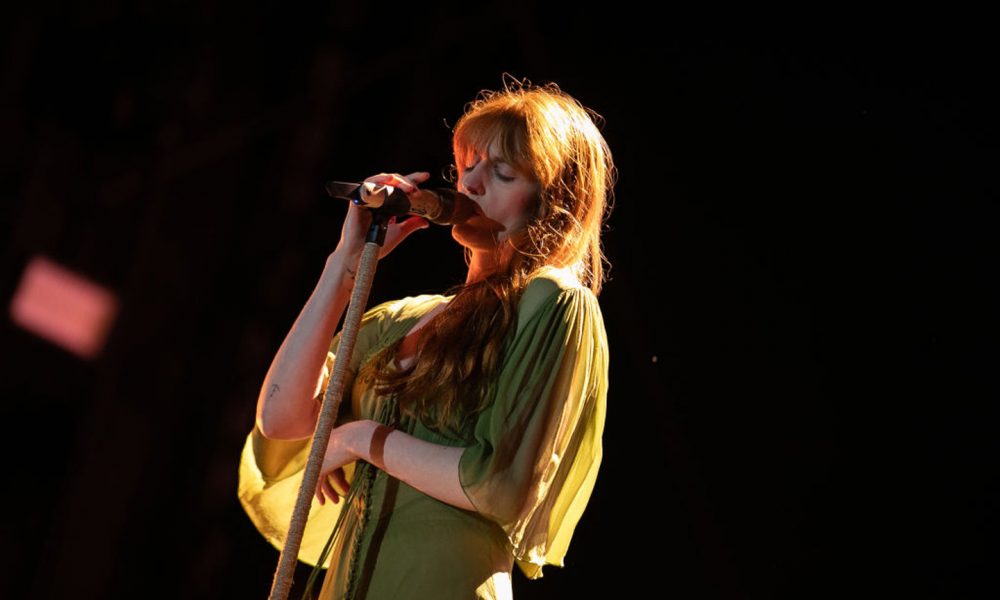 Florence + The Machine have announced three intimate UK shows for next month.
The London band, who detailed their fifth album Dance Fever last week, will take to the stage at Newcastle's O2 City Hall (April 15), Blackburn's King George's Hall (16) and London's Theatre Royal (19).
In a statement, Florence Welch and company said they "will play music from the new album for the first time, along with some favourites from previous albums". The gigs will mark the group's first UK live appearances since 2019.
Fans can access a pre-sale for tickets tomorrow (March 16) at 9am by pre-ordering Dance Fever from F+TM's official website before 8pm tonight. Tickets go on general sale this Thursday, March 17, at 9am GMT.
One pound from each ticket sold will be donated to Choose Love, which supports refugees and displaced people globally.
The forthcoming Dance Fever has been previewed with the tracks "King", "Heaven Is Here" and most recently "My Love". Welch previously described the record as "a fairytale in 14 songs".
Just before the pandemic Florence had become fascinated by choreomania, a Renaissance phenomenon in which groups of people—sometimes thousands—danced wildly to the point of exhaustion, collapse and death. The imagery resonated with Florence, who had been touring nonstop for more than a decade, and in lockdown felt oddly prescient.
The image and concept of dance, and choreomania, remained central as Welch wove her own experiences of dance—a discipline she turned to in the early days of sobriety—with the folkloric elements of a moral panic from the Middle Ages. In recent times of torpor and confinement, dance offered propulsion, energy and a way of looking at music more choreographically.
Produced by Welch alongside Jack Antonoff and Glass Animals' Dave Bayley, the album was largely recorded in London over the course of the COVID pandemic as Welch anticipated the return of clubs, live music and dancing at festivals.
The "High As Hope" follow-up brings back the more "anthemic" side of F+TM, containing shades of "dance, folk, '70s Iggy Pop, longing-for-the-road folk tracks a la Lucinda Williams or Emmylou Harris and more".
Florence + The Machine are due to perform at a host of European festivals this summer, including Flow Festival, Øya Festival and Mad Cool Festival.
Florence + The Machine play the following intimate UK shows:
April 15 – Newcastle, O2 City Hall
April 16 – Blackburn, King George's Hall
April 19 – London, Theatre Royal