Listen To New Version Of Glass Animals' 'Heat Waves' Ft. Iann Dior
"Heat Waves" currently sits at No.1 on the Alternative Radio Chart for the second consecutive week, a first for the band.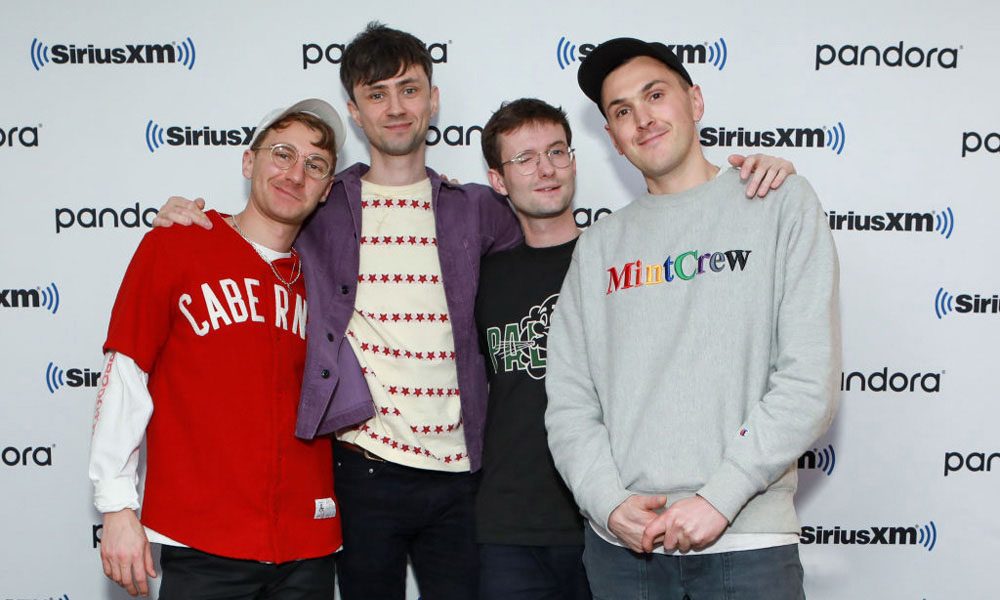 "Heat Waves" by Glass Animals was first released in June 2020 ahead of their third album Dreamland later that summer. An instant hit with the established fan base, "Heat Waves" paved the way for the album, but this new version with a feature from rap star Iann Dior is the tipping point of a song that has been on a serious journey of growth these last 8 months. You can check out "Heat Waves" featuring Iann Dior below.
Since its initial release, "Heat Waves" has experienced a global rise in support that shows no signs of stopping. Having originally resonated with their fans, word quickly spread, and the track started getting healthy traction at radio globally.
Next came a sync placement on FIFA, which opened up a whole new audience and helped the track begin to climb charts all over the world. "Heat Waves" most notably was then crowned number 1 on Triple J's Hottest 100 – an accolade not given to a UK band since 2009 with previous winners including Kendrick Lamar and Billie Eilish.
A third surge in attention came more recently with an organic Minecraft affiliation, whereby the YouTuber LoverFella (2.3M subscribers) rebuilt a Glass Animals fan's base and surprised her with a meet and greet with the band who were waiting inside. Dave Bayley recently sat down to chat about the track's creation with Hrishikesh Hirway on the coveted Song Exploder Podcast.
"Heat Waves" currently sits at No.1 on the Alternative Radio Chart for the second consecutive week, a first for the band in their career. The song also climbed to No.1 on Mediabase, No.1 on Billboard Alternative Airplay Chart and No.1 on Apple Music Alternative Genre Chart, and it continues to grow on the Top 40 Radio Chart (currently at No.23) and made its debut on Apple Music All Genres Chart.
Currently "Heat Waves" holds the No.1 spot on the ARIA Official Singles Chart in Australia for the fourth consecutive week (the second longest No.1 in 2021 for Australia after Olivia Rodrigo) and is holding strong on Spotify's Global Top 50 Chart. It has over 2 million global adjusted single sales and 310 million global combined streams (200M on Spotify / 80M in the US). To date, "Heat Waves" peaked at 1.88 million daily streams and has received 14 million views of the video on YouTube. Glass Animals recently hit a new Spotify monthly listener peak of 16.3 million, surpassing the likes of Tame Impala, Gorillaz, The 1975 and The Strokes.
Bursting with all the wonderful tricks that we have come to expect from Glass Animals' enigmatic front man and producer Dave Bayley, "Heat Waves" is a scorching, bass-heavy pop-trip hit, and the addition of Iann Dior brings a refreshing new dynamic to the track.
Iann Dior was born in Puerto Rico and raised in Texas and found instant success with the first song he ever wrote. In early 2019, he signed a deal with Elliot Grainge's 10K Projects and established himself as a lo-fi hip hop artist to watch with early songs like "cutthroat" and "emotions." Dior went on to release "gone girl" featuring fellow 10K Projects signee Trippie Redd, which provided a perfect lead up to his debut album Industry Plant. In mid-2020, he featured on 24KGoldn's "Mood," and the single immediately began to climb the charts, becoming both 24KGoldn and Iann Dior's first No.1 on Billboard's Hot 100 Chart.
Glass Animals' album Dreamland entered UK charts on its opening week at No.2 (their highest ever scoring chart position, a massive 21 spots above their last album, Mercury Prize nominated How To Be A Human Being) and charted inside the top 10 in the US, Australia, New Zealand and Ireland. The album clocked up 160 million streams in its first week of release.
Buy Glass Animals' Dreamland here.