Goodbye To Self-Styled 'Lord Of Garbage' Kim Fowley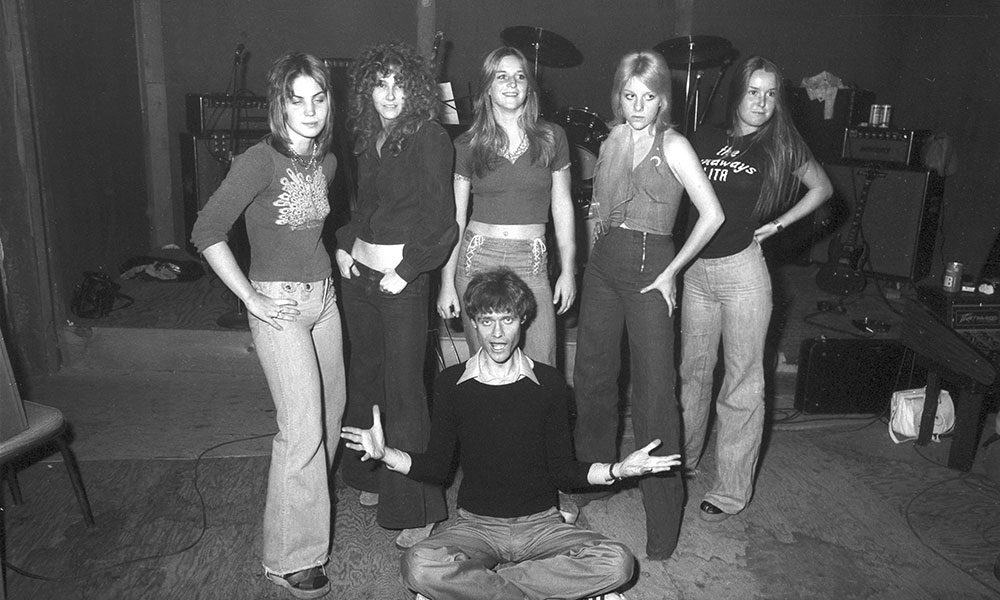 Kim Fowley, a unique producer/writer/musician and all-around one-off of the past 55 or so years, passed away yesterday (January 15) at the age of 75. He had been undergoing treatment for bladder cancer.
Fowley's singular talents and larger-than-life personality rose to fame on a string of highly entertaining novelty hits that he produced and/or published in the 1960s (and sometimes wrote, as in the case of B. Bumble and the Stingers' 'Nut Rocker'). He was also well known as the manager of groundbreaking 1970s all-girl punk band the Runaways, and for his extraordinarily varied range of credits with everyone from Gene Vincent and Paul Revere and the Raiders to Frank Zappa, Leon Russell, Alice Cooper and Jonathan Richman.
"I love Kim. I really do," said the Runaways' Cherrie Currie last year. "After everything I went through as a kid with him, I ended up becoming a mum and realized it was difficult for a man in his 30s to deal with five teenage girls." On hearing of his death, fellow 1960s entrepreneur Andrew Loog Oldham took to Twitter to write: "R.I.P. the forever lovable rock 'n' roll rogue with a heart of gold, Mr. Kim Fowley."
Los Angeles-born Fowley's first significant hit was one on which he performed, the Hollywood Argyles' 1960 single 'Alley Oop.' That reached No. 1 in the US, and two years later 'Nut Rocker' did the same in the UK, becoming a big hit again ten years later. As the decade progressed, he wrote, found, producer and/or published songs for everyone from Cat Stevens and the Seekers to Soft Machine and the Seeds, also releasing countless albums of his own. One of these, the suitably-named 'Outrageous,' just edged into the bottom of the US chart in the spring of 1969.
It's a measure of Fowley's versatility and boundless energy that he could play on the first album by the Mothers of Invention, 'Freak Out!', produce the 1969 comeback LP by vintage rock 'n' roller Gene Vincent, and compose for artists as diverse as Warren Zevon, Kiss, Helen Reddy and the Byrds.
He was the producer of the rock 'n' roll revival tracks cut by Flash Cadillac and the Continental Kids for the 'American Graffiti' movie, and in 1976, both produced and managed the Runaways as their raucous, female take on the new punk sound caused a big stir, especially on the song 'Cherry Bomb.' His role with the band was later depicted on the big screen in the 2010 film named after the group, which was based on Currie's memoir.
As he pursued other film projects in later years, Fowley also published the first volume of his autobiography, the gloriously-titled 'Lord of Garbage,' in 2012. The second part will be published posthumously. We'll not see his like again, and we celebrate his career with our fondly-compiled playlist.
Never a shrinking violet, Fowley told writer Kingsley Abbott in 2003: "If you're left alone by the whole human race, in the most crucial parts of your life and development, you have a lot of time to develop your musical identity and skills. You can't wait to go out in public and show off.
"I am trained to make magnificent records whenever possible. For whatever reason, I just do it. It's better than watching the news. What else am I going to do? Work at a fish and chip shop? 'Hi, do you want cod?' God! No, no, I'm one of the great ones."
Listen to uDiscover's playlist of 15 of Kim Fowley's thousands of recordings as writer, producer, publisher, manager and more on Spotify
Format:
UK English