Grace Jones Set To Headline 2023 Bluedot Festival
This year's event in Cheshire, UK, runs from July 20-23 and will also feature Roisin Murphy and Pavement.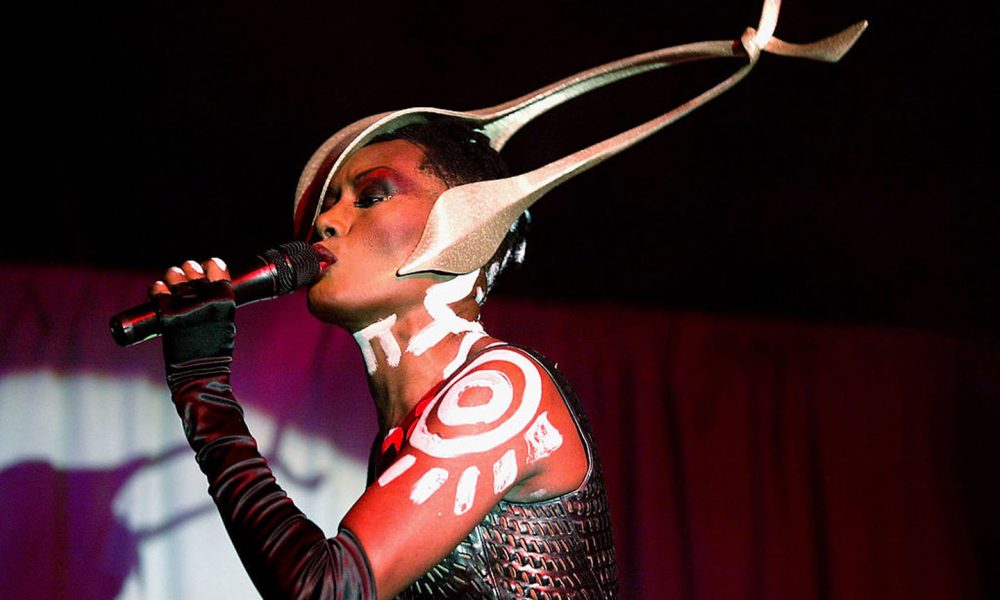 Grace Jones has been announced as the headliner of the 2023 Bluedot festival The singer, actress and model, who curated London's Meltdown in 2022, will play under the gaze of the Lovell Telescope at Cheshire's Jodrell Bank Observatory from 20-23 July.
Lo-fi pioneers Pavement and electropop queen Roisin Murphy will also headline. It will be the sixth time the four-day festival, which celebrates music and science, has been staged. A festival representative said that as "one of the most influential musicians of her generation", Jones needed no introduction.
"Her influence has made her a towering figure of pop for over six decades," they said.
"From the classic beats of "Slave To The Rhythm" and "Pull Up To The Bumper" to her gold-selling most recent album Hurricane, [she] has become synonymous with a unique fusion of music, art and fashion that has inspired a new generation of artists."
They said Pavement's appearance would be the American band's only UK festival show in 2023, while Murphy's headline slot would be the first time she has topped a festival bill. Visit the event's official website for further information.
They said the festival's organizers were delighted to give her the top slot, as the "de facto queen of electropop" would open the weekend with "a cosmic dance party."
They added that the festival's opening night, which traditionally sees an unexpected act top the bill, would see composer Max Richter deliver "a unique orchestral performance beneath the iconic Lovell Telescope."
Also announced for the 2023 Bluedot Festival are dance duo Leftfield, Mercury Prize winners Young Fathers, art rockers Django Django, post-punk four piece Dry Cleaning and experimental rockers Black Country, New Road.
Away from the music, the event will once again host talks from numerous scientific luminaries, including BBC Sky at Night's Chris Lintott and Maggie Aderin-Pocock, climate change researcher and author Mike Berners-Lee, the UK Space Agency's Libby Jackson and the Open University's Professor of Planetary and Space Science Monica Grady.
Festival director Ben Robinson said the festival had always been "ambitious in its programming and mission".
"Looking at the scale of iconic talent, breadth of genres and one-off moments, it really has matured into a very special event," he said. "We look forward to gathering together again beneath the telescope."
Listen to the best of Grace Jones on Apple Music and Spotify.