Guns N' Roses Officially Releases New Single 'Perhaps'
The much-anticipated new track also arrives with an official video.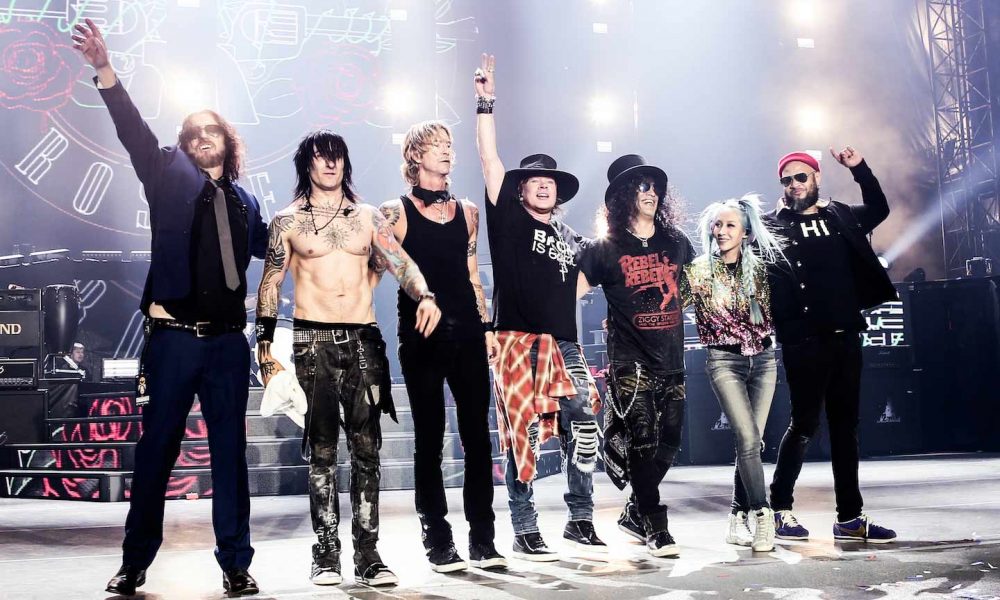 After much rumor and anticipation, Guns N' Roses' new single "Perhaps" is now officially available via Audacy rock stations. The strident, anthemic new song also arrives with an official video, which you can check out below.
Shop the best of Guns N Roses' discography on vinyl and more.
According to a press release, per Audacy, the song was "written and recorded by Axl Rose, Slash, and Duff McKagan this year," and marks their "first collective new composition and recording together in 30 years since 1993's The Spaghetti Incident?"
While Slash and Duff may have had a bigger hand in writing the official version of "Perhaps" than the band's 2021 singles "Hard Skool" and "ABSUЯD" (which were both reworked from years-old demos), "Perhaps" is not an entirely new song. A rough demo version of "Perhaps" has been floating around for several years, and Guns N' Roses played the song during a soundcheck before a show in Israel in June of this year.
Guns N' Roses - Perhaps (Official Music Video)
Regardless of the song's origins, though, new music from Guns N' Roses is always an extremely welcome treat for fans, especially with core members Axl, Duff, and Slash involved. Perhaps the band will give the song its live debut during its current 2023 North American tour, which runs until mid-October. Tickets for GN'R's upcoming shows are available via the band's official website.
According to Slash, several other older Guns N' Roses tracks have also been reworked during the pandemic. "There's a handful of those songs that we actually fixed up and did when we were in lockdown," he explained to "Trunk Nation With Eddie Trunk". "So those have yet to be released. So those are gonna come out. They're really good, too. So I'm excited for those. We're just gonna put out like one or two songs, and another one or two songs. And I think that's gonna be pretty much all of 'em. I'm not sure exactly how many we did in total."
As of today, fans can also pre-order a limited-edition 7" vinyl of "Perhaps," including another new song "The General."