Jack Sonni, Dire Straits Guitarist Of 'Brothers In Arms' Era, Dies At 68
Sonni contributed to the multi-million-selling album and was then on the epic tour that followed.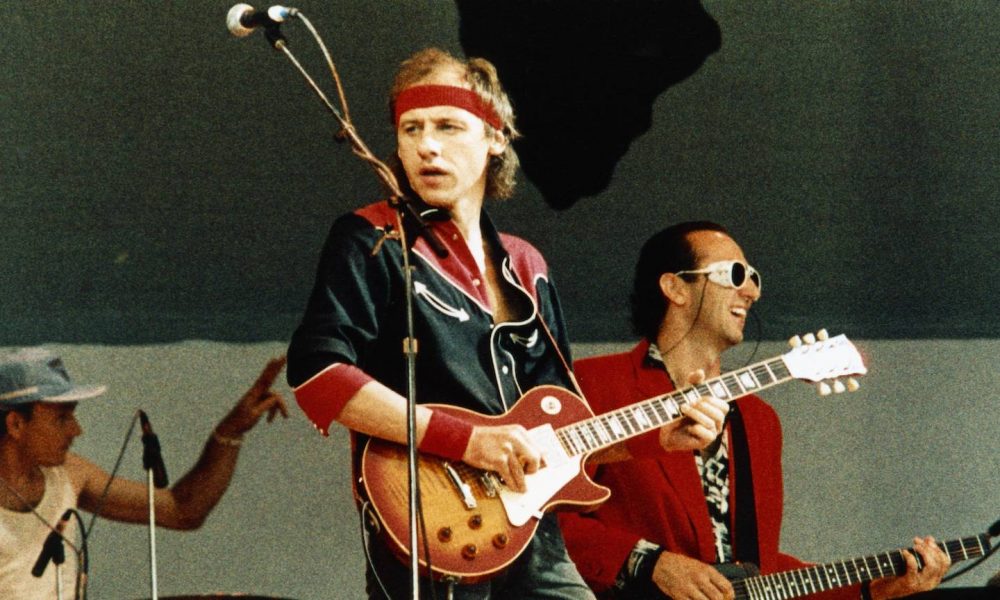 Jack Sonni, often described as "the other guitarist" alongside Mark Knopfler in Dire Straits' Brothers In Arms era, died yesterday (30) at the age of 68. The Pennsylvania native had latterly played in Dire Straits Legacy, the aggregation of musicians who previously toured with the band and/or played on their albums.
Bassist and co-founder John Illsley wrote on Facebook: "So sorry to hear the sad news that Jack Sonni has died, we loved having him with us on the Brothers in Arms tour, fond memories. R.I.P Jack." Dire Straits Legacy had announced this week that Sonni was in ill health and would not be able to take part in the band's next gigs. No cause of death has yet been announced.
Knopfler added on his social media on Friday (1): "A sad farewell to our old friend Jack Sonni, whom I met when he was working at Rudy's Music Stop on 48th St. Jack was a genuine guitar enthusiast who loved to play, jam, and talk guitars and amps all day. He joined us on tour during the Brothers in Arms era and took to life on the road with the band like a fish to water. Jack made friends wherever he went and will be missed by his many pals worldwide. Our thoughts are with his family at this time."
Born in Indiana, Pennsylvania on December 9, 1954, Sonni played piano and trumpet before switching to guitar. He was mentored by in-demand session guitarist Elliot Randall, who persuaded him to move to New York, where he played in his own band, the Leisure Class. Working at Rudy's Music Stop, he met first David Knopfler and then his older brother Mark.
The Man's Too Strong (Remastered 1996)
After the departure of David, and then of Hal Lindes, Sonni received an invitation to play on the multi-million-selling Brothers In Arms album and the huge subsequent world tour. He added a guitar synthesizer part to the track "The Man's Too Strong," and performed with the band at Live Aid at Wembley Stadium. Sonni was pictured alongside Mark Knopfler in many of the enduring images of their set.
In his 2021 memoir My Life In Dire Straits, Illsley wrote: "We had moved quickly to replace Hal on guitar, bringing Jack Sonni, a friend of Mark's over to Montserrat from New York. It was a speculative move that paid off handsomely for all concerned. Jack worked in Rudy's guitar store, our favourite haunt, a few blocks away from the Power Station in Lower Manhattan, where Mark had met him.
"He could certainly play, and we all got along, so it was decided that Jack was going to join us to play one of the biggest-selling tours in rock history. I remember Mark saying 'Sometimes it's nice to play Father Christmas.'"
In the 2000s, Sonni became VP of marketing communication for instrument retailer Guitar Centre and wrote literature in later years, also reviving the Leisure Class for gigs and joining the ranks of Dire Straits Legacy.