Watch Jake Shears' New 'Big Bushy Mustache' Video Featuring Josh Homme
The glam-funk-flavoured track trails' Shears' upcoming, self-titled debut solo LP.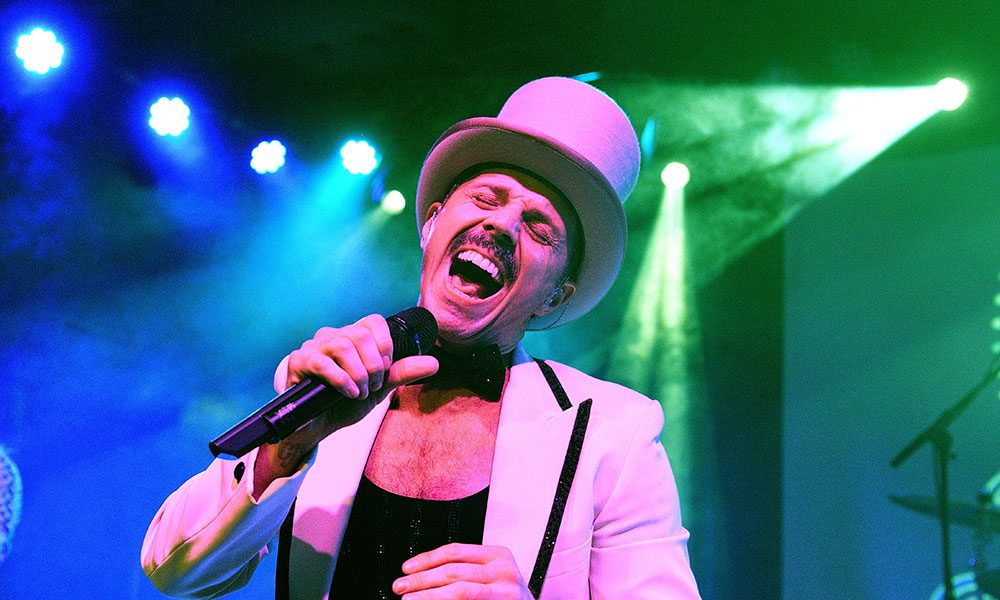 Scissor Sisters' Jake Shears and Queens Of The Stone Age frontman Josh Homme team up in the video for Shears' new single 'Big Bushy Mustache', which you can watch above.
In the video, a leather-clad Shears wanders the streets of New Orleans and recruits other men to grow out their mustaches. In scenes framed with digital fire, the singer hangs out with Homme backstage, blowing kisses to the fellow mustachioed rocker.
The glam-funk flavoured 'Big Bushy Mustache' is the first track to be trailed from Shears' upcoming, self-titled debut solo LP which is due out on August 10 via Shears' own Frieda Jean label. He'll be partnering with Absolute for the UK release of the record. The singer flaunts his falsetto through the new track, which peaks with a wild fuzz-guitar solo.
Jake Shears recently spoke to Rolling Stone about the album, his first project since Scissor Sisters' 2012 album, Magic Hour. He also detailed his long-time friendship with Homme, whom he called a personal hero, saying the song 'The Bruiser' was inspired by him. "He's like a brother to me and just inspires me to no end," the singer said. "I think he's an amazing man. And musically, I think he's one of the best alive."
The songwriter also debuted the dark new song 'Sad Song Backwards' in the Rolling Stone piece, calling it a "funny song that's actually about suicide."
Elsewhere in Queens Of The Stone Age news, Josh Homme recently invited Spiderman onstage as Queens Of The Stone Age performed at Belgium's Rock Werchter Festival. The frontman spotted a fan dressed as the superhero in the crowd, so he decided to dedicate a song to Spiderman, before instructing the audience: "Come to me. Bring Spiderman to me. Just carry him to me, would you? Be gentle with me."  The fan made their way towards him by crowd-surfing to the front of the crowd and was taken up onstage. Once there, Homme and the superhero hugged and danced together. The band then launched into 'You Think I Ain't Worth A Dollar, But I Feel Like A Millionaire'.
Explore Our Queens Of The Stone Age Artist Page. 
Format:
UK English