James Taylor And His All-Star Band Announce US Summer Tour Dates
The tour kicks off June 21 in Columbia, South Carolina.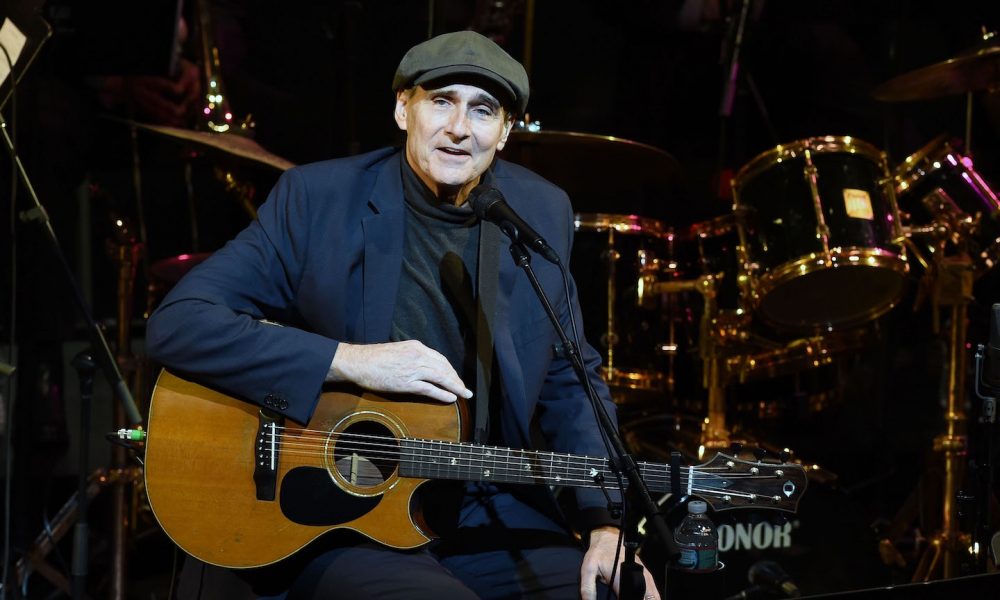 James Taylor has announced a 20-date U.S. summer tour with his All-Star Band simply titled, "An Evening With James & His All-Star Band." Taylor's most recent album was 2020's American Standard.
The tour kicks off at Columbia's Colonial Life Arena on June 21, with stops including Charlotte, Raleigh, Allentown, and Denver, among others. The trek wraps up at Las Vegas's T-Mobile Arena on July 30. Taylor is then set to embark on a European tour beginning September and running through November. Tickets go on sale to the general public on Friday, March 25.
On August 20, Taylor will be a special guest for the famed Lenox, MA venue Tanglewood's 90th Birthday Celebration of composer John Williams, along with Yo-Yo Ma and Branford Marsalis.
Taylor recently spoke to us on his latest return visit to London – where he spent significant time in the late 1960s while signed to The Beatles' Apple label. The cherished troubadour explained the process of American Standard, and reshaping songs in his inimitable style. "It's basically a guitar album," he said. "The selection process was that we played the songs that I knew already on the guitar, since these were songs from my family's record collection in North Carolina in the 50s and 60s.
"I brought them to John Pizzarelli, who was my collaborator and co-producer, and just in the process of teaching them to John and running them through with him, all of these half-baked versions of the songs sorted themselves out. The ones that worked clearly worked, and the other ones were just pushed to the side. We ended up with about 20 songs that we cut basic tracks on. We finished 17 of them and we put 14 on the album.
"So it really is born out to me that when people think of me as doing other people's music, it's really [that I'm] putting it through a musical process. Even when it's someone else's song, 50% of it is still my process."
Visit James Taylor's official website for more information.
James Taylor Tour Dates:
June 21
Colonial Life Arena
Columbia, SC, United States
June 22
Thompson-Boling Arena
Knoxville, TN, United States
June 24
Spectrum Center
Charlotte, NC, United States
June 25
PNC Arena
Raleigh, NC, United States
June 27
PPL Center
Allentown, PA, United States
June 28
CMAC Amphitheatre
Canandaigua, NY, United States
June 30
Bank of NH Pavilion
Gilford, NH, United States
July 01
Dunkin Donuts Center
Providence, RI, United States
July 03
Tanglewood
Lenox, MA, United States
July 04
Tanglewood
Lenox, MA, United States
July 15
Walmart Arkansas Music Pavilion
Rogers, AR, United States
July 16
Intrust Bank Arena
July 18
Broadmoor World Arena
Colorado Springs, CO, United States
July 19
Fiddler's Green Amphitheatre
Denver, CO, United States
July 21
Paycom Center
Oklahoma City, OK, United States
yJuly 22
Moody Center
Austin, TX, United States
July 24
Rio Rancho Events Center
Albuquerque, NM, United States
July 26
Footprint Center
Phoenix, AZ, United States
July 28
Crypto.com Arena
Los Angeles, CA, United States
July 30
T-Mobile Arena
Las Vegas, NV, United States
August 20
Tanglewood
Lenox, MA, United States
John Williams: The Tanglewood 90th Birthday Celebration — The Boston Symphony Orchestra conducted by Ken-David Masur with guests including James Taylor, Branford Marsalis and Yo-Yo Ma