Jimbeau Hinson, Songwriter For Oak Ridge Boys, Steve Earle, And More, Dies At 70
Hinson also wrote songs for David Lee Murphy, Kathy Mattea, Patty Loveless, John Conlee, and more.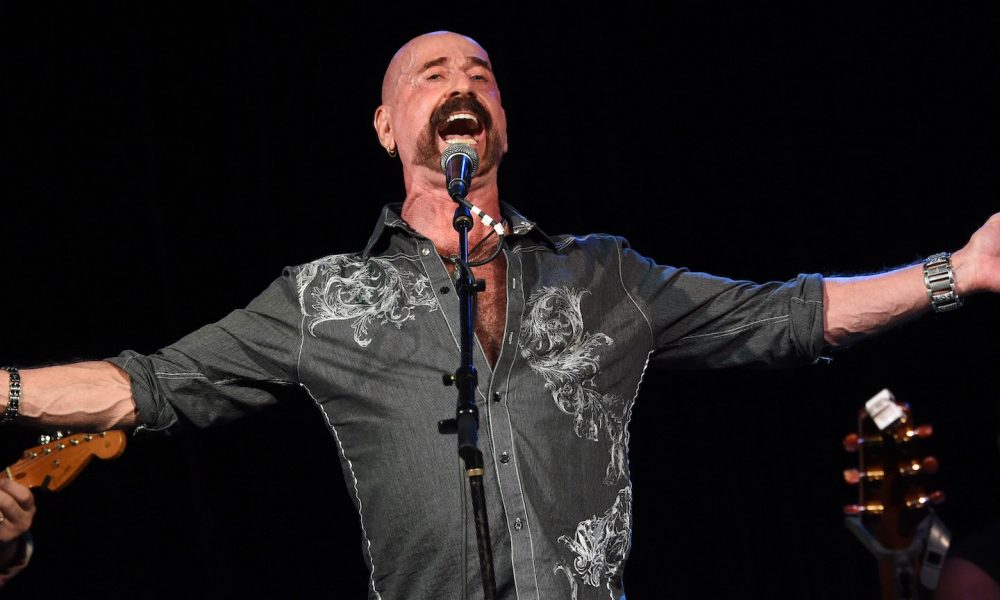 Singer-songwriter Jimbeau Hinson, known for penning several hits for the Oak Ridge Boys, David Lee Murphy, Kathy Mattea, Patty Loveless, John Conlee, and more, died March 4 at age 70, according to a press release. Hinson underwent quadruple bypass heart surgery in July 2021, and as a result, suffered a stroke. Though he made improvements over the next eight months, he suffered a second stroke recently, which led to a decline in his health.
The Newton, Mississippi native wrote songs including the Oak Ridge Boys' 1981 country No.1 "Fancy Free" and their songs "Let Me Be The One," "When You Give It Away," and "Colors," as well as Steve Earle's "Hillbilly Highway" and "Down the Road" (both from his seminal 1986 album Guitar Town). 
Loretta Lynn brought Hinson to Nashville when he was 16 to sign a publishing deal with the Wilburn Brothers. Hinson also had songs recorded by Reba McEntire ("Red Roses (Won't Work Now)"), Tammy Wynette, Ricky Skaggs, Connie Smith, Rodney Crowell and more.
In an interview with SongFacts, Hinson reflected on penning one of his Oak Ridge Boys hits, "Everybody Wins." He says, "Duane Allen of the Oak Ridge Boys was one of the cowriters, the lead singer, another one of my dear mentors. And Jack Williams was a young writer who had just come onto the scene. And the Oaks were in the process of reorganizing. William Lee Golden was leaving the group, and he was in great turmoil. The publishing company we had spent 14 years building was in the process of getting put on the market and being sold. So not only was I given six months to two years to live [due to an HIV diagnosis], my publishing company was being sold.
"And as a last ditch effort, I took Jack Williams to Tahoe where the Oaks were working. I thought, I'm going to save this publishing company. I'm going to get Duane to write this song with us, and it's going to be a single by them, it's going to save the publishing company and everything's going to be all right.
"I flew out to Tahoe with Jack and we wrote 'Everybody Wins' in Tahoe with Duane Allen…He's sitting there watching the steam come up off of the air conditioners on the roof, and the snow covered hills off in the distance. And he goes, 'Just look how that steam just keeps rising, it just never stops.' I went, 'Okay. Never stops, steam keeps rising.' And that's when I scribbled down, 'Bombs fly, angels cry, tears that fall from the children's eyes, rain that waters the bitter weed of hate, choking out the tender hearts, strong survive, but they bear the scars of another generation where the smoke never clears away. Why can't we all get along with each other, be a brother, be a friend, and everybody wins.'"
Hinson also reflected on his relationship with Loretta Lynn in the same interview, saying, "I've been singing professionally since I was 10 – in clubs, radio and TV in Mississippi, where I'm from. I was a little local celeb down there. Loretta Lynn was my first idol. Loretta brought her rodeo to Meridian when I was 14, and my daddy took me to see her and we went backstage.
"I wormed my way back there and finally got up to her and asked her if she'd hear me sing. And she was polite enough and nice enough to. Her eyes got big and wide and she put me on her show the next Saturday and gave me her numbers. So we went honky tonkin' with her at the clubs after the rodeo that night and we became really, really good friends."