Fraternal Memories: Dire Straits' John Illsley Talks 'Brothers In Arms'
A discussion about the album on Twitter was the latest in a series hosted by Tim Burgess of the Charlatans, for National Album Day 2020.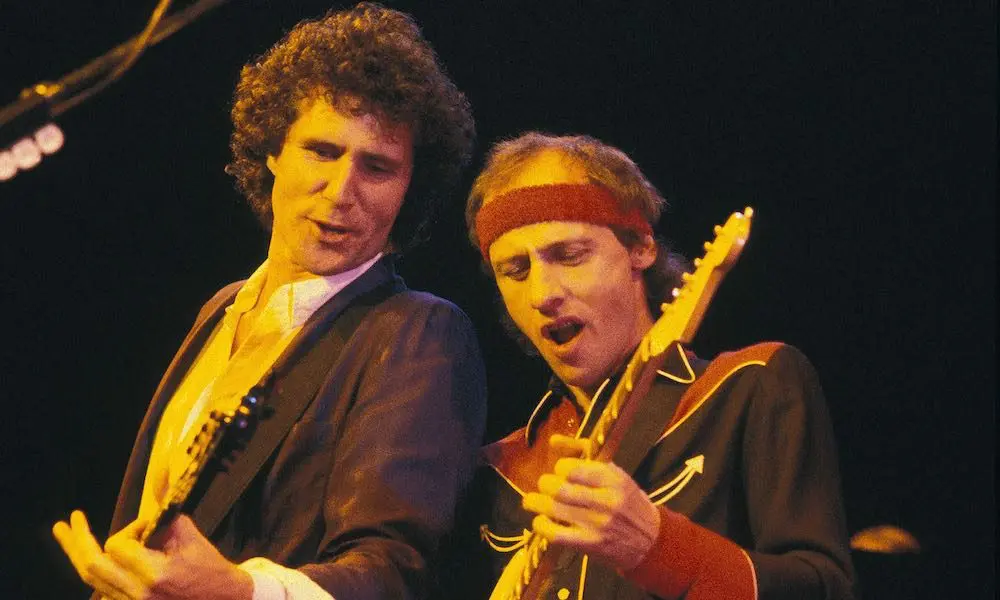 Dire Straits co-founder John Illsley has taken part in a listening party to discuss the band's multi-million-selling Brothers In Arms album. The discussion, last night UK time (October 7) on Twitter, was the latest in a series hosted by Tim Burgess of the Charlatans, as part of National Album Day 2020.
Illsley opened up to the online audience about the making of the record-breaking 1985 release. Last year, the bassist and singer-songwriter had his own successful The Life And Times Of Dire Straits tour in the UK and Europe, on which he played songs from the band's catalog and was interviewed on stage by Straits' former co-manager Paul Cummins. Another set of dates was planned for March this year before COVID-19 intervened.
Reminiscing on "Tim's Twitter Listening Party" about the location for the recording of Brothers In Arms, Illsley said: "We heard that Montserrat was a very good studio owned by George Martin who also owned AIR Studios in London. The Police, the Stones, Phil Collins had all used it. Beautiful island, but not many distractions apart from the local disco on a Saturday night."
Of Neil Dorfsman, who co-produced the album with Mark Knopfler, he noted: "We had a great production team on this. Neil Dorfsman had engineered Local Hero and Love Over Gold and I think Mark felt that Neil should share production duties on Brothers. He is a great engineer and producer."
He also gave fans an insight into individual songs during the track-by-track playback. For example, "'Ride Across the River' was about the murky mercenary business. I liked the courage in the writing of this song, a difficult subject." Of "Your Latest Trick," he mused: "I love the sound of Michael Brecker's sax on this track. He put this part on when we got to the Record Plant in New York, where we mixed the album.
"'The Man's Too Strong' was another example of Mark's writing working on so many levels, you can read into it whatever you like. 'Why Worry' was a kind of lovely duet Mark had with himself."
Dire Straits - Money For Nothing (Official Music Video)
Speaking of "Money For Nothing," Illsley noted: "Did Sting really get a writing credit and royalties for his four words on 'Money For Nothing' sounding like [The Police's] 'Don't Stand So Close To Me?' Yes he did and I was amazed at how calmly Mark handled it. Sting was on holiday in Montserrat where we recorded the album and came up for supper – just a lucky coincidence that he happened to be there."
"It was like being in a bubble"
Reflecting on Dire Straits' time together as a whole, he reflected: "People often ask if we had a rockstar life – sex and drugs and rock'n'roll etc – we didn't throw many TV [sic] out the window – it was much more than all that, a real pleasure to have so many people enjoying what we created.
"Being in Dire Straits was a little like being in a bubble," concluded Illsley. "Recording and touring took up most of our time, there was a huge response globally to the band, which was a humbling and unique experience."
Brothers In Arms is part of the Dire Straits – The Studio Albums 1978-1991 box set, released on October 9. Pre-order it here.