John Wicks, Co-Founder Of The Records, Dies Aged 65
The co-songwriter of the British power-pop band, best remembered for 'Starry Eyes,' passed away in a Burbank hospice on 7 October.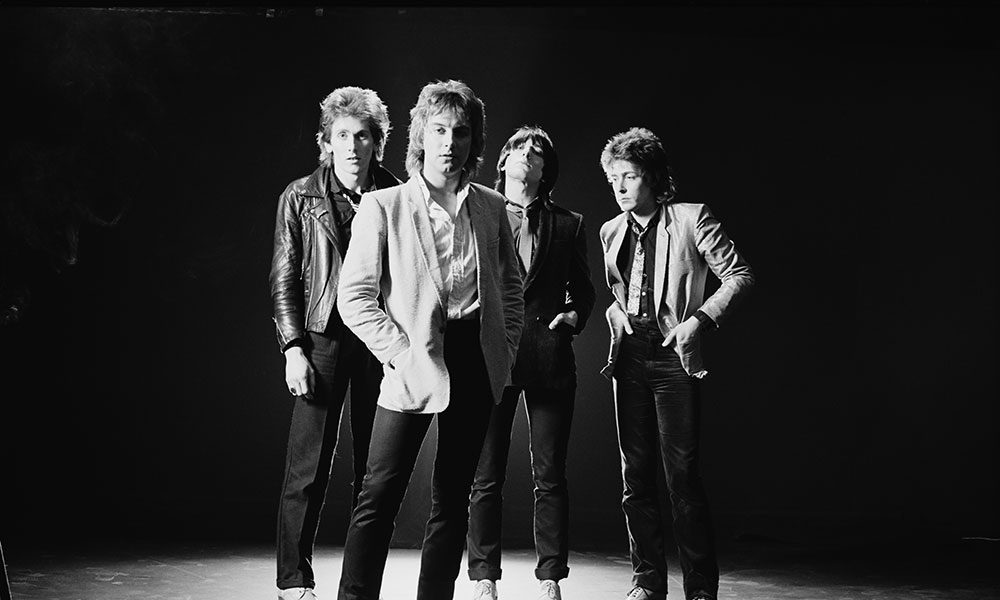 John Wicks, the co-founder, co-songwriter and chief vocalist of British power-pop band the Records, passed away at the age of 65 in a Burbank hospice on Sunday morning (7 October), LA Weekly reports.
Wicks died following a long battle with pancreatic cancer, after being diagnosed in April 2015. Despite his diagnosis, Wicks was working on recording new material and performed in Los Angeles as recently as February 2018.
After co-founding the group the Records in London in 1978, Wicks and the band recorded three albums for Virgin, Shades in Bed (1979), Crashes (1980), and Music On Both Sides (1982), before breaking up in 1982. Wicks later reformed the Records with a new lineup in 1994, but the group would best  known for their pop hits 'Starry Eyes', which hit No. 56 on the Billboard Hot 100 in 1979, and 'Teenarama,' both from Shades In Bed. Both were written by Wicks with drummer Will Birch, formerly with the Kursaal Flyers, and also featured their bandmates Huw Gower and Phil Brown.

Shades In Bed was produced by two men whose studio credits would go on to make them internationally known: Tim Friese-Greene (whose subsequent credits included Thomas Dolby, Talk Talk and Catherine Wheel) and Robert-John 'Mutt' Lange (Def Leppard, Shania Twain et al).
Stiff Records' general manager of the late 1970s, Paul Conroy, tells uDiscover: "I spent the most time with him in 1978, when the Records supported [Stiff's] Rachel Sweet at the Bottom Line in New York.  Before that, on the Be Stiff Tour in the UK, with Lene and Wreckless Eric and Mickey Jupp, where I was compere of the shows.
"My relationship with John came about through Will and the Kursaals," Conroy goes on. "When I left managing them, Will and John got together and I gave them as much help and advice as I could to build their career. John was a notorious member of the up-all-night club who kept the bars open, or attempted to, as we travelled around, as musicians get very dry mouths late at night! He was always a most charming and appreciative person, and even after late night revelry, he had a joke and a smile as we boarded the train the following day."
"He was the best," said Wicks' longtime friend and colleague Keith Putney. "He had nothing but respect for his fellow musicians. His whole life was music. He fought and fought [against cancer] with the ultimate goal of continuing to perform and compose music…I know he had a lot more in him. That was his one regret, because he knew that too."
Following the Records' disbandment, the band briefly reunited to record a cover of The Beach Boys' 'Darlin'' for a Brian Wilson tribute album in 1990.
The Records "Starry Eyes" LIVE on U.S. TV 1979
A native of Reading, England, Wicks later relocated to the US in 1994 and started a new incarnation of the band, under the name John Wicks and The Records. The following year their recorded an Americana-tinged album, as a limited-edition promo cassette, entitled Solace In Wonderland.
Along with his career with the Records, Wicks also had a successful solo career, releasing a number of albums throughout the 2010s, including Lessons Learned in 2011 and Works In Progress in 2012, and worked as a record producer. He would continue to tour all over the world and had recently been co-writing and performing songs with Bangles drummer Debbi Peterson.
Birch, a well-respected figure on the UK music scene to this day as a journalist and author, wrote on hearing the news: "RIP John Wicks my friend and former partner in song I'll never get you outta my starry eyes. Love to Val, Perry, and all."
Format:
UK English