The Jonas Brothers' 'The Tour' Opens To Sold-Out Crowd At New York's Yankee Stadium
The show marks the start of their most ambitious outing, performing five albums every night during the 90-date run and across 20 countries.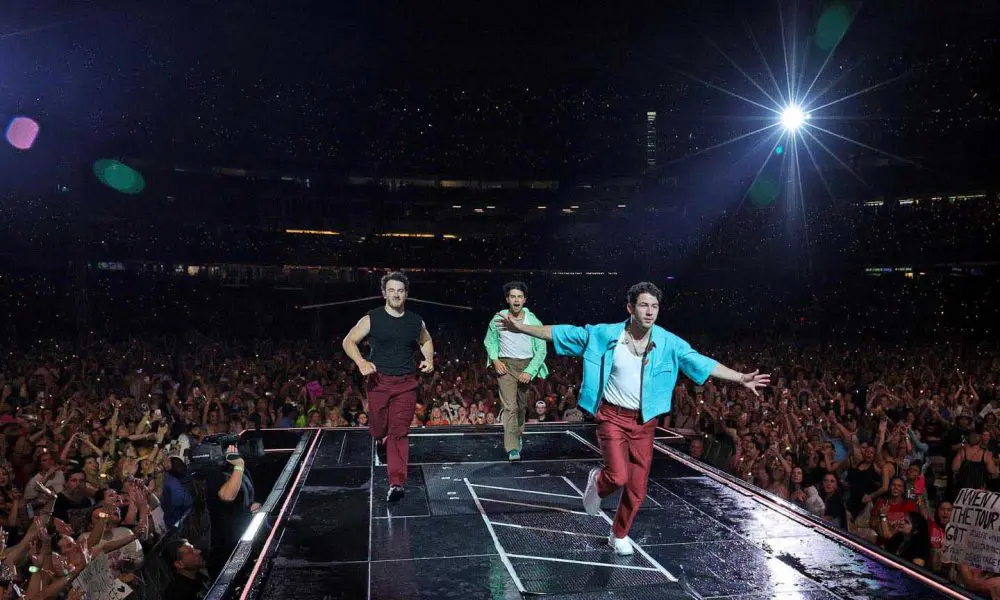 Last Saturday night, August 12, Jonas Brothers' "The Tour" kicked off to a huge, sold-out crowd at Yankee Stadium in the Bronx, New York. The show marks the start of their most ambitious outing, performing five albums every night during the 90-date run and across 20 countries.
The band opened the show with their 2023 track "Celebrate!" off the acclaimed The Album, to a roaring audience before rolling into their three-hour ensemble of over 60 career-spanning deep cuts and hits.
Surprising the crowd, fan-favorite Big Rob, joined the band on-stage for the debut single "Burnin' Up," off their third studio album A Little Bit Longer. Later in the set, multi-Grammy Award-winning songwriter, choir director and singer Kirk Franklin took the stage with a 40-person choir and Grammy-award winning producer Jon Bellion for an electrifying rendition of "Walls" off the band's latest record, The Album. You can see the band's full setlist in detail below.
Produced by Live Nation, "The Tour" will travel across North America this summer and fall to legendary venues such as Toronto's Rogers Centre, Chicago's Wrigley Field, Arlington's Globe Life Field, Los Angeles' Dodger Stadium, and many more before continuing throughout the globe to Australia, New Zealand, and Europe in 2024. Lawrence will join as support across North America. Tickets and further information is available via the band's official website.
The Tour will also offer a variety of different VIP packages and experiences for fans to take their concert experience to the next level. Packages vary but include premium reserved tickets, invitation to the pre-show VIP Lounge, specially designed Jonas Brothers VIP gift items & more.
'THE TOUR' YANKEE STADIUM NIGHT 1 SET LIST:
"Celebrate!"
"What A Man Gotta Do"
"S.O.S"
"Hold On"
"Goodnight & Goodbye"
"That's Just The Way We Roll"
"Jonas Brothers Mosaic: Still In Love With You, Australia, Hollywood, Just Friends, Games, Jersey
Hello Beautiful"
"Inseparable/ Take A Breath"
"When You Look Me In The Eyes"
"Year 3000"
"Summer Baby"
"Vacation Eyes"
"Sail Away"
"Little Bird"
"A Little Bit Longer"
"Can't Have You / Sorry"
"A Little Bit Longer Mosaic: BB Good, Shelf, Got Me Going Crazy, Video Girl, One Man Show, Pushin' Me Away, Tonight, Lovebug"
"Burnin' Up"
"The Album Mosaic: Waffle House, Montana Sky, Miracle"
"Fly With Me"
"Lines, VInes and Trying Times Mosaic: Don't Charge Me Riff, Hey Baby, Poison Ivy, Much Better, World War III, Don't Speak, What Did I Do To Your Heart, Paranoid"
"Turn Right"
"Before The Storm"
"Black Keys"
"Jealous"
"Cake By The Ocean"
"Walls"
"Happiness Begins Mosaic: Comeback, Rollercoaster, Strangers, Used To Be, Cool, Every Single Time, Trust, Happy When I'm Sad, Don't Throw It Away"
"Love Her"
"Hesitate"
"I Believe"
"Only Human"
"Sucker"
"Leave Before You Love Me"
Listen to the best of Jonas Brothers on Apple Music and Spotify.