Kandace Springs Announces Second Album, 'Indigo', Shares New Song, 'Don't Need The Real Thing'
Kandace Springs' second album has "taken me to the next level", she says, revealing the first taste of what's to come.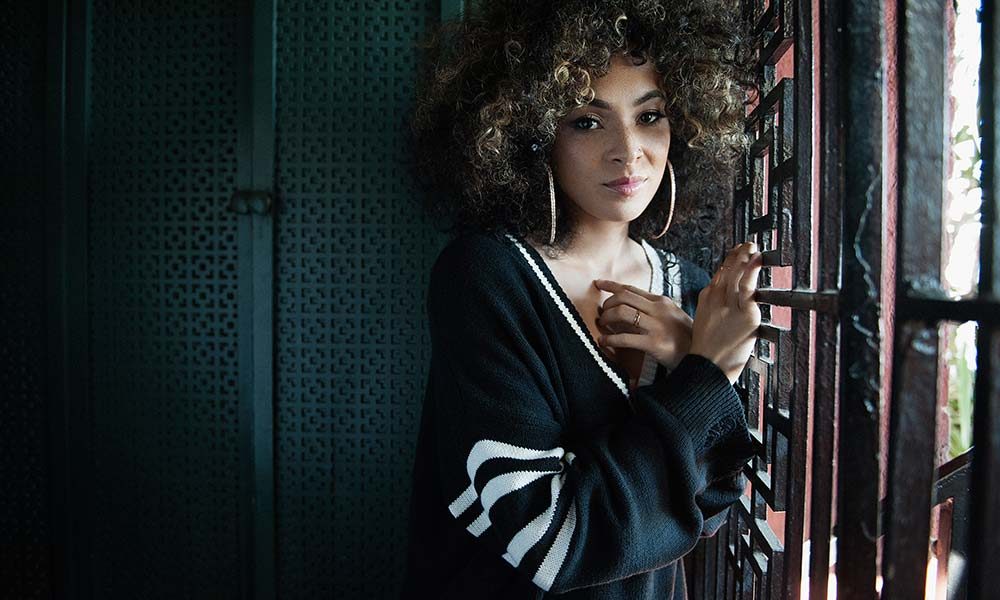 Nashville's very own honey-voiced soul-jazz siren, Kandace Springs, has announced her eagerly awaited second album, Indigo, which is due for release on 7 September via Blue Note Records. The first taste of what's to come has also been revealed today in the shape of Indigo's lead single, 'Don't Need The Real Thing'.
Boasting an addictive chorus welded to a mellow groove, 'Don't Need The Real Thing' is also distinguished by Kandace's sensuous vocals, which float over a skeletal, percussion-driven backing punctuated by soft, dreamy Fender Rhodes chords. "It's very simple," says Kandace, explaining the production. "Less is more sometimes."
In terms of its meaning, Kandace Springs tells uDiscover Music that the song is about taking pride in being independent and self-sufficient. "It's basically saying that I'm going on my own," she says. "One of the lines says, 'Highway sounds like the ocean to me/No I don't need the real thing,' which is saying that I'm happy in my ways and not depending on anyone else for happiness."
Both the single and album were produced by Karriem Riggins, a noted Detroit jazz drummer turned hip-hop producer whose credits range from Common and Kendrick Lamar to Diana Krall and Paul McCartney. "He's such a pleasure to work with," enthuses Kandace. "He's such a good dude, so talented, and such a soulful guy. I feel that I'm pretty soulful, too, and I'm drawn to soulful music so we connected very well on that level." Springs feels that Riggins has pushed her to greater creative heights on the new record. "He's taken me to the next level," she says.
To accompany the single, Kandace – a self-confessed "gearhead" who loves classic cars and has five of them – shot a promotional video featuring her own 1965 Ford Mustang, which, she reveals, has now been sold. "I now have a '69 Oldsmobile Cutlass in place of it, which is a much badder car," she laughs. "But we had fun making the video. I'm really proud of it – it's really cool but it's also the most personal and honest one that I've done."
Kandace Springs - Don't Need The Real Thing
The forthcoming album, Indigo, is 29-year-old Kandace's follow-up to her critically acclaimed 2016 debut, Soul Eyes. Musically, its scope is wider and it also features a greater percentage of self-written material. As well as Karriem Riggins, the album includes contributions from US songwriter Jesse Harris (who penned 'Talk To Me' and 'Neither Old Nor Young' on her first album), Rag'n'Bone Man songwriter/producer Jamie Hartman, and Amy Winehouse collaborator Jimmy Hogarth. Springs' father, Scat Springs, also features on a touching duet called 'Simple Things'.
With its unique and personalised fusion of soul and jazz flavours seasoned with pop, hip-hop and even classical music, Indigo is undoubtedly Kandace Springs' most ambitious and important musical statement yet. "I think it's refreshing," she says. "My last album was kind of chilled but this one punches a lot more. It expresses all my sides because I didn't grow up just doing jazz – I learned classical music and did gospel as well."
She's hoping that, with its blend of warm soulfulness and cool jazz sophistication, Indigo will widen her audience. "I want it to reach more people and cross over more," she says. "I want to hear it on the radio and open up other lanes for me."
If it does, Kandace will have done it without sacrificing the musical essence of who she is. Above all else, Indigo, confirms that, when it comes to authentic soul and jazz, Kandace Springs is indeed the real thing.
Indigo is out on 7 September and can be pre-ordered here.
Format:
UK English