Lana Del Rey Rides A Tractor And Decorates Cakes In 'Blue Banisters' Video
Lana and friends decorate cakes and look out on a gorgeous forest in what appears to be an entirely blissful video.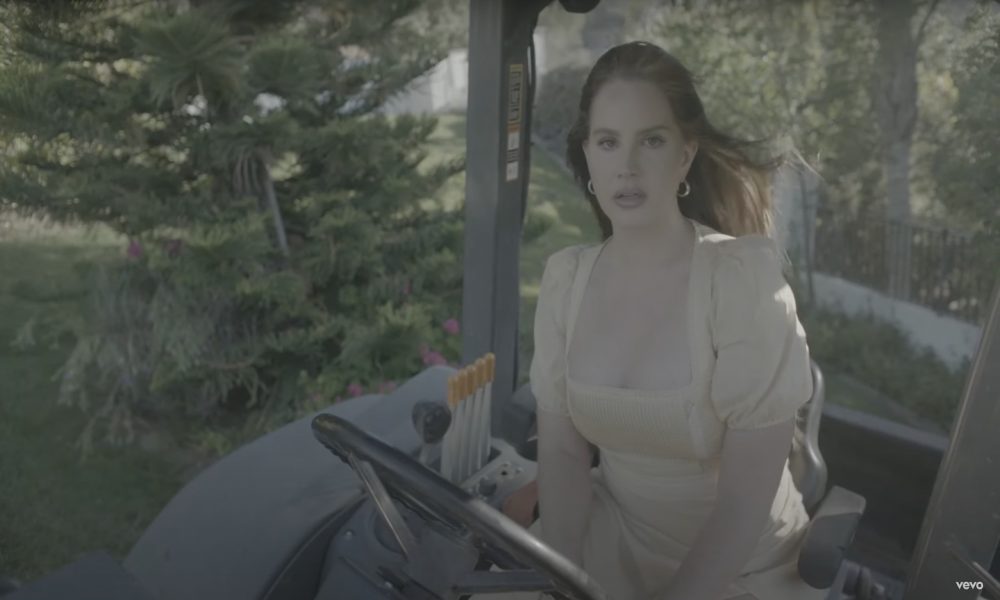 Lana Del Rey has released a video for her latest single, "Blue Banisters." The song is taken from her forthcoming album of the same name, which is out this Friday (October 22).
In the bucolic visual, Lana rides a John Deere tractor on a manicured lawn before joining some friends for a laugh on a balcony while they paint a fence and each other's feet with surprisingly large brush strokes. The group decorates cakes and look out on a gorgeous forest in what appears to be an entirely blissful video before Lana stares directly into the camera with an ominous look during the visual's finale.
Earlier this month, Lana shared an alternate video of her latest single, "Arcadia." The original video was released on September 8.
The video finds Lana shining in gorgeous dappled light, contemplatively rocking on a swing. She stares patiently at the camera, as if she's waiting for it to reveal a secret.
The album was initially announced on the same day she revealed the single. The highly anticipated eighth studio record follows the success of her previous album Chemtrails Over The Country Club, which was released earlier this year.
Vinyl for the album is set to follow digital releases on October 29. The pre-order for Blue Banisters is available now on participating partners as well as at www.lanadelrey.com.
Blue Banisters will include previously released songs "Wildflower Wildfire," "Blue Banisters," and "Text Book."
Blue Banisters was originally slated for a July 4 release date, but by the time the holiday rolled around, Lana confirmed that the release date was "TBD." We now know that the date is October 22.
The singer also shared some of the inspiration behind the new album on her socials, writing: "I guess you could say this album is about what it was like, what happened, and what it's like now. If you're interested go back and listen to the first three songs I put out earlier. They chronicle the beginning. This song hits somewhere in the middle and by the time the record drops you will hear where we're at today."