Latin Soul Mainstay Tico Records Celebrated On New 'Hit The Bongo!' Set
The compilation focuses on one of the most prolific and diverse eras in the label's history, from 1962 to 1972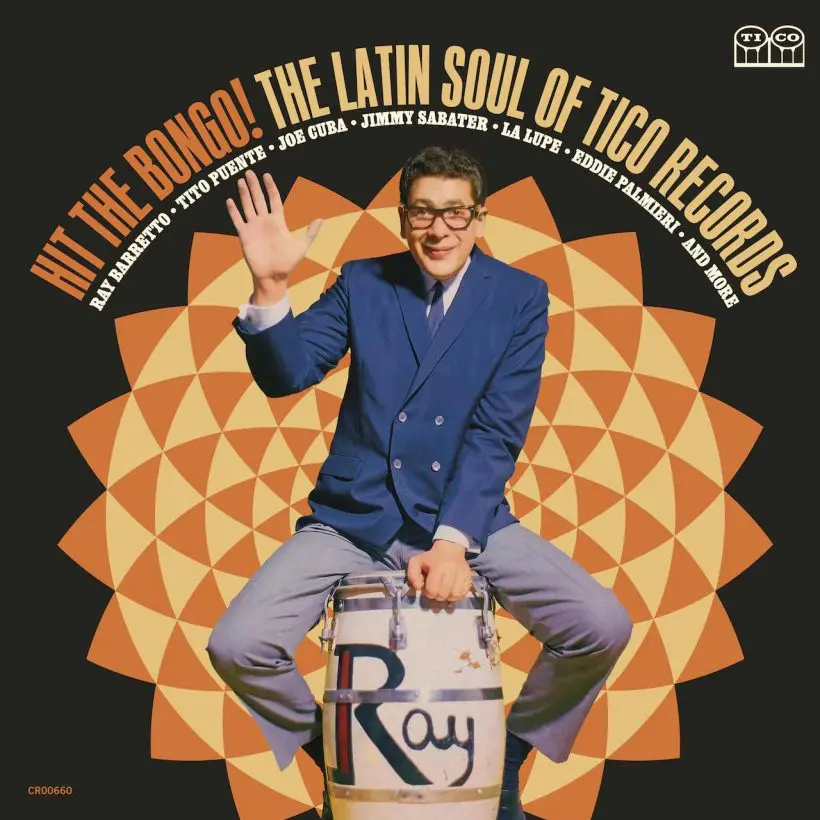 The 75th anniversary of Latin soul label Tico Records will be marked by Craft Latino with the October 13 release of the brand new vinyl and digital collection Hit The Bongo! The Latin Soul of Tico Records.
The compilation focuses on one of the most prolific and diverse eras in the label's history, from 1962 to 1972, with 26 rarities and classics by such figureheads as Tito Puente, Eddie Palmieri, Celia Cruz, and Ray Barretto, alongside tracks by the Joe Cuba Sextet, La Lupe, Willie Bobo, and many more. The set has newly remastered audio by Joe Tarantino and will include a 2LP edition in a gatefold sleeve with new liner notes by DJ Dean Rudland, and laquers cut by Phillip S. Rodriguez at Elysian Masters. An exclusive bundle option with a commemorative Tico Records T-shirt is also available at Fania.com.
Teaching Latin
Tico Records opened in 1948 in New York City, and became one of the first US labels to focus entirely on Latin music. It was home to pioneers such as Barretto, Puente, Cruz, Cuba, Jimmy Sabater, La Lupe, and Eddie Palmieri, and was at the forefront of every Latin musical trend during its three-decade reign, including mambo, cha-cha-chá, Pachanga, and boogaloo.
Hit The Bongo! The Latin Soul of Tico Records (Official Trailer)
The label's inception came at a time when the mambo craze was sweeping dance clubs across the East Coast of America. Its epicenter was the Palladium Ballroom in New York City, where bandleaders such as Puente, Machito, and Tito Rodríguez, collectively known as the "Mambo Kings," played this Cuban-influenced music all night. But for all its popularity, there was little mambo music on record, until New York club owner George Goldner looked to change that. He founded a multitude of labels during his career, also including such significant names as Roulette, Gone, and Leiber & Stoller's Red Bird), but Tico Records was his first endeavor and claimed a significant place in Latin music history.
Bandleader, percussionist and composer Puente, a defining figure in Latin jazz, was among the first signings to Tico. The "King of Timbales" began his prolific recording career at the label with such LPs as Mamborama (1955) and Puente in Percussion (1956). But it was his second stint with the label that consolidated his international stardom, most notably with 1962's "Oye Como Va," a popular cha-cha-chá number that also became inextricably linked with Santana, via the band's Latin rock hit version eight years later.
Other big names in the mambo and cha-cha-chá scenes signed to Tico, including Tito Rodríguez, Joe Loco, and Arsenio Rodríguez, but the label was unable to survive Goldner's gambling habit. By the end of the 1950s, music impresario Morris Levy had taken control of the company, and helped make Tico a powerful player in the Latin music scene. As he explained to Dean Rudland, he "employ[ed] A&R men and producers, such as Ralph Seijo, Miguel Estivill, and Joe Cain, who understood not just the fundamentals of Latin music, but also how it was changing and developing as it moved into the 1960s." Thus the company and its releases found a new audience, notably second-generation Latin communities, who were coming of age in this exciting new era.
New musical trends included pachanga, a dance craze born in Cuba and developed in the Bronx that succeeded mambo and the cha-cha-chá as the hottest dance craze. In 1963, Tico released the landmark pachanga track "El Watusi" by conguero and bandleader Ray Barretto, who was a conduit between the old and new guards of Latin music. The track became a Top 20 hit on Billboard's R&B and pop charts and kick-started the prolific solo career of a musician who had primarily been a sideman. He went on to make the seminal boogaloo LP Acid and held the role of musical director for the famed Fania All-Stars.
Also in 1963, Tico released Willie Bobo's debut record as a leader, Do That Thing/Guajira. A protégé of Mongo Santamaría and frequent sideman for Tito Puente and Cal Tjader, the Puerto Rican percussionist mixed soulful jazz with a twist of Afro-Cuban rhythms, creating such infectious grooves as "Bobo! Do That Thing" and "He's That Way." Bobo may still have been several years away from his greatest fame, but his debut LP served as a precursor to the Latin soul that exploded later in the 1960s.
New Yorker Joe Cuba, already a well-known bandleader when he joined Tico in 1965, became another key player on the scene. The conguero frequently integrated bilingual lyrics into his songs, which were performed by such singers as Cheo Feliciano and Jimmy Sabater, and this seamless blend of English and Spanish soon came to typify the boogaloo sound.
Cuba racked up a string of pop and R&B hits at Tico, beginning with 1966's "El Pito (Never Go Back to Georgia)," "Bang Bang," and "Oh Yeah." He continued the momentum throughout the next decade, maintaining his position as a Latin soul figurehead with tracks such as 1968's "Psychedelic Baby" and 1972's "Do You Feel It?," an ode to his Spanish Harlem roots.
His bandmate Jimmy Sabater also found success at Tico, notably with such albums as 1969's Solo, which contained the single "Times Are Changing" and was produced by Goldner. It featured an all-star lineup of musicians, including Ray Barretto, Sonny Bravo, Johnny Colon, Bobby Rodriguez, and Barry Rodgers.
Puente's return to Tico in the early '60s saw him embracing the groovy new sounds of the era, even if he had mixed emotions about them. Rudland writes: "When the Latin soul thing got into full swing, some of the older guard were unhappy, while others embraced what was going on. By all reports, for Tito Puente, it was a bit of both, although it was difficult to tell as he threw himself into the records he made in the soul style with gusto." His highlights from this phase include "Fat Mama" (1966), "TP's Shing-A-Ling" (1967), and the irresistibly percussive jam "Hit the Bongo!" (1970).
Puente also collaborated with two great Cuban names at Tico, La Lupe and Celia Cruz. Cruz was a major star in her home country prior to the Cuban revolution with the vocal group Sonora Matancera. She became the "Queen of Salsa" in the '70s, before which she spent several years finding her niche in the US and recording with Tico. Her highlights of that time included a 1969 collaboration with Puente, a swinging rendition of "Aquarius/Let The Sun Shine In" from the popular musical Hair.
La Lupe, known as the "Queen of Latin Soul," reached the apex of her career at Tico, after arriving in New York in the early 1960s. She established a following through her passionate club performances and regular gigs with Puente and Mongo Santamaría, and soon became one of the era's most popular Latin vocalists. At Tico, she often recorded with Puente, including on their 1967 boogaloo classic "Steak-O-Lean," and released a steady stream of solo LPs, including Reina de la Cancion Latina (Queen of Latin Soul). The 1968 LP contained a spirited rendition of Little Willie John's much-covered "Fever," which La Lupe performed and recorded throughout her career.
Conguero and bongosero Cándido Camero, aka the "Thousand Finger Man," was another Tito notable. The Afro-Cuban jazz pioneer settled in New York in the mid-1940s, joining Dizzy Gillespie's band before going solo in the '50s. The innovative percussionist recorded only album with Tico during his marathon career, 1966's Latin McGuffa's Dust, which featured such memorable tracks as the fiery single "Madrid."
Veteran bandleader Joe Panama made an even briefer appearance on Tico, with the funky one-off single "My People" in 1972. Other rarities included Colombian bandleader Al Escobar's El Sonido Moderno de Al Escobar/The Modern Sounds of Al Escobar in 1969, an LP including danceable renditions of Archie Bell and the Drells' "Tighten Up" and Jesse James' "The Horse."
Latin soul's evolution over the late '60s and early '70s saw it reflecting broader musical trends, exemplified by two English-language tracks on Tico, 1970's "Yes I Will (Part 1)" by the Gilberto Sextet, with its soulful message of positivity, and Eddie Palmieri's "The African Twist" (1967), which calls to mind the girl groups of the era thanks to a joyful vocal performance by its writer Cynthia Ellis. Bandleader, pianist, and composer Palmieri, long regarded as an innovator in his field and the winner of the first-ever Grammy Award in a Latin category in 1975, is also heard on the new collection in a more traditional jazz setting, alongside vibraphonist Cal Tjader, on 1967's "Come and Get It."
Tico's impressive Latin soul output may not have been as expansive as other competing catalogs, but, as Rudland explains, this was by no means detrimental. "Tico's involvement in Latin soul was a little tangential, the reasoning being that it was the establishment Latin label with the big established names on its roster," he writes. "It didn't need…scrappy young bands." The label was sold to the Latin music giant Fania Records in 1975, where it remained a prized possession, with an active frontline roster until the end of that decade. It will now reach another new audience via the Hit The Bongo! compilation.
Pre-order Hit The Bongo! The Latin Soul of Tico Records, which is released on October 13.
The vinyl tracklist is:
Side A
1. Ray Barretto Y Su Charanga Moderna – El Watusi
2. Willie Bobo – Bobo! Do That Thing
3. Willie Bobo – Be's That Way
4. The Joe Cuba Sextet – El Pito (I'll Never Go Back To Georgia)
5. The Joe Cuba Sextet – Bang! Bang!
6. Candido – Madrid
7. Ray Barretto – Babalu
Side B
1. Eddie Palmieri And Cal Tjader – Come An' Get It (Boogaloo)
2. Tito Puente Y Su Orquestra – Fat Mama
3. The Joe Cuba Sextet – Oh Yeah!
4. The Joe Cuba Sextet – Sock It To Me
5. Tito Puente/La Lupe – Steak-O-Lean
6. Tito Puente's Orchestra – TP's Shing-A-Ling
7. The Joe Cuba Sextet – Hey Joe, Hey Joe
Side C
1. The Joe Cuba Sextet – Psychedelic Baby
2. Eddie Palmieri & His Orchestra – The African Twist
3. La Lupe – Fever
4. The Modern Sound Of Al Escobar – Tighten Up
5. The Modern Sound Of Al Escobar – The Horse
6. Celia Cruz/Tito Puente – Aquarius/Let The Sun Shine In
Side D
1. Gilberto Sextet – Yes I Will (Part 1)
2. Tito Puente & His Orchestra – Hit The Bongo
3. Tito Puente & His Orchestra – Oye Como Va
4. Jimmy Sabater – Times Are Changin'
5. The Joe Cuba Sextet – Do You Feel It?
6. Joe Panama And Company – My People