Mark Knopfler Features In Documentary On Guitar Maker John Monteleone
Knopfler's meeting with the luthier inspired him to write 'Monteleone' for his 2009 album 'Get Lucky.'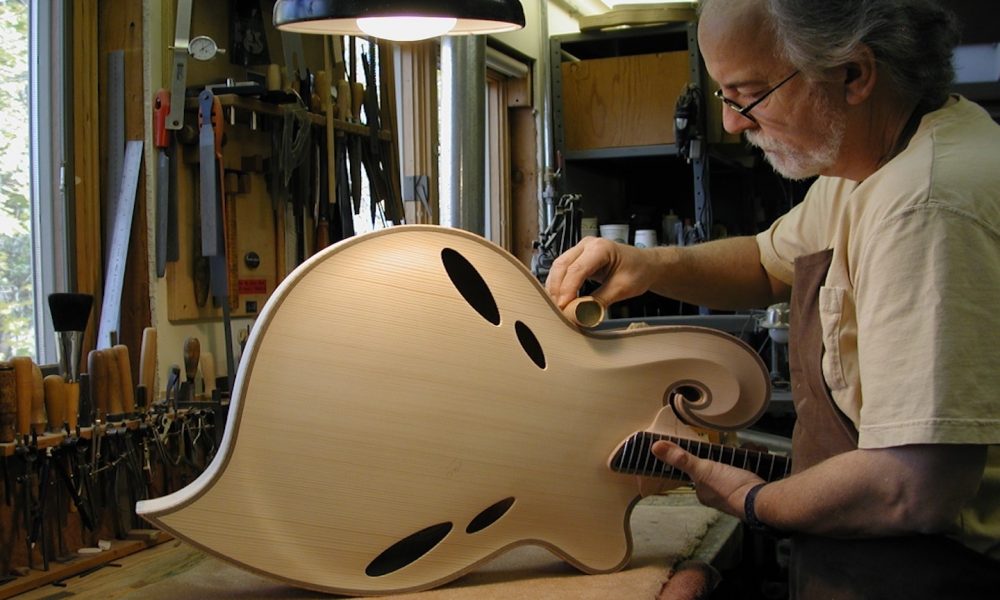 Mark Knopfler is one of the interviewees in the feature-length documentary film John Monteleone: The Chisels Are Calling. It's a profile of the great guitar maker of the title, who not only is greatly admired by the British singer-guitarist and many of his peers, but who inspired Knopfler to write a song about him.
Knopfler says that after meeting the luthier, he realized that a song was forming in his head, which became "Monteleone," featured on his 2009 album Get Lucky. "It was like meeting Stradivari," he says of the experience. Indeed, Monteleone's creative roots are in Italy, and the film shows him in the northern forests looking for the perfect wood for his next projects, and on to Cremona, known as the home of violin building. John takes viewers around the Museo del Violino, which displays the violins of Stradivari and the Cremonese masters.
Mark Knopfler - Monteleone (An Evening With Mark Knopfler, 2009)
The film also features other such music notables as David Grisman, Ben Harper, and Frank Vignola; Harper notes: "John's love for life and passion, whether it be food, music, art or architecture, just all goes into the instrument. He is a fearless luthier as hopefully you are a musician." Jason Kerr Dobney of the Metropolitan Museum of Art describes him as "a living master of the highest quality."
The documentary, directed by Trevor Laurence and produced by Laurence and Woody Mann for Street Singer Productions. It lovingly portrays the life and work of the craftsman, who is a living artist on permanent exhibition at the Metropolitan Museum of Art in New York. The Chisels Are Calling has a number of upcoming screenings at cinemas and festivals in the US, with more to be announced. You can watch the trailer at the Street Singer site.
"It is a great privilege and honor to be documented in this very special way," said Monteleone when the film was announced. "I am also deeply humbled by it."